Discover The Weight Loss Plan That Aligns With Your Health Goals
Take Our Plans Quiz.
Take Plans Quiz
When it comes to weight loss, it isn't always easy. In fact, your journey will have its fair share of challenges along the way. While we can't prevent that, we can do everything we can to make your experience as convenient as possible. That is why Profile works round clock to bring you the most updated and useful tools, features, products, recipes and more! Whether you are looking to lose 10 pounds or 100, your journey ahead is made simple with the help of Profile.
Curious what we got cooking this Spring season? Check out what all is new with Profile and start crushing your health and wellness goals today!
1. Customization Like Never Before
Alongside the unlimited weight loss support and guidance of our certified health and wellness coaches, and the wide variety of delicious food options and nutrition plans, members get access to the Journey App that makes tracking your progress and reaching your weight loss goals simple and convenient.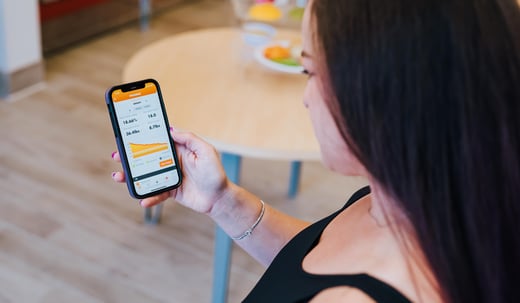 Latest Journey App Tools & Features:
Not familiar with our Journey App? Read everything you need to know about the app and its collection of useful features and tools!
2. Beyond the Basics - Planned and Meaningful Education
In addition to our convenient App features, members also have access to Journey Mapping, a path of planned and meaningful education to help you learn, grow, and stay engaged during your journey. With a growing list of lifestyle lessons available, your Profile Coach can help you select those that will have the most impact on you and help your everyday life for long-term success.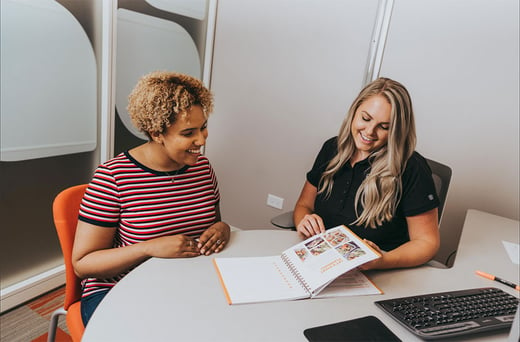 With over 35 digital modules full of topics from hunger and emotional eating to mindfulness and self compassion, Journey mapping will help you learn practical skills and how to apply them
3. Capture Your Most Accurate Body Measurements
Tracking progress is an important part of a weight-loss journey and b
ody measurements can provide a better idea of how exactly your body is changing.
Profile's 3D Body Scan
is a new, high-tech way to capture body measurements
and is the most accurate way to check your progress. Not only does it capture your weight as a scale would, but it can tell you things like how many of those pounds are muscle versus fat.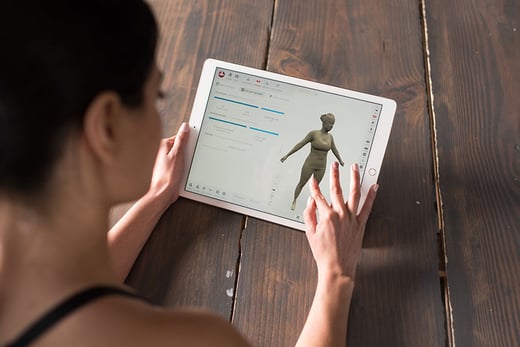 While data and numbers show weight differences, your scans can be taken over a course of time and stacked together to see just how much your body has changed. As you work through your weight loss journey, body scans are an extremely motivating visual.
Learn more
about the body scanner, all its features, and how it could be beneficial to your weight loss journey.
4. Coaching Gone Virtual
We have said it before and we will say it again, losing weight is not easy, but we can help make it simple and convenient. And what's more convenient than a personalized nutrition and physical activity plan, 1-on1 coaching with a certified health coach and high-tech tools such as the 3D Body Scan, Smart Body Scale, and Precise DNA Kit? The answer: Profile at Home.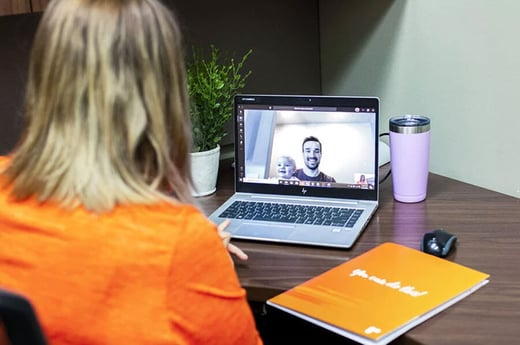 With Profile at Home you can access all of the tools and resources you need to get healthy from anywhere. Attend 1-on-1 coaching sessions virtually, access your nutrition plan on the Journey App, and get healthy food conveniently delivered to your doorstep.
To learn more about how Profile at Home can fit you lifestyle, schedule a free no-commitment consultation with a Profile coach today!
5. Making Weight Loss Delicious: One Recipe at a Time
Professional Chef Ray and his wife Becky started their weight loss journey with Profile last year and found a passion for making appetizing low-carb recipes that are Profile-friendly. If you've been looking for creative low-carb recipes to help you on your weight loss journey, we've got you covered. From Searched Ahi Tacos to Dessert Nachos, Profile's new Low-Carb Kitchen has something you're going to love!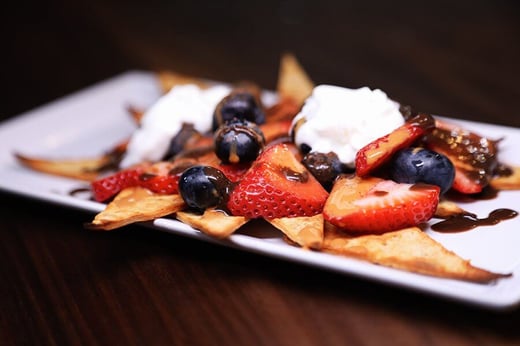 Interested in more healthy recipes? Check out these 5 healthy recipes you can make under 5 minutes or download a free copy of our Profile Favorites Cookbook and unlock a variety of nutritious meals made for weight loss!
6. This Just In! NEW Snacks Made Just For You!
Ready-To-Drink Shakes
Ready, set, shake! Profile's Ready-to-Drink Shakes offer you the great taste and convenience you need on your busiest days. Enjoy chilled straight out of the bottle, served over ice, or create a variety of delicious and easy recipes like the Iced Caramel Mocha made with the RTD Chocolate Protein Shake or the White Chocolate Covered Strawberry Shake made with the RTD Vanilla Protein Shake.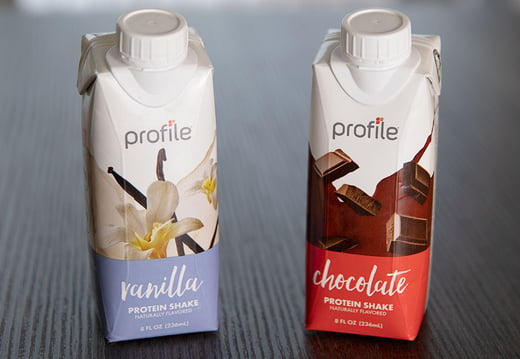 Beef Jerky
Savor the flavor! The NEW Premium Beef Jerky is finally here! With 2 flavors, Original and Teriyaki, this high protein snack is all natural and 100% premium beef. A little sweet, a little savory, this is the perfect on the go snack.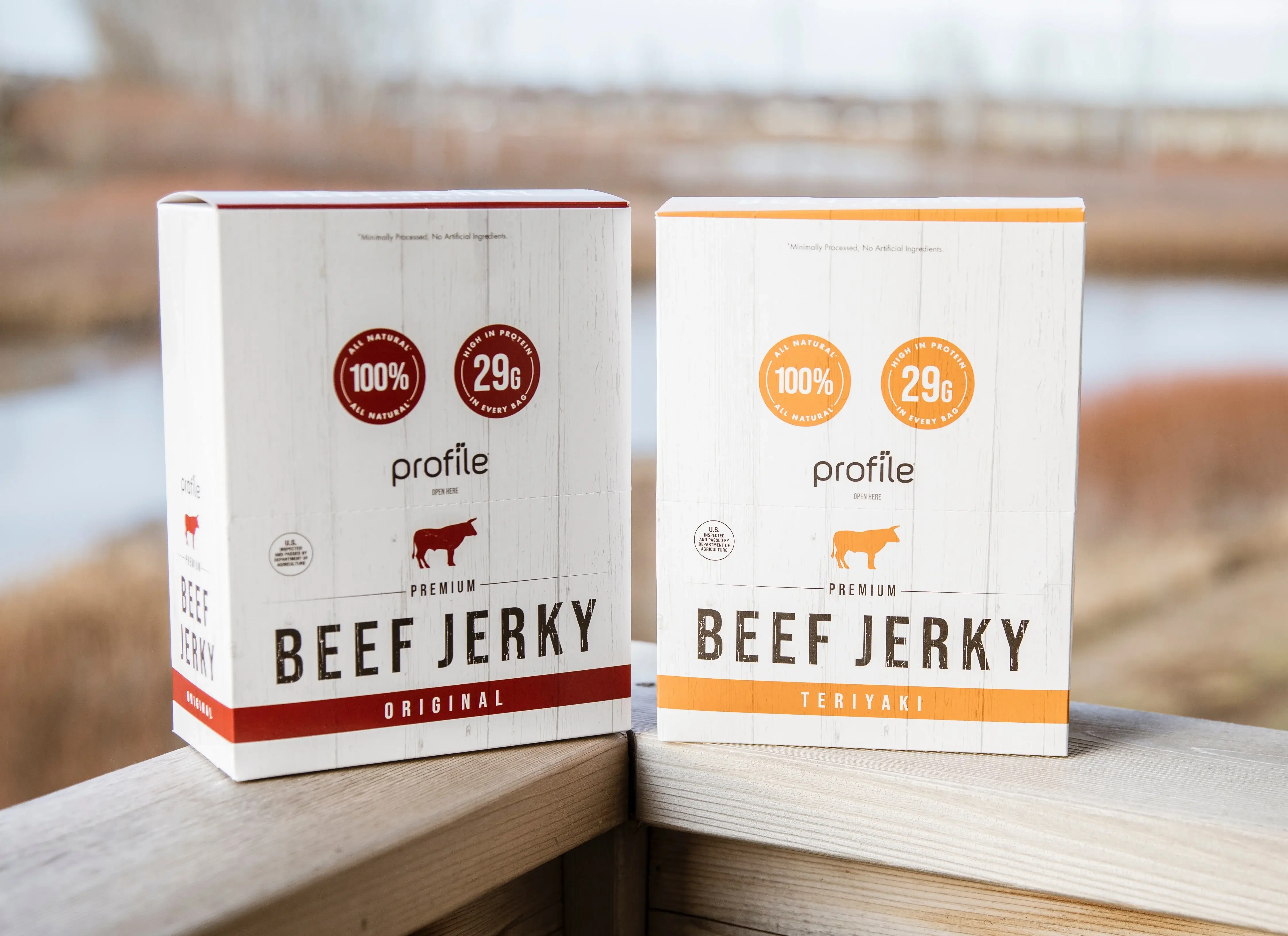 Plant-Based Treats
Have you seen our new line of plant-based protein shakes?! Made with pea protein, these shakes are not only vegan-friendly, but dairy- and gluten-free as well. They are also organic and naturally sweetened. Cure your sweet tooth with one of these 3 flavors: cinnamon swirl, vanilla, or chocolate and give them a try with our plant-based smoothie recipes!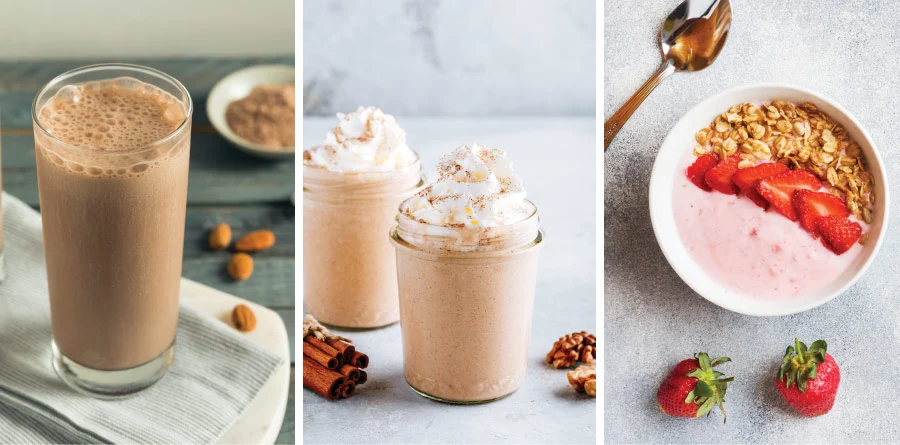 You also got to check out our new plant-based bars! What's better than chocolate and peanut butter combined? Chocolate and peanut butter paired with nutritious, plant-based pea protein. Our latest Chocolate Peanut Butter Bars combines rich chocolate with smooth peanut butter for a sweet serving of fuel and flavor. Looking for a more fruity flavor? The Strawberry Peanut Butter Bars are loaded with nutrients and deliciously blend creamy peanut butter flavor with tart strawberry. These two flavors are a delicious plant-based burst of energy!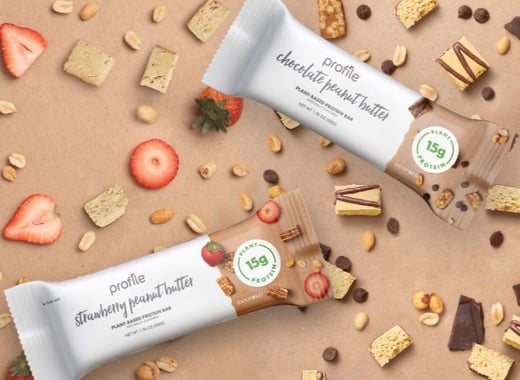 Profile Fresh Meals
Cooking healthy meals each week (or even coming up with healthy meal ideas) is hard, we get it! That's why we want to take off some of the burden with Profile Fresh, a meal service that offers nutritious, wholesome, delicious dishes designed to fit your lifestyle. Ready-made with high-quality ingredients and convenience in mind, our meals are delivered fresh to your door - just heat and enjoy!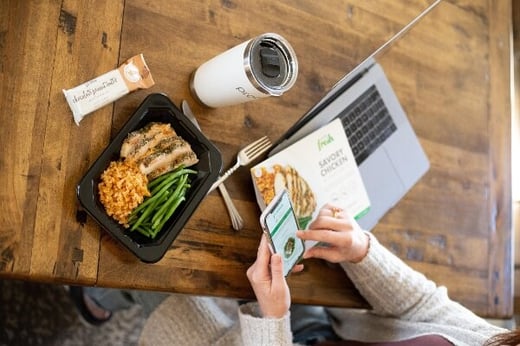 And even better, you can choose from 15 different delicious options! Here are the top-5 dishes customers have been raving about:
Not a Profile member yet? There's no better time to join then now! Schedule a free consultation to learn how we can support you through your health and wellness journey.