Simple Meal Plan to Lose Weight [with Free Printable Guide]
Need a quick and easy guide to help you shed some pounds? Here is a simple meal plan to lose weight, including a free printable guide!
BY: Profile
December 1, 2021
Who hasn't had a busy day that leads to your stomach growling as you search for the nearest food? Life is busy and planning healthy meals and adhering to a diet plan can be a struggle. That's why meal prepping is a game changer! Check out our ultimate meal prepping guide that is full of tips and tricks that can help you become a pro meal planner in no time.
Why Should You Meal Prep?
Planning out your meals help fill your week with nutritious foods that fuel your body and give you a rock-solid plan for getting healthy meals on the table. Not sure what to make and more meal inspiration? From breakfast to lunch, even drinks and desserts, we have a variety of recipes and nutrition-related articles that focus on mindful and healthy living.
What is a Good Menu for Losing Weight?
Before you can plan a good menu and eat convenient meals that match your lifestyle goals, you must know what your body needs to reach the goals you have in mind.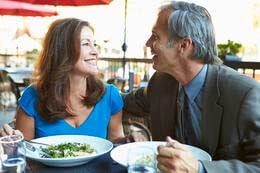 5 Steps to Making Simple Meal Plans Work for You
Meal planning can be a very valuable tool for weight loss. Here are 5 steps to developing a meal plan that fits your individual needs.
Step 1. Identify potential challenges to your diet pan
Grab your calendar because it plays a huge part in your plan for weight loss.

Look at the week ahead and identify what meals will be the hardest to get in.

What activities or commitments do you have that will make it more difficult to stick to your diet plan?

Identify your schedule challenges so you can effectively be prepared for those days. Planning ahead is essential, and is an effective step in helping you lose weight
Step 2. Schedule your shopping and prep time
Next, find where you have some free time in your schedule to meal plan. You'll want to pencil in time for making a shopping list, going grocery shopping, and meal prepping.
Prepping ingredients ahead of time can be a major time saver! For example, by cooking a whole chicken and shredding it, you'll have the main ingredient for several weekly meals ready to go. Dish up some Basil Pesto Chicken and Vegetable Spaghetti, quickly put together chicken tacos, or top a fresh green salad with chicken and a touch of olive oil.
Step 2. Find some of your favorite recipes to add to your meal plan
Putting together your meal plan will be easier if you have healthy recipes that your family loves that you can rely on. Start by identifying two to three of your favorite, go-to recipes. You could also make some of your favorites healthier by swapping out vegetable oil for olive oil, grill instead of fry, or substitute vegetables for starches.
Next, find a new healthy recipe to try this week. If your family loves it, add it to the rotation. If they're not a fan, try a different one next week. Check out our profile menu for a list of healthy options, or watch this video about how to make delicious and healthy kale chips!
Step 4: Portion out your meals
As you begin your diet plan, control your food portions by putting your meals into individual containers. This helps you make sure you don't binge eat or run out of food before it's time to meal prep again. It also makes food easier to grab on the go and more convenient.
Step 5: Plan your meals
Once you've scheduled your shopping and meal prep time and found some healthy recipes, you can start to plan your meals. Meal planning should be the last step in the process, even though it often is flipped to first.
After you've gone through these steps, your meal plan will be more purposeful and intentional, which will increase your results. Your plan for weight loss will be achieved before you know it!

If You Don't Have Time To Meal Prep, Here are Other Tips to Help You Lose Weight:
Tip #1: Start a Food Journal
Jot down everything you eat and drink each day in a log or online tracker. You may be surprised at how much food you consume on a daily basis.
This will help you with your diet plan because you will be more aware of what is in the foods you are eating. You will also be more mindful of your food choices and if you are eating out of hunger, boredom or stress. Watching these trends can help you lose weight.
Tip #2: Restaurants – Know if they Meet Your Diet Plan Before You Go
Everyone enjoys eating out every now and then, and there is a way to do it that won't conflict with your diet plan. Review what restaurants in your area have to offer so you can make better decisions about where you eat out.
Pay special attention to portions, cooking styles, and nutrition facts. Many restaurant foods are extremely high in calories because they add sugar, fats, and sodium to make food taste better. Ask to have your salad dressing on the side, or use olive oil as your dressing.
Tip #3: See Food Differently
Change the way you look at food. Sit down with a Profile coach and have a chat about weight loss tips and how to view food as fuel for your body. Talk about what your body needs versus what your brain wants. Altering your relationship with food can help you lose weight and keep it off.

Simple Meal Plan to Lose Weight: Does it Really Work?
Meal plans can work wonders toward your weight loss efforts because they keep you on track and prevent you from making in-the-moment decisions that might not be the healthiest choice.
Profile Makes it Easy to Meal Plan
Are you ready to start meal planning with a purpose so you can have meals that fit your weight loss goals? Weight loss meal plans help fill your week with foods that fuel your body and have a rock-solid plan for getting healthy meals on the table.


Get the full, downloadable Ultimate Meal Planning Guide for FREE. This download includes meal planning resources and planning charts that help you plan ahead!