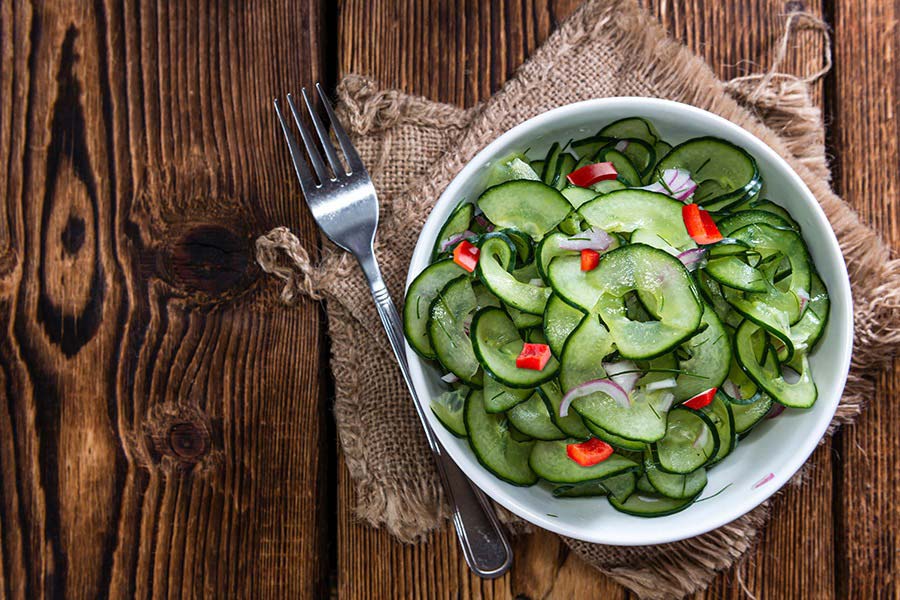 Asparagus Tomato & Feta Salad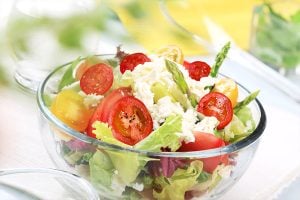 2 lbs. fresh asparagus, tough ends trimmed, diced into 2-inch pieces
1 (10.5oz.) package grape tomatoes, halved
½ cup feta cheese
¼ cup chopped walnuts
Bring large pot of water to a boil.
Add asparagus to boiling water and allow to boil until tender crisp, about 4-5 minutes. Meanwhile, fill a medium mixing bowl with ice and cold water. Drain and immediately transfer asparagus to ice water, let rest about 10 seconds then drain.
Transfer asparagus to a bowl with tomatoes and walnuts. Drizzle Profile Balsamic Vinaigrette over top and toss lightly.
Sprinkle in feta cheese and toss again lightly.
Profile Exchange: 2 cups vegetables, 2 fats, 1 free food
Asian Cucumber Salad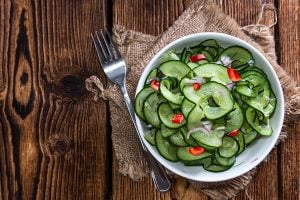 ¼ – ½ cup Profile Zesty Asian Vinaigrette
4 cups very thinly sliced seedless cucumbers (or mini cucumbers)
¼ cup finely sliced red onion
¼ cup finely diced red pepper
1 teaspoon sesame seeds
Add very thinly sliced cucumber, red onion, red pepper, and sesame seeds to a medium sized bowl and set aside.
Add dressing and toss to mix everything. Serve immediately or cover and let sit in the refrigerator for an hour to let all the flavors meld.
Profile Exchange: 2 cups vegetables, 1 free food
Springtime Veggie Pasta Salad
1 package Profile Pasta (your choice)
½ cup Profile Caesar Dressing
2 medium Roma tomatoes
1 medium zucchini
1 medium broccoli crown
½ medium red onion
2 cups asparagus spears, trimmed and cut into 2-inch pieces
Parmesan cheese for topping
Directions:
Cook Profile Pasta according to package directions. Run under cold water to chill.
Prepare the vegetables. Give the vegetables a good wash and then cut into bite sized pieces.
Combine the cooked pasta, chopped vegetables, and dressing. Stir until everything is well mixed and coated. Serve immediately or refrigerate until ready to eat.
Profile Exchange: 2oz. very lean protein, 1 cup vegetables, 1 free food
Spring Vegetable and Quinoa Salad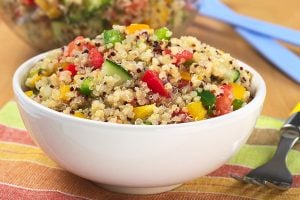 1 ¾ cups low-sodium chicken broth
1 cup quinoa, rinsed and drained
1 tablespoon olive oil
2 garlic cloves, minced
1 cup orange bell pepper, diced
1 cup red bell pepper, diced
½ pound asparagus, trimmed, cut into 1-inch pieces
1 cup zucchini, chopped
Pepper to taste
4 green onions, thinly sliced
1 tablespoon chopped fresh parsley
In medium sauce pan, bring broth to a boil and add quinoa. Cover, reduce to low heat and simmer until quinoa is tender and broth is absorbed, about 15 minutes. Remove from heat and fluff with fork. Cover and set aside.
In large skillet over medium high heat, add olive oil and garlic; sauté 30 seconds. Add bell peppers, asparagus and zucchini. Sprinkle with pepper. Sauté until just tender, about 8 minutes.
Add cooked quinoa, green onions and parsley to vegetables in skillet; toss to combine. Season with pepper.
Profile Exchange: 1 starch, 1 cup vegetables, 1 fat
Lemony Tuna Salad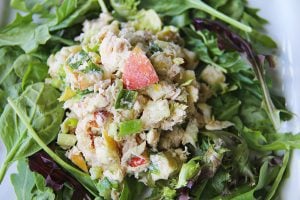 4 large hard boiled eggs, halved
5oz. can tuna (packed in water)
¼ small red onion, finely chopped
Zest and juice of ½ lemon
1 tbsp fresh chopped dill
1 tsp olive oil
¼ cup feta cheese
4 cups mixed greens
Combine tuna, onion, lemon zest and juice, dill and olive oil in large bowl and combine. Toss in mixed greens.
Top salad with feta cheese and serve.
Profile Exchange: 4.5oz protein, 2 cups vegetables, 1 fat
Thai Lettuce Wraps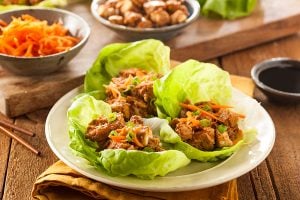 1 Tbsp. P3
1 lb. ground chicken
1 head Butter lettuce
1 tbsp olive oil
2 cloves garlic, minced
1 onion, diced
2 green onions, thinly sliced
1 tbsp Sriracha sauce
1/4 cup carrots, shredded
Heat olive oil in a saucepan over medium high heat. Add ground chicken and cook until browned, making sure to crumble the chicken as it cooks; drain excess fat.
Stir in garlic, onion, Profile Asian Dressing, P3 and Sriracha until onions have become translucent, about 1-2 minutes.
Stir in green onions until tender, about 1-2 minutes; season with salt and pepper, to taste.
To serve, spoon several tablespoons of the chicken mixture into the center of a lettuce leaf, taco-style. Top with shredded carrots.
Profile Exchange: 4oz protein, 1 cup vegetable, 2 fats, 1 free food
1 package Profile BBQ Crunch O's, crushed
1 lb. ground turkey
1 tsp oil
1 tbsp. low-sodium taco seasoning
6 cups Romaine lettuce, chopped
1 cup grape tomatoes, halved
½ medium red onion, chopped
1 green bell pepper, chopped
¼ cup shredded cheddar cheese
1 medium avocado, cubed
½ cup scallions, chopped
¼ cups salsa
Heat oil in a skillet over medium-high heat. Add ground turkey and cook until browned.
Stir in taco seasoning into the ground turkey until well combined.
Meanwhile, combine all remaining ingredients in a large bowl. Add the ground turkey and toss everything together.
Profile Exchange: 4oz. very lean protein, 2 cup vegetables, 1 fat