Fresh Pepper Nachos
Mini pepper nachos loaded with taco meat, cheese, Pico de Gallo, and black beans, topped with avocado and cilantro. A low-carb and veggie-filled alternative for snack-time, dinner-time, or anytime!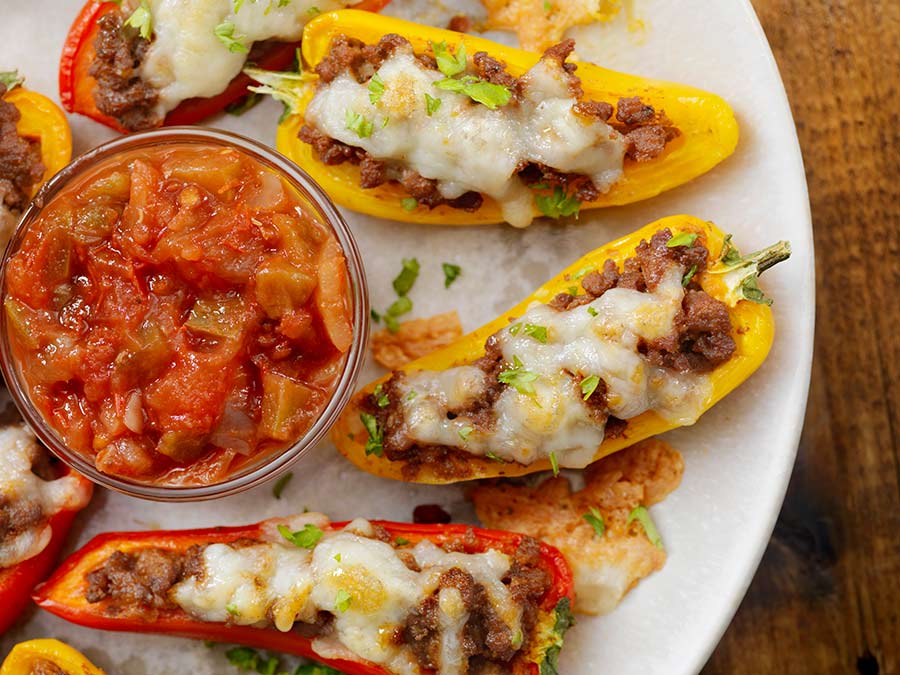 1/2 lb. prepared taco meat
1/2 - 1 bag mini bell peppers, halved and seeded (or 2 large bell peppers)
1/2 cup black beans, rinsed and drained
1 jalapeno, sliced
1 medium avocado, diced
1/2 cup shredded cheddar cheese
1/4 cup cilantro, chopped
In a large bowl, combine taco meat, pico de gallo, black beans, jalapeno, and avocado.
Arrange the peppers on a baking sheet, fill with the filling, sprinkle on cheese and broil until cheese is melted, about 2-4 minutes.
Serve with garnished cilantro.
Profile Exchange: 4 oz lean protein, 2 cups vegetables, 2 fats, 1/2 starch
Looking for a great side to pair with these Fresh Pepper Nachos?
Try this Mexican Cauliflower Rice!
KEYWORD
Low-Carb Nachos, Mini Peppers, Stuffed Peppers
Looking for more delicious and Profile approved recipes? Download a copy of the Profile Favorites Cookbook for FREE while supplies last!