Club Pilates + Profile Member Experiences Dual Success
Following a custom nutrition plan and custom attending her sessions at Club Pilates, Lisa experiences success from every aspect of her health.
BY: Profile By Sanford
January 6, 2022
Comments Off

on "Tom & Jerry" Shake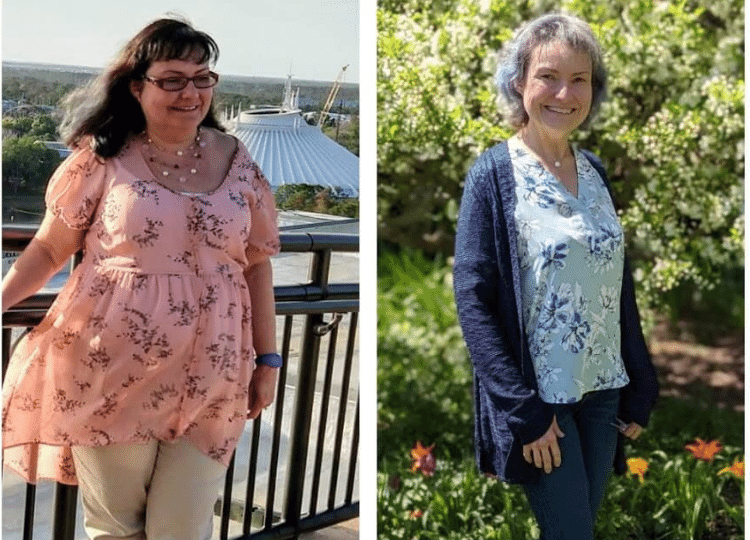 Following a custom nutrition plan and custom attending her sessions at Club Pilates, Lisa experiences success in every aspect of her health.
Meet Lisa, Profile and Club Pilates Member, who has achieved her health goals with the help of coaches at both companies. We did a Q&A with Lisa to the secret to her success.
What made you decide to join Profile?
I had gained a significant amount of weight due to emotional eating. My eating habits were completely out of control and I was carrying so much weight that it was uncomfortable to do the things I like to do. I couldn't tie my shoes without putting my foot up on a chair or bench! I was on vacation at Deer Valley Family Camp and just walking in the woods was so miserable that I was crying on the trail! I had to use a CPAP machine for sleep apnea and I had very bad gastroesophageal reflux. That autumn, I had a few friends who were losing weight successfully with Profile and they encouraged me to try the program.
How has the 1 on 1 coaching worked for you?
I love my coach, Meg. I can tell her anything and she gives me personalized help. I have been maintaining my weight for over a year and I still go to Profile once a month to check-in. I've done other programs with group classes and support but Profile individual coaching is 100x more helpful for me. I am still dealing with a lot of stress but I can talk to my coach about it. She is empathetic and encourages me to stay on track.
Profile is not a diet, but rather a holistic lifestyle change that encompasses nutrition, activity and lifestyle coaching to help you lose weight for good. Individualized coaching makes Profile different, as our certified coaches partner with you to maximize your personal potential and live life to the fullest. Read about the top 3 ways a Profile coach can help you lose weight and live a healthier life.
What have you learned along the way with your Profile journey?
I lost almost 80 pounds over 11 months. The slow, steady loss really helped me learn to get my emotional impulses to binge under control. Profile helped me learn to love healthy foods. I followed the Reduce/Reboot plan very strictly for about 7 months. When I was reintroducing fruit and carbs in Adapt I was able to maintain portions and truly enjoy what I was eating. I learned that nutrition rather than exercise is the key to losing weight. I also learned to eat on a proper schedule rather than starving myself. I never felt deprived because I loved the Profile shakes and bars and the schedule kept me full. During the first few months of Profile I exercised very lightly (30 minutes of walking or water aerobics a few times a week). This was perfect because my body wasn't hurting and I was getting smaller every day. Once I lost the weight my coach helped me find activities I would like.
How has Profile and Club Pilates helped you reach your health goals?
I joined Club Pilates with the goal of strengthening my core so I would have less back pain and to tighten up my body. I'm only 5'1" and I have never been athletic. I'm 48 years old. Club Pilates has small classes and the instructors pay close attention to everyone in the class. The other good part is that you have to reserve your spot ahead of time so you can't just go back to bed. They will notice if you are not there! There's a lot of accountability with both Profile and Club Pilates. I love that it's a full-body workout and it's also a very mindful exercise program. The coaches and the other students are so encouraging and fun. Every class is different but there's an easy familiarity once you've gone a few times. Plus, you're laying down for a lot of the class!


Any final words about your success?
Profile has taken me from obesity to fitness! I was able to get off CPAP for sleep apnea and my gastroesophageal reflux is gone completely without medicine. I've completed 100 Pilates classes and I joined a group that hikes at night. Tonight I hiked 4.5 miles in an hour and a half. It was dark, muddy, icy, and fast! It was a really tough hike but I didn't cry at all! This was a huge challenge for me and I did it! Profile helped me lose the weight and Pilates gave me the strength, balance, and flexibility. My body looks amazing now. I can wear a size 6 and I even feel comfortable in a bikini! Both programs have completely exceeded my expectations.
Ready to start living healthier? Set up a free consultation with a coach to learn how Profile can help you on your weight loss journey!