How to Find the Right Weight Loss Coach [According to the Experts]
Ready to lose weight for good? A weight loss coach might just be what you need. Here's a guide to find the right weight loss coach according to experts!
BY: Profile By Sanford
June 7, 2021
Comments Off

on "Tom & Jerry" Shake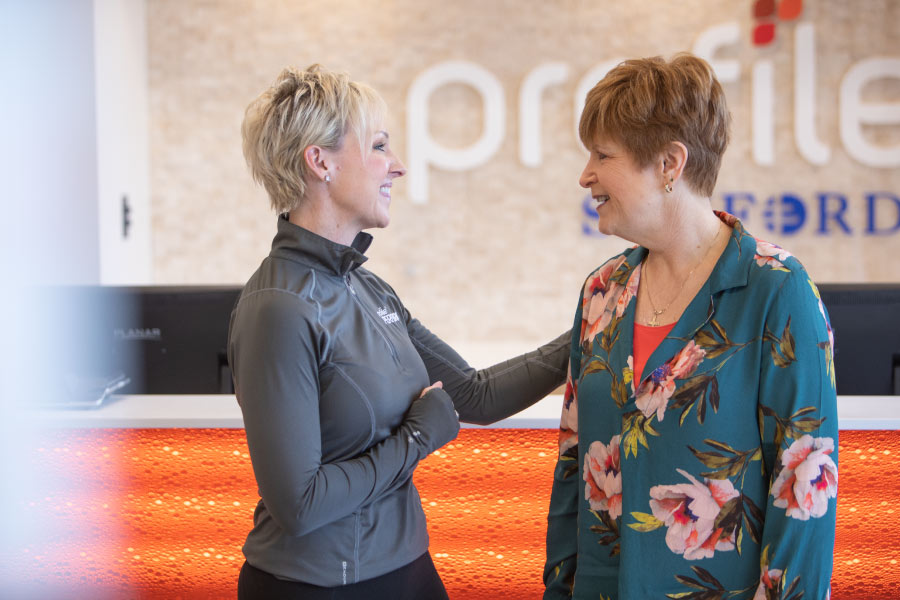 The impact of health coaching on your weight loss is real – studies prove it.
Research shows you'll lose three times more weight working with a weight loss coach than trying on your own.*
What Does a Weight Loss Coach Do?
A weight loss coach guides you through your weight loss journey, helps you choose the right foods, and encourages healthy eating habits. They are accountability partners who help you meet your goals and live a healthier life.
Weight loss coaching is one of the main reasons Profile members on average lose 12% of their body weight within 12 weeks. We've also found that, more often than not, members who attend 20 weight loss coaching sessions reach their goal weight and keep it off.
If you're interested in losing weight and would like to work with a weight loss coach, you may be wondering why coaching is beneficial and what qualities make them effective.
We asked Nicole Welle, Profile's Operations Specialist and Executive Coach, about what makes a good weight loss coach and how they can help our members achieve lifelong weight loss success.
Here's what she says:
Know the Coaching "Style" that Works for You
Nicole says weight loss coaches have different styles and approaches, so you need to think about the type of coach that is right for you.
In order to be successful, you might need to work together with a coach who will hold you accountable, who is very direct in their presentation, and who takes a "tough love" approach.
Or maybe you need someone with a softer touch, who is more nurturing and understands the challenges you are facing during your weight loss journey.
Nicole says that knowing the "type" of coach you need will help you achieve the best results.
A Weight Loss Coach with a Growth Mindset
Nicole says a good weight loss coach is one who is open minded, keeps up with research in the nutrition, activity and lifestyle fields, and is always wanting to learn more.
She says that an effective weight loss coach is one who is open to new approaches and ideas and adapts your program and eating plan to what works best for you.
If a weight loss coach has 15 appointments in a day, the coach should tailor each program module to each individual person, not take a blanket approach to coaching.
"One other thing I look for in coaches is adaptability," she says. "How can a member come to you? How do you tailor what the member needs in every single appointment?"
A Weight Loss Coach who is a Personality Match
When you have a great connection, feel comfortable, and have a good rapport with a coach, you will feel more motivated to accomplish your weight loss goals and achieve long term success.
"I always say to find someone you 'click' with," Nicole says.
Great coaches will want you to feel motivated and empowered as you reach your weight loss goals.
Here is what some of our members are saying about our coaches:
"Shout out to Profile! I was an instant fan of the program! Having one-on-one coaching is a big thing, coach Kathleen keeps me accountable and teaches me about healthier options and lifestyle changes to help keep the weight off permanently." – Jennifer R.
"The personal (one-on-one) coaching is what has made this plan work for me. I've previously tried EVERY diet and EVERY program, but my coach's support, encouragement, and direction has been a game changer for me!" – Sarah A.
A Weight Loss Coach with Credentials
All of Profile's coaches have earned credentials and have completed Profile's rigorous certification program. They are experienced in customizing plans to work with our individual client's needs. Our Profile coaches have a variety of backgrounds, education and are experienced in areas such as:
Nutrition Coaching
Nutrition coaching focuses on the science behind nutrition, and how it impacts your overall health. Coaches that focus on nutrition may be a Registered Dietician Nutritionist (RDN), or a Dietetic Technician, Registered (DTR).
Activity and Exercise Coaching
Activity and exercise coaching focuses on getting in shape, toning and gaining muscle. Coaches that focus on exercise are usually personal trainers who are certified by the National Academy of Sports Medicine or the American Council on Exercise.
Lifestyle Coaching
Lifestyle coaching focuses on lifestyle changes, improving habits and living a healthy lifestyle. Coaches that focus on lifestyle are sometimes certified by the International Coach Federation.
A Health Coach that Focuses on Goals
Goal setting is a huge part of coaching, Nicole says. "If a coach doesn't follow up on goals week to week, no one is going to see progress." Weight loss coaches provide ideas, suggestions and directions based on what the member needs, and establish goals to help clients lose weight.
And sometimes that involves asking hard questions and making clients think critically about their habits.
For example, if the client is going to a birthday party, a weight loss coach would encourage the client to prepare for every scenario.
"A weight loss coach would ask 'Your plan is to bring a veggie tray and your Profile shake. What if you forget your veggie tray? What if you forget your Profile shake and there's nothing for you that's on plan?'" Nicole says. "They think of the flip side of things that clients might not necessarily think about."
Questions to Ask Weight Loss Coaches
Nicole recommends talking with several weight loss coaches to learn about their approach. You may want to ask:
How do you implement a weight loss program with your clients?

Do you offer an initial consultation or trial period before starting the coaching program?

How do you and your clients work together to establish healthy eating habits?

What weight loss program do you recommend to your clients?

What is your background?

Why did you want to become a health coach?

What is your area of expertise?
Ready to Lose Weight for Good?
Are you ready to take the next step toward establishing life-long habits?
Working with a Profile weight loss coach will give you the motivation and accountability you need to lose weight for good.
Our science-based nutrition program combines compassionate, one-on-one coaching with sensible meal options to help our members lose weight. Learn more about health coaching and why it works, or schedule a free consultation with us today!