Carole's Journey to Motherhood With Profile
Lose weight via nutrition, activity & coaching developed by physicians at Sanford Health. Find your weight loss plan at Profile by Sanford today!
BY: profile
June 6, 2020
Comments Off

on "Tom & Jerry" Shake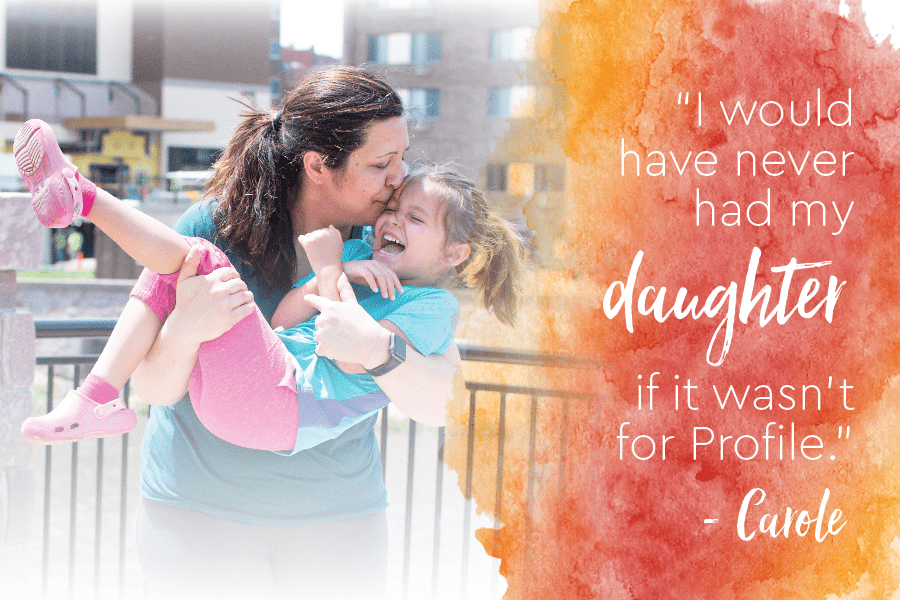 Carole James and her husband had been trying for a baby for five years when they made the difficult decision to stop. Struggling with polycystic ovary syndrome (PCOS), Carole was advised by a fertility doctor several years earlier to lose weight, as it might help her to conceive. "I saw a nutritionist and worked hard to lose 70 pounds, but it was so hard to do on my own and I gained some back. It wasn't sustainable."
Finding her way to Profile
By the time Carole decided to stop trying for a baby, she had started her health journey with Profile by Sanford – inspired by coworkers in her office who had lost weight. Carole, too, found success with Profile and lost 80 pounds when she received surprising news. She was pregnant! "I was so happy," she said, thinking back. "But I was also hesitant about ending my health journey." Little did she know it was just the start of her weight loss journey, one that would take her through a healthy pregnancy and on to a lifetime of better eating habits and more frequent exercise.
Once pregnant, Carole was immediately matched with a Certified MOM Coach. She followed a specific meal plan for moms-to-be and was educated about eating the proper nutrition to support her body and growing baby. "I wanted to make sure I had a healthy pregnancy, so it was really nice to have a coach consistently helping me."
Carole went on to have a healthy baby girl. She stayed on plan and met her goal of losing 120 pounds. "It's totally worth it. I can't imagine having done it without Profile. It was so amazing to know what to eat to grow a healthy baby and gain weight in a healthy way so I could lose it in a healthy way."
Living the healthy mom life
Life looks much different now. Carole exercises on a daily basis, fitting an early morning workout into her busy schedule. Cooking, shopping and eating look different too. Her daily eating routine is reflective of the things she learned through Profile – things like fruits and vegetables every day, cauliflower instead of potatoes, limiting pasta, and wheat bread instead of white.
Carole still struggles with the symptoms of PCOS, including migraines. She doesn't plan to have any more children, which is why her pregnancy experience with her daughter while on Profile is so special. "Because of my health issues, I really think she is a miracle. We're very grateful."
There's no reason, she said, to hesitate starting a health journey while you're pregnant. "You just take it one day at a time and remember that you're doing it for your child. I knew I was doing it to be healthy and to have a healthy baby. I will be grateful for that forever."
With Profile MOM, you can nurture your body and your baby with the best nutrition. Want to learn more? Click here to schedule you 1st MOM Coach session free!