Vegetable Spaghetti Carbonara
Vegetable Spaghetti Carbonara
BY: profile
June 6, 2020
Comments Off

on "Tom & Jerry" Shake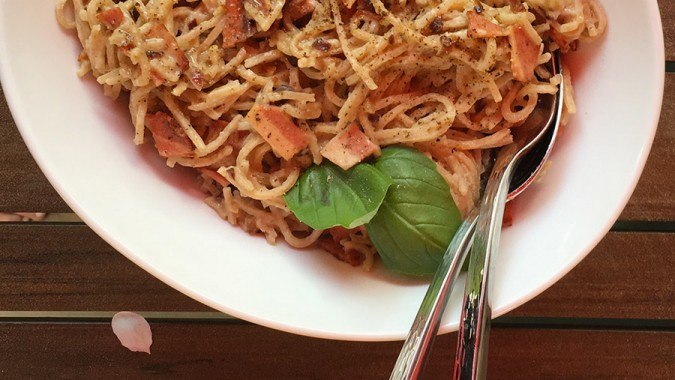 Servings: 4
Ingredients:
1 package Profile Spaghetti
8 slices turkey bacon, diced
1 small red onion, finely diced
4 tsp. olive oil
2 cups asparagus, chopped
2 cups mushrooms, chopped
2 cups cauliflower, chopped
2 cloves garlic, minced
1 egg
¼ cup unsweetened almond milk
¼ cup grated parmesan cheese
Salt and pepper, to taste
Directions:
In a large skillet over medium heat, add turkey bacon and red onion and cook until bacon is crispy and onions are slightly brown, about 8-10 minutes. Add garlic and stir until fragrant, about 1 minute. Remove from heat and set aside.
Return skillet to stove and heat oil over medium heat. Add asparagus, mushrooms and cauliflower and cook until softened. Remove from heat and set aside with turkey bacon.
Cook Profile Spaghetti according to package directions, keeping a small cup of pasta water off to the side.
In a small bowl, whisk together egg, milk and cheese. Add in about ½ cup of the hot pasta water, whisking constantly to prevent the egg from scrambling.
Add pasta to skillet and pour egg mixture in the skillet with pasta and toss to coat. Add remaining pasta water if needed. Turn the heat to medium low and cook until sauce has thickened, about 1 minute. Season with salt and pepper to taste. Remove from heat.
In large bowl, toss pasta, turkey bacon and vegetables.
Profile Exchange per serving: 4oz. very lean protein, 2 cups vegetables, 1 fat.