Spring Vegetable and Quinoa Salad
Spring has sprung and Quinoa is so hot right now! Enjoy this yummy salad that's much easier to eat than it is to say.
BY: profile
June 6, 2020
Comments Off

on "Tom & Jerry" Shake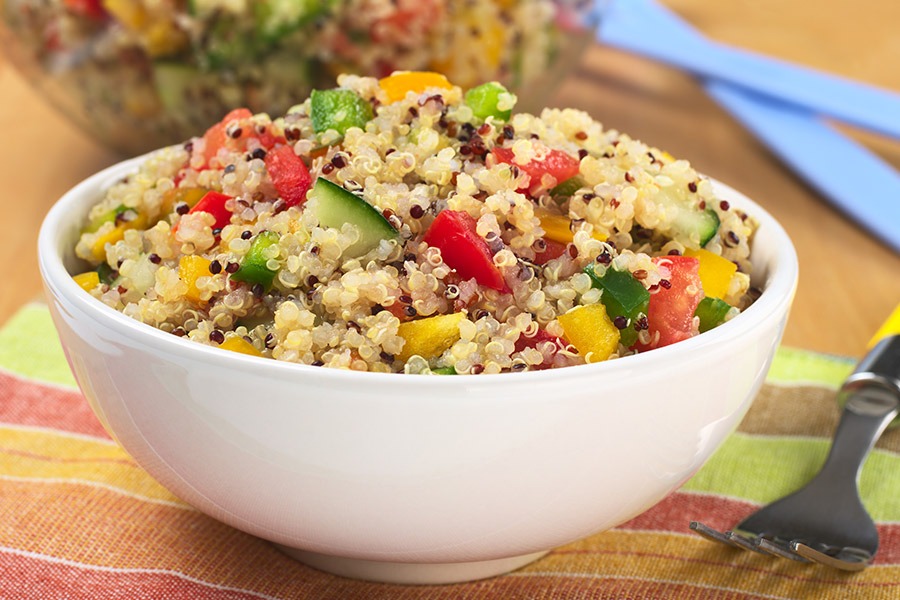 Servings: 4
Ingredients:
1 ¾ cups low-sodium chicken broth
1 cup quinoa, rinsed and drained
1 tablespoon olive oil
2 garlic cloves, minced
1 cup orange bell pepper, diced
1 cup red bell pepper, diced
½ pound asparagus, trimmed, cut into 1-inch pieces
1 cup zucchini, chopped
Pepper to taste
4 green onions, thinly sliced
1 tablespoon chopped fresh parsley
Directions:
In medium sauce pan, bring broth to a boil and add quinoa. Cover, reduce to low heat and simmer until quinoa is tender and broth is absorbed, about 15 minutes. Remove from heat and fluff with fork. Cover and set aside.
In large skillet over medium high heat, add olive oil and garlic; sauté 30 seconds. Add bell peppers, asparagus and zucchini. Sprinkle with pepper. Sauté until just tender, about 8 minutes.
Add cooked quinoa, green onions and parsley to vegetables in skillet; toss to combine. Season with pepper.
Profile Exchange: 1 starch, 1 cup vegetables, 1 fat