Scallops with Cauliflower Puree
Lose weight via nutrition, activity & coaching developed by physicians at Sanford Health. Find your weight loss plan at Profile by Sanford today!
BY: profile
June 19, 2020
Comments Off

on "Tom & Jerry" Shake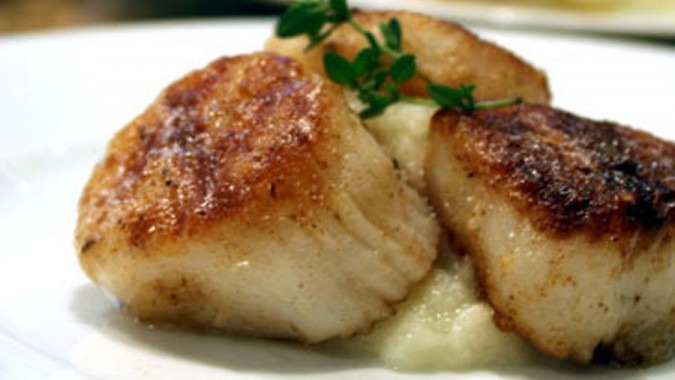 Number of Servings: 4
Serving Size: 4 scallops and 1/2 cup puree.
Ingredients
3 cups chopped cauliflower florets
1 cup water
½ cup fat free, lower sodium chicken broth
1 T canola oil
1 ½ pounds sea scallops
¾ tsp kosher salt, divided
½ tsp ground black pepper
1 ½ T unsalted butter
Directions
Bring first 3 ingredients to a boil in a saucepan; cover, reduce heat, and simmer 6 minutes or until tender.
Remove from heat. Let stand uncovered, 10 minutes.
Heat a large skillet over high heat.
Add oil, swirl to coat. Pat scallops dry with paper towels; sprinkle with ¼ t. salt and black pepper.
Add scallops to pan; cook 3 minutes on each side or until desired degree of doneness.
Remove scallops from pan.
Pour cauliflower mixture in a blender.
Add ½ t salt, butter, and black pepper.
Remove center piece of blender lid (to allow steam to escape); secure lid on blender.
Place a clean towel over opening in lid (to avoid splatters).
Blend until smooth. Serve puree with scallops.
Profile Exchange:4 oz. of very lean protein, 1 cup of vegetable, 2 fats
Modified from: Cooking Light
Photo Courtesy of EPI-Ventures