Salmon and Leafy Green Salad
A heart-healthy recipe for Salmon & Leafy Green Salad. Perfect lunch.
BY: profile
June 6, 2020
Comments Off

on "Tom & Jerry" Shake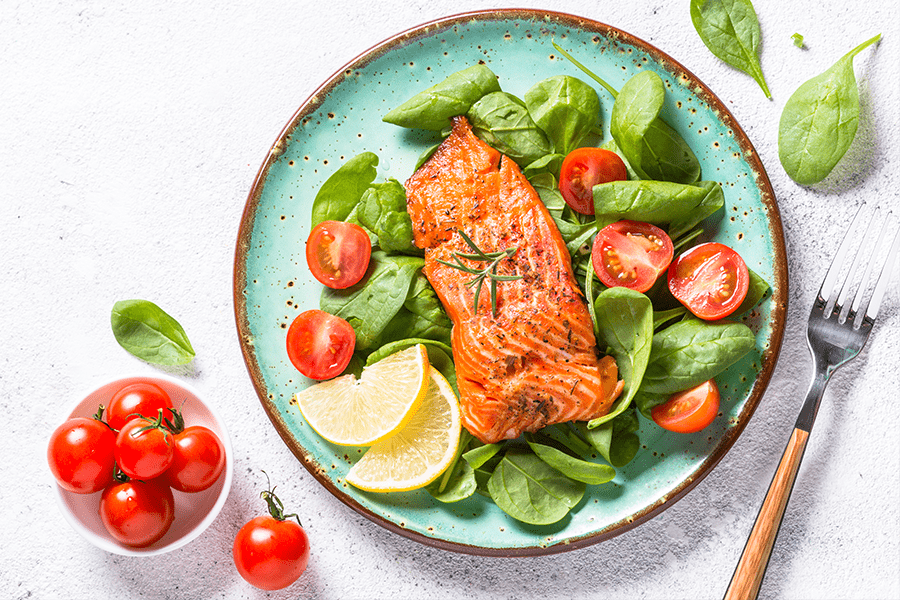 Servings: 2
4 tbsp. Profile Rosemary Balsamic Vinaigrette
2 salmon fillets
½ cup cherry tomatoes, chopped
½ cup baby arugula
1 cup baby kale
1 cup baby spinach
1 cup frozen edamame
16 almonds
Directions:
Preheat oven to 375 degrees and bake salmon fillets for 20 minutes.
While salmon is cooking, prepare frozen edamame according to package instructions.
In a large bowl, toss together cherry tomatoes, arugula, kale, spinach, edamame, and almonds. Break up salmon into very large chunks, removing skin and any bones, and toss into salad mixture.
Divide salad into two servings, placing in serving bowls and top with Profile Rosemary Balsamic Vinaigrette.
Profile Exchange: 4 oz very lean protein, 2 cups vegetables, 1 fat, 1 flex food