Roasted Tomato Spaghetti
Roasted Tomato Spaghetti
BY: profile
June 6, 2020
Comments Off

on "Tom & Jerry" Shake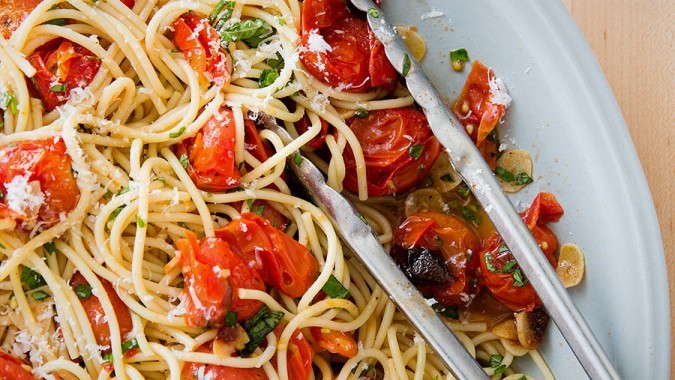 Servings: 4
Ingredients:
1 package Profile Spaghetti
1 cup heirloom cherry tomatoes
4 tsp. olive oil
¼ cup dried herbs (basil, oregano, sage)
2 cloves garlic, minced, divided
1 pinch salt and pepper
¼ cup parmesan cheese, finely grated
1 pinch crushed red pepper flakes
¼ cup fresh basil, chopped
Directions:
In large skillet, heat 2 tsp. olive oil over medium-high heat; sauté tomatoes until lightly seared, approximately 2 minutes. Remove from pan and set aside.
Add 2 more tsp. olive oil to pan, sauté garlic and crushed red pepper flakes over medium heat until softened, about 3 minutes. Turn the heat to low and add the dried herbs.
Cook Profile Spaghetti according to package directions, keeping a small cup of pasta water off to the side.
Transfer the spaghetti with tongs to the sautéed tomato mixture adding a few spoonfuls of pasta water, if needed, in order to generously coat each pasta strand. While mixing, add in the fresh basil and parmesan cheese with a pinch of salt and pepper.
Profile Exchange per serving: 2oz. very lean protein, ½ cup vegetables, 1 fat