Rainbow Grilled Veggie Kabobs
Grill up some seasonal produce with this delicious veggie kabob recipe!
BY: profile
June 6, 2020
Comments Off

on "Tom & Jerry" Shake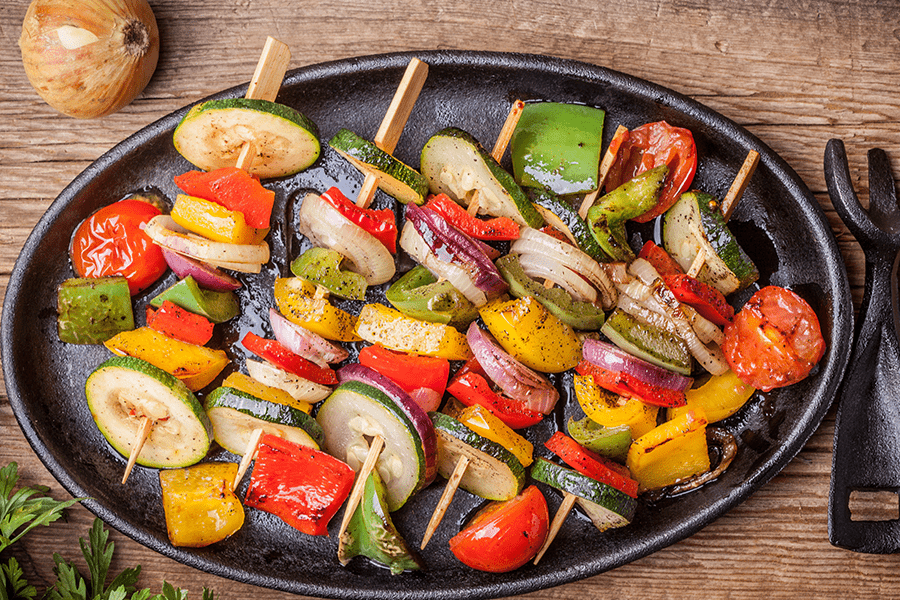 Servings: 16-20 kabobs
Ingredients:
Profile Rosemary Balsamic Vinaigrette
1 small eggplant
1 pint of grape tomatoes
2 orange peppers
2 yellow squash
2 small zucchini
1 red onion
16 oz mushrooms
16-20 wooden skewers
Directions:
Soak wooden skewers in water for a few minutes before skewering your vegetables. This will keep them from catching fire on the grill.
Wash and dry all vegetables.
Cut the eggplant into uniform-sized pieces and place them in a bowl. Sprinkle some salt over the eggplant pieces to help pull out moisture and soften.
Cut the orange peppers, yellow squash, zucchini, red onion and mushrooms into uniform-sized pieces.
Place vegetables on the skewers in any order you wish. Sprinkle with salt and pepper and spray with nonstick spray.
When ready to cook, heat grill to medium-high heat and place kabobs on the grill for 3-5 minutes.
Flip once and grill for another 3-5 minutes until you achieve desired doneness.
Remove from grill and generously brush each kabob with the Rosemary Balsamic Vinaigrette.