Profile Rice and Black Bean Salad
Lose weight via nutrition, activity & coaching developed by physicians at Sanford Health. Find your weight loss plan at Profile by Sanford today!
BY: profile
June 19, 2020
Comments Off

on "Tom & Jerry" Shake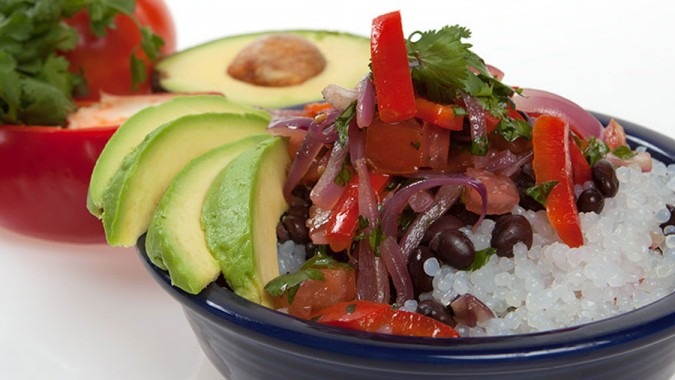 Number of Servings: 2
Serving Size: 1 cup
Ingredients:
1 pkg. Profile Rice
¼ cup red onion, chopped
½ cup tomatoes, chopped
1 red bell pepper, chopped
¼ cup cilantro
½ cup avocado
1 tsp. olive oil
1 can black beans (if on Reboot, Balance, or Sustain)
Directions:
Open bag of Profile Rice and pour into colander; drain and rinse.
Boil noodles for 1 minute, drain and pat dry with a paper towel.
Coat a large skillet pan with nonstick spray and place over medium heat. Add oil, onion and red pepper, sauté for five minutes.
In large bowl, combine rice, peppers, onions, tomatoes and cilantro.*
Divide into two servings and top each serving with ¼ cup avocado.
*If on Reboot Adapt or Balance – add 1 cup black beans (drained and rinsed) to mixture.
Profile Exchanges: 1 free food, 1 fat, 1 cup veggies