Profile Noodle Fettuccine with Vegetables
Profile by Sanford approved fettuccine with tomatoes, mushrooms, asparagus and more. Number of Servings: 4. Ingredients: Profile fettuccine, olive oil, garlic cloves...
BY: profile
June 19, 2020
Comments Off

on "Tom & Jerry" Shake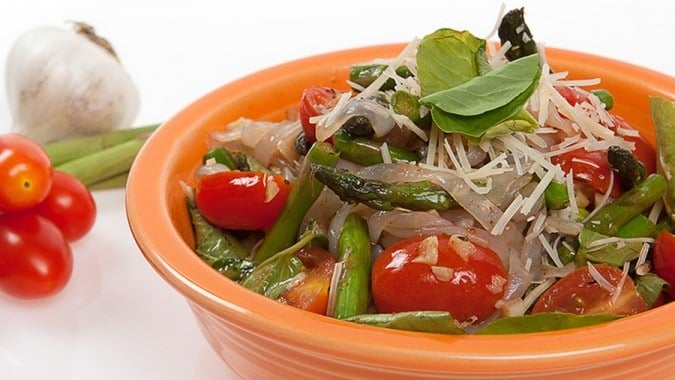 Number of Servings: 4
Ingredients:
1 pkg. Profile Noodles – Fettuccini
1 Tbsp. olive oil
2 garlic cloves, chopped
¼ tsp. dried rosemary
¼ tsp. dried thyme
20 cherry tomatoes, halved
1 small bunch asparagus, chopped
¾ cup fat-free, low-sodium chicken broth
1 tsp. balsamic vinegar
1 Tbsp. tomato paste
½ Tbsp. cayenne pepper
1 bunch watercress, stems and roots trimmed
½ cup finely grated parmesan cheese
Directions:
Open bag of Profile Noodles – Fettuccine and pour into colander; drain and rinse.
Boil noodles for 1 minute, drain and pat dry with a paper towel. Cut the noodles to shorten the strands.
Coat a large skillet pan with nonstick spray and place over medium heat. Add oil, garlic and herbs; heat for 30 seconds. Add chopped asparagus; sprinkle with salt and pepper. Cover and cook 5 minutes, or until asparagus is tender, stirring occasionally. Uncover and toss 3-4 minutes, or until asparagus starts to brown.
Mix in cherry tomatoes. Cover and cook 3 minutes, or until tomatoes start to break down.
Whisk broth, tomato paste and balsamic vinegar in a small bowl to blend. Add broth mixture, salt, pepper and cayenne to skill; stir to blend.
Add fettuccine, watercress and cheese and toss 1-2 minutes, or until watercress wilts.