Stuffed Peppers
Nothing says "let's watch some football" like some tasty appetizers and these delectable stuffed peppers are sure to please! They take a bit of time to prepare, but once it's time to enjoy you'll be glad you did!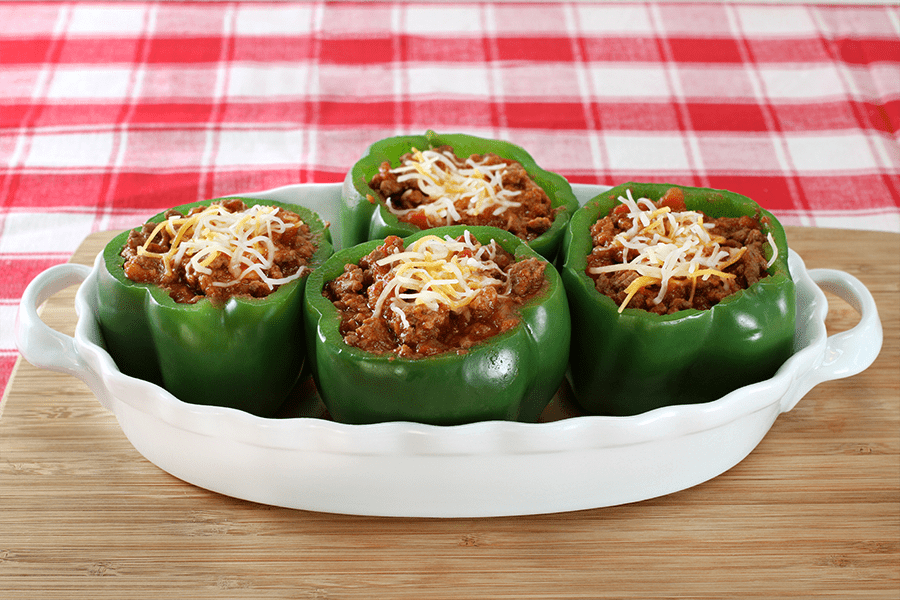 CUISINE
American, Profile
1

small can chopped tomatoes
Preheat oven to 375. Halve peppers lengthwise; remove stem, ends, seeds and membranes

Immerse peppers in into boiling water for 3 minutes and invert onto a paper towel to drain well

In a large skillet brown meat and onion until tender. Drain fat. Stir in tomato, water and ground pepper. Cover and simmer.

Place peppers in 8x8x2 baking dish.

Spoon meat mixture into peppers and sprinkle cheese on top.

Bake uncovered for approximately 15 minutes or until heated through.

Let stand for 1-2 minutes before serving.
KEYWORD
Profile Snacks, Profile-Friendly Football Food
Meatloaf Cupcakes
Remember that time you went to your friend's house to watch the game and he whipped out a pan of meatloaf just before kickoff? Yeah, me either. Meatloaf would make for a pretty strange football party snack…but meatloaf cupcakes; now that's an entirely different story altogether! If you're looking for a fun, original and finger-licking good gameday snack – check these out. You'll be glad you did!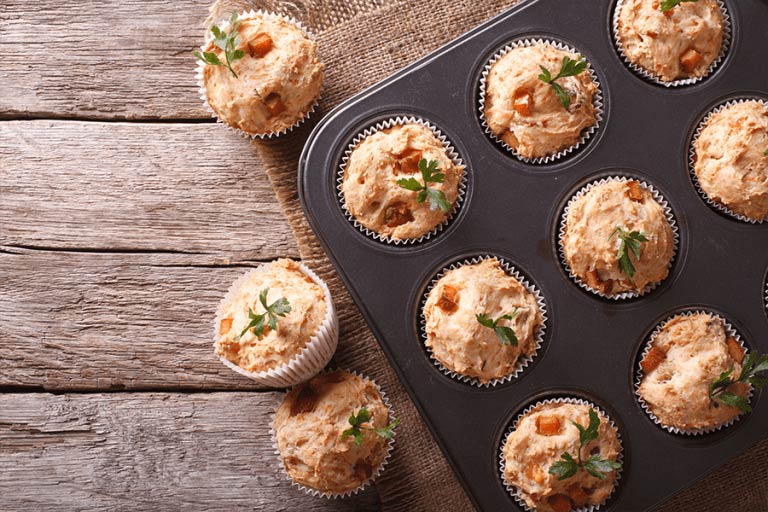 COURSE
Appetizer, Main Course, Side Dish, Snack
CUISINE
American, Profile
1

cup

cauliflower

par cooked and finely chopped

2

tsp.

Worcestershire sauce

¼

cup

green bell pepper

finely diced

¼

cup

white onion

finely diced

12

small cubes of mozzarella cheese

¾

cup

reduced-sugar/sugar-free ketchup
Preheat oven to 450. Line a 12-muffin tin with muffin liners

Cook 1 cup cauliflower in a microwave-safe bowl with a small amount of water. Microwave on high for 2-3 minutes. Drain off water and chop fine, using a food processor. Set aside.

Add onion, pepper, carrot and garlic in food processor until finely diced.

Mix ground beef, egg, cauliflower, Worcestershire and seasonings along with vegetables in a large bowl.

Portion less than ¼ cup of mixture and add a mozzarella piece to the center and roll into a ball and place in a muffin liner. Repeat to fill the pan. Top each with 1 tbsp. ketchup.

Bake for 20 minutes, let rest for 5 minutes. Serve immediately.
Profile Exchange: 3 oz. lean protein + 1/3 cup veggies + 1 fat
KEYWORD
Profile Football Foods, Profile Meatloaf, Profile Snacks
Roasted Red Pepper and Pepperoni Pizza
Is there a more classic American combination than pizza and football? This pizza is a Profile-approved crowd-pleaser like no other.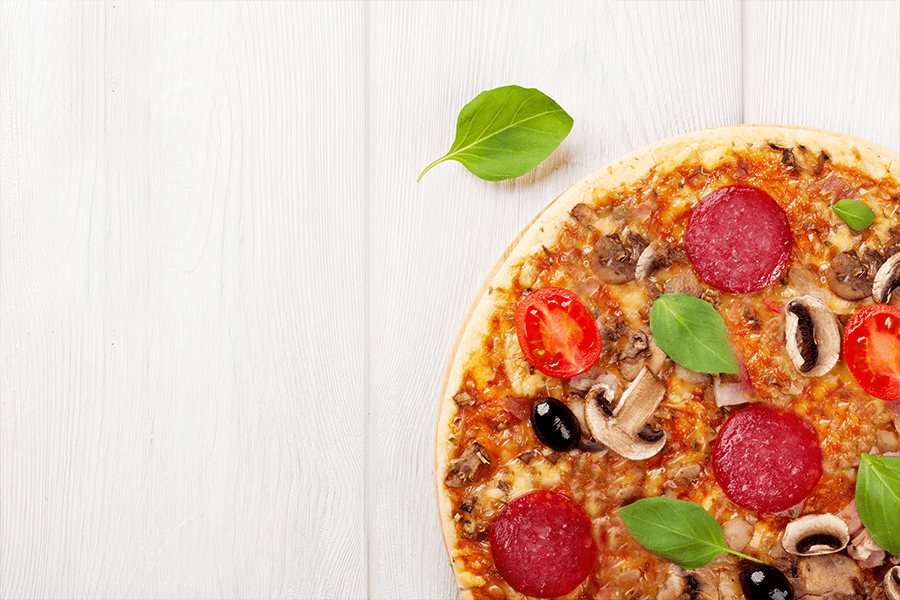 COURSE
Appetizer, Side Dish, Snack
CUISINE
American, Profile
Preheat oven to 400 degrees

Top pizza crust with Profile Red Pepper Sauce, turkey pepperoni, and any additional toppings

Remove from oven and enjoy!
KEYWORD
Profile Football Foods, Profile Pizza, Profile Pizza Crust, Profile Snacks
Thai Lettuce Wraps Recipe
Take in all the Thai flavors with these healthy Thai lettuce wrap recipes that are perfect for spring!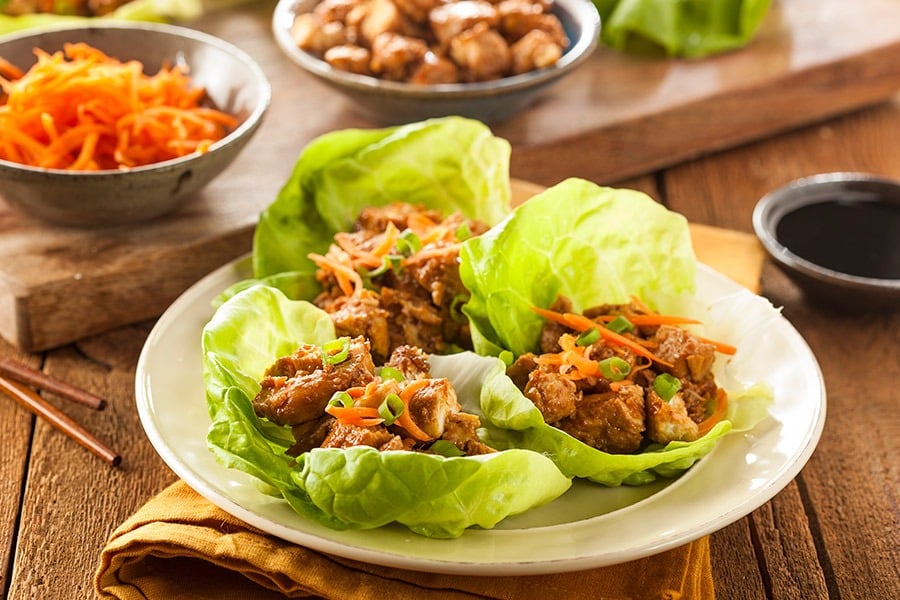 2

green onions

thinly sliced
Heat olive oil in a saucepan over medium high heat.

Add ground chicken and cook until browned, making sure to crumble the chicken as it cooks; drain excess fat.

Stir in garlic, onion, Profile Asian Dressing, P3 and Sriracha until onions have become translucent, about 1-2 minutes.

Stir in green onions until tender, about 1-2 minutes; season with salt and pepper, to taste.

To serve, spoon several tablespoons of the chicken mixture into the center of a lettuce leaf, taco-style.

Top with shredded carrots.

Enjoy your very own Thai lettuce wraps!
Profile Exchange: 4oz protein, 1 cup vegetable, 2 fats, 1 free food
KEYWORD
Lettuce Wraps, Profile Zesty Asian Vinaigrette Dressing, Profile-Friendly Asian Cuisine