Unstuffed Pepper Skillet
All of the "stuff" you like to "stuff" into a "stuffed" pepper…but without the pepper! Well, without the actual pepper but made with the delicious Profile Roasted Red Pepper Marinara Sauce.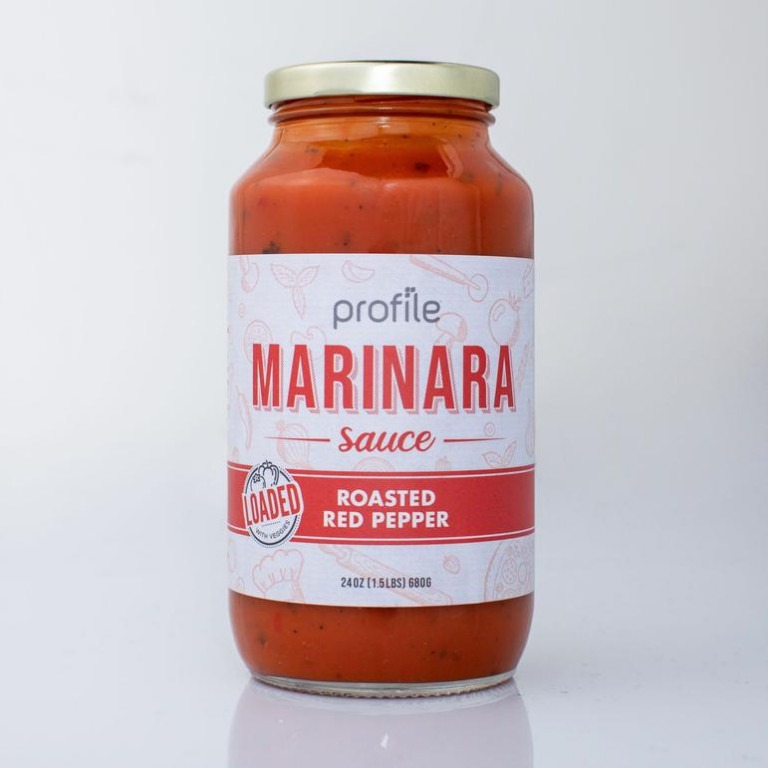 14.5

oz.

can chopped Italian style tomatoes

1

package frozen cauliflower rice

¼

cup

shredded Monterey jack cheese
Heat olive oil in a large skillet over medium heat.

Add onion and bell pepper and cook, stirring occasionally.

Add ground beef and cook, breaking it up into pieces, until browned.

Stir in tomatoes and Profile Roasted Red Pepper Sauce.

Bring to a simmer, cover, and cook for 5 minutes.

While mixture is simmering, cook cauliflower rice according to package directions.

Stir in the cooked cauliflower rice to the mixture.

Sprinkle with cheese and serve.
KEYWORD
Low Carb Ground Beef Recipes, Profile Roasted Red Pepper Sauce
Easy Sheet Pan Cashew Chicken
Easy, weeknight chicken recipe. The whole family will love this!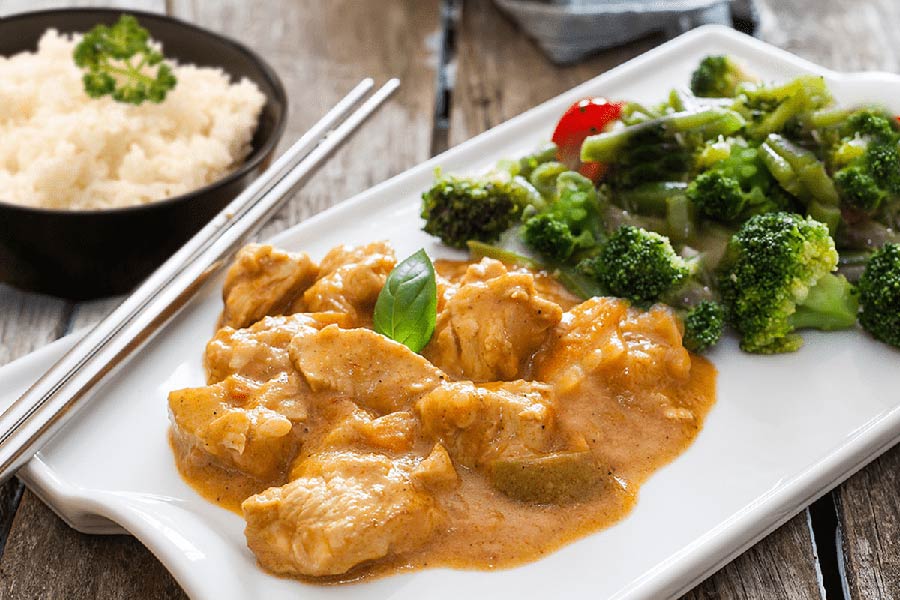 1

lb.

boneless

skinless chicken breasts, cut into ¼-½ inch pieces

1

cup

diced red bell pepper
Preheat oven to 400 degrees.

Line a large sheet pan with non-stick foil and spray with non-stick cooking spray.

Place the chicken, broccoli, red bell pepper, and cashews onto prepared baking sheet, spreading out evenly.

Pour Profile Zesty Asian Vinaigrette over the chicken mixture and mix well.

Bake for 20 minutes, or until chicken is cooked through and vegetables are tender.

Serve with cauliflower rice or brown rice.
KEYWORD
Asian Stir-Fry, Profile Zesty Asian Vinaigrette Dressing, Profile-Friendly Asian Cuisine
Crock Pot Chicken Caesar
An awesome, Profile-friendly crock pot or slow-cooker recipe.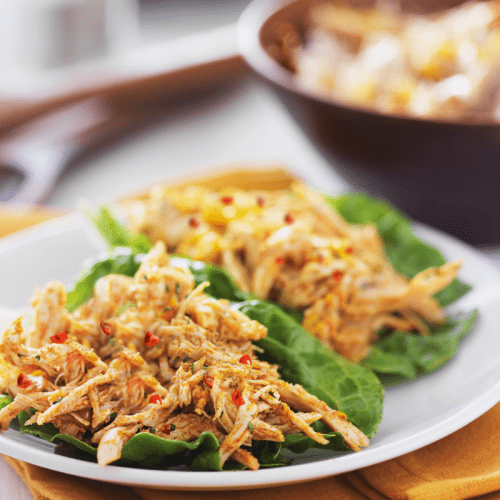 1 ½

pound

boneless

skinless chicken breasts

½

cup

shredded Parmesan cheese

1/3

cup

fresh parsley

chopped
Place chicken in slow cooker and add water.

Cook for 4-5 hours on high, or 5-6 hours on low, until chicken is thoroughly cooked but still moist and fall-apart tender.

About 30 minutes before serving, check chicken to be sure it's fully cooked and then shred cooked chicken using two forks.

Once the chicken is shredded, add Profile Parmesan Caesar Dressings and Parmesan cheese and stir until chicken is coated.

Add more dressing if needed.

Continue cooking for about 30 minutes to allow flavors to meld.

Immediately before serving, stir in chopped tomatoes and fresh parsley.

Serve as lettuce wraps or on whole wheat buns and enjoy!
Profile Exchange: 3oz. very lean protein, 1 cup vegetables, 1 fat, 1 free food
KEYWORD
Low Carb Slow Cooker, Profile Slow Cooker, Slow-Cooker
Meatloaf Cupcakes
Remember that time you went to your friend's house to watch the game and he whipped out a pan of meatloaf just before kickoff? Yeah, me either. Meatloaf would make for a pretty strange football party snack…but meatloaf cupcakes; now that's an entirely different story altogether! If you're looking for a fun, original and finger-licking good gameday snack – check these out. You'll be glad you did!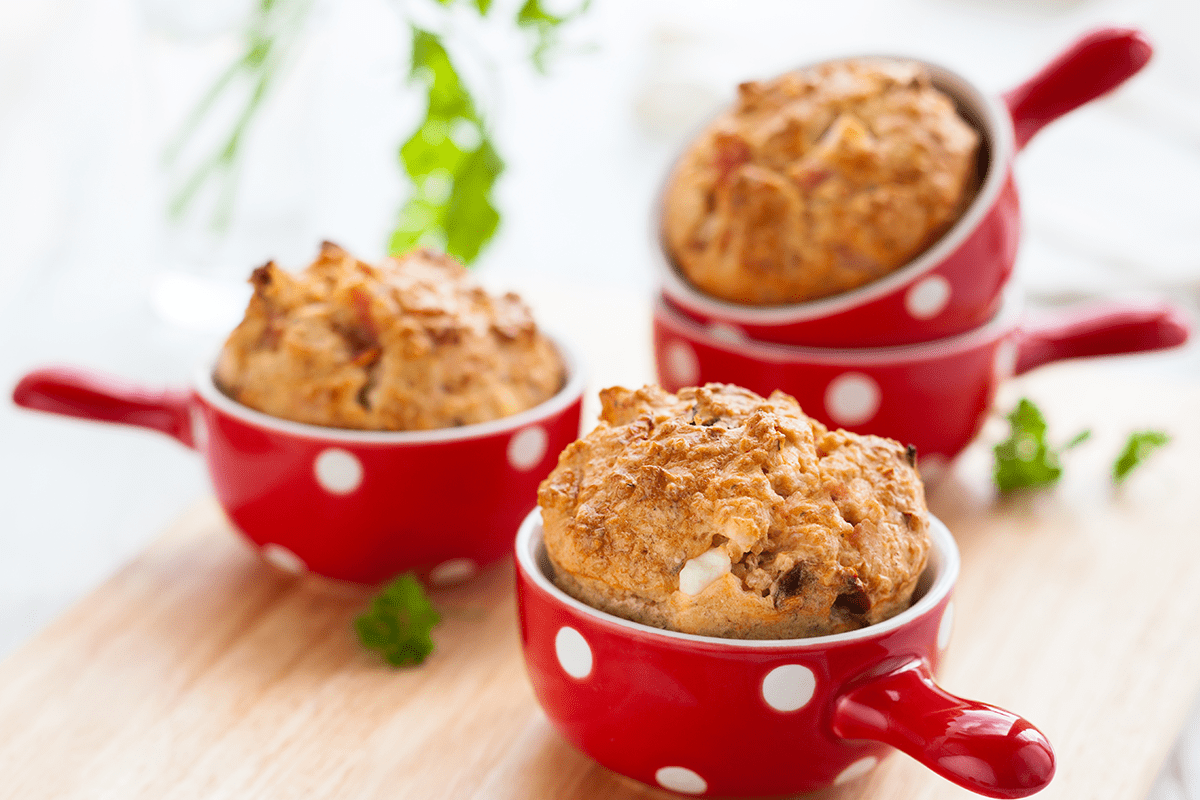 COURSE
Appetizer, Main Course, Side Dish, Snack
CUISINE
American, Profile
1

cup

cauliflower

par cooked and finely chopped

2

tsp.

Worcestershire sauce

¼

cup

green bell pepper

finely diced

¼

cup

white onion

finely diced

12

small cubes of mozzarella cheese

¾

cup

reduced-sugar/sugar-free ketchup
Preheat oven to 450. Line a 12-muffin tin with muffin liners

Cook 1 cup cauliflower in a microwave-safe bowl with a small amount of water. Microwave on high for 2-3 minutes. Drain off water and chop fine, using a food processor. Set aside.

Add onion, pepper, carrot and garlic in food processor until finely diced.

Mix ground beef, egg, cauliflower, Worcestershire and seasonings along with vegetables in a large bowl.

Portion less than ¼ cup of mixture and add a mozzarella piece to the center and roll into a ball and place in a muffin liner. Repeat to fill the pan. Top each with 1 tbsp. ketchup.

Bake for 20 minutes, let rest for 5 minutes. Serve immediately.
Profile Exchange: 3 oz. lean protein + 1/3 cup veggies + 1 fat
KEYWORD
Profile Football Foods, Profile Meatloaf, Profile Snacks