Huevos Rancheros
Huevos Rancheros
BY: profile
June 6, 2020
Comments Off

on "Tom & Jerry" Shake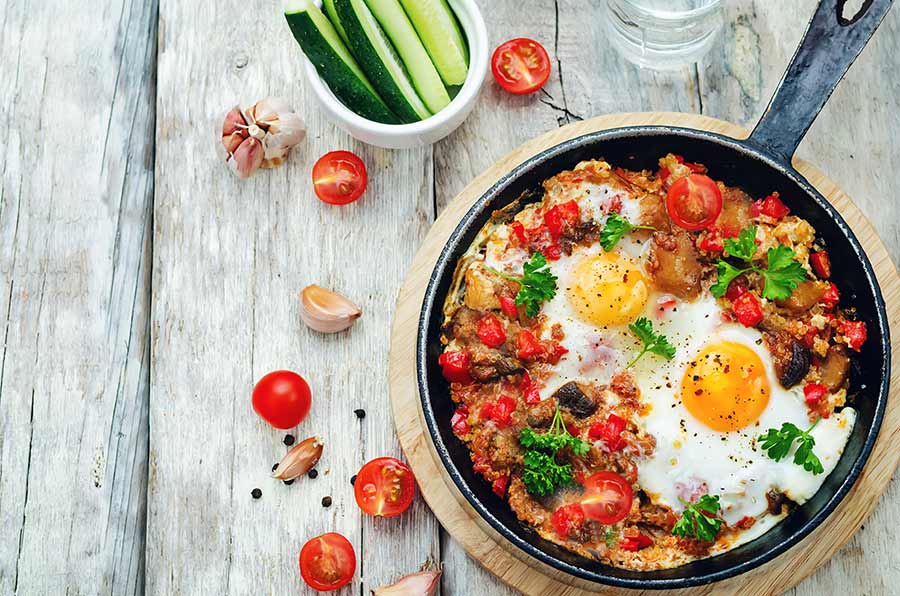 Servings:
1
Ingredients:
Profile Fiesta Blend Seasoning
2 eggs
1 tsp. oil or butter
1/2 orange bell pepper, chopped
1 tbsp. yellow onion, chopped
1 fresh jalapeno, minced
1/2 cup diced tomato
1/4 avocado, sliced
Directions:
Heat oil or butter in small skillet over medium heat.
Sauté bell pepper, onion and jalapeno for 3 minutes or until onion and peppers are softened slightly.
Add diced tomatoes and sauté for 5 minutes. Remove veggies from skillet and set aside.
Crack the eggs into the skillet and top with Fiesta Blend seasoning. Cook the eggs sunny side up until the white is opaque and the yolk has slightly set. Slow cook the eggs for approximately 6 minutes or until the whites cook through.
Plate the eggs, top with the veggie mixture and garnish with avocado slices. Add additional Fiesta Blend seasoning as desired.
Profile Exchange per serving:
2 oz. very lean protein, 1 ½ cup vegetables, 2 fats