Herb Crusted Tenderloin of Beef
Herb Crusted Tenderloin of Beef
BY: profile
June 6, 2020
Comments Off

on "Tom & Jerry" Shake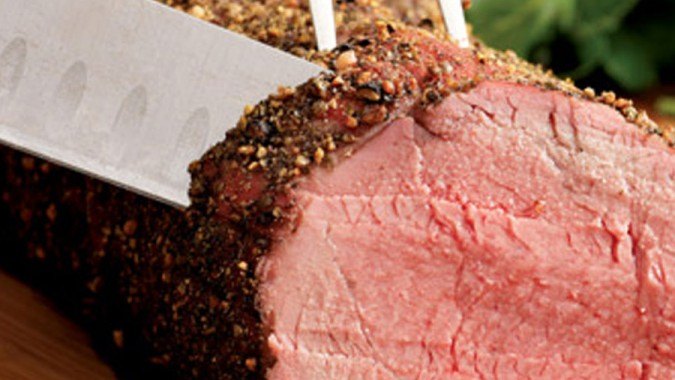 Number of Servings: 20
Serving Size: 4 oz
Ingredients:
4-5 lb beef tenderloin; trimmed and silver skin removed
1 T fresh rosemary, chopped or 1 tsp. dried
2 T fresh parsley, chopped or 1 1/2 tsp. dried
2 T fresh thyme, chopped or 1 1/2 tsp. dried
2-3 T minced garlic
1 T onion powder
Salt and pepper to taste
2 T olive oil, divided
Directions:
Pat meat dry with paper towels. Place 1 T of olive oil in a large skillet over medium-high heat. Brown meat on all sides to form a rich crust and seal in the juices.
Remove from skillet and place in a roasting pan that is just large enough to hold roast. Rub with additional 1 T oil and sprinkle with salt and pepper, minced garlic, and onion powder.
Combine the herbs and rub over meat; place in a preheated 450 degree oven. Insert an oven-safe meat thermometer into meat and roast until desired degree of doneness.
For a 4-5 lb roast it will take approximately 50-60 minutes to reach 135 degrees (145 degrees medium rare after standing) and 60-70 minutes to reach 150 degrees (160 degrees medium after standing).
Transfer meat to a cutting board and tent with foil for 15 minutes before cutting to allow the juices to settle into the meat.
Tips: Plan on 4 servings per pound of beef. If you use an instant-read thermometer in place of an oven-safe thermometer begin to check the internal temperature
of the meat after 40 minutes of roasting by inserting the thermometer into the thickest part of the loin this will ensure that you get your desired degree
of doneness and nothing more.
Profile Exchange: 4 oz. lean protein
Photo courtesy of: Kitchen Daily