Chicken Parm with Spaghetti Squash & Roasted Tomatoes
Just because you are on a weight loss plan does not mean you need to avoid spaghetti! This family-friendly spaghetti squash dinner is a delicious (and low-carb) twist on a classic favorite: Chicken Parmesan.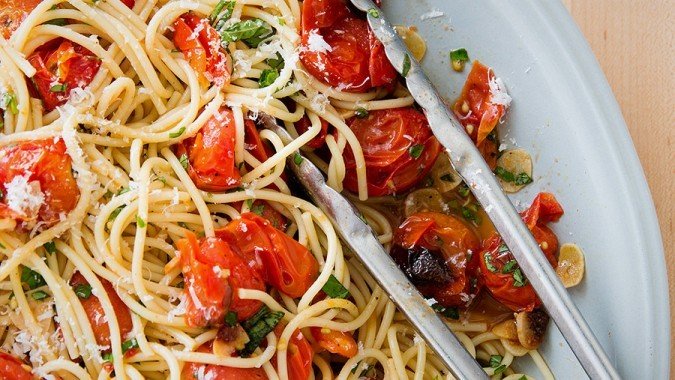 1 lb. chicken breasts tenderloins
1 medium size spaghetti squash
1 Tbsp. olive oil
1 can crushed tomatoes
½ tsp. salt
½ tsp. garlic powder
¼ tsp. pepper
¼ tsp. dried oregano
3 oz. fresh mozzarella cheese
1 pint grape tomatoes
1 tsp. dried basil
Additional salt and pepper to taste
In a food processor or blender, combine tomatoes, salt, garlic powder, pepper and oregano. Puree until smooth.
Place chicken in crock pot and top with tomato puree.
Cut spaghetti squash in half lengthwise and place cut side up on top of chicken.
Drizzle squash with olive oil.
Cover and cook on high for 4-5 hours or low for 6-8 hours until squash is tender and chicken cooked through.
Remove squash and use fork to pull squash into spaghetti like strands.
Place chicken on foil lined pan and top each piece with mozzarella cheese.
Cut grape tomatoes in half and toss with

Profile Balsamic Vinaigrette, basil and salt and pepper.
Place on pan with chicken and broil both until cheese is hot and bubbly (around 5-10 minutes).
Serve squash topped with chicken and tomatoes and extra sauce if desired.
Profile Exchange: 4oz very lean protein, 2 cups vegetables