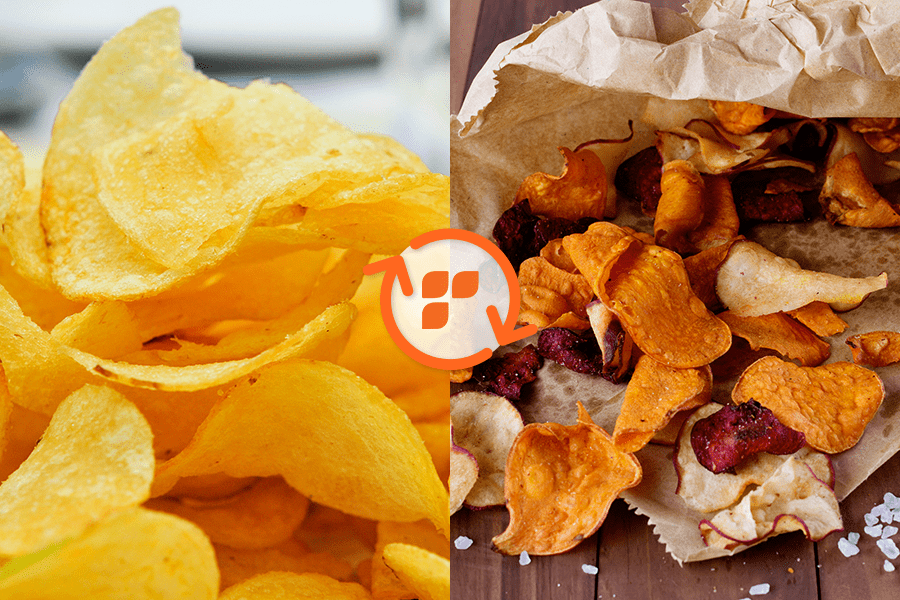 Air Fryer Donut Holes
A Profile twist on a classic breakfast treat! These low-carb, air-fried donut holes are a winner.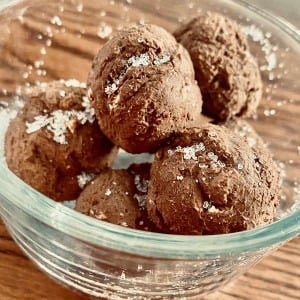 Combine all ingredients except for stevia, using enough water to make a dough consistency.

Roll into balls.

Air fry for 10 minutes or until firm on the outside.

Sprinkle with stevia
Profile Exchange 1 profile meal replacement, 1 flex food
KEYWORD
air fryer, low carb breakfast, Profile Swaps
Chick-Fil-A "Copycat" Breaded Chicken Sandwich
There has been a lot of talk lately about which fast food restaurant has the best chicken sandwich. "Popeyes" or "Chick-Fil-A"?!?! Enter the "Profile-Approved" Breaded Chicken sandwich into the conversation. Straight off the griddle taste with a fraction of the calories!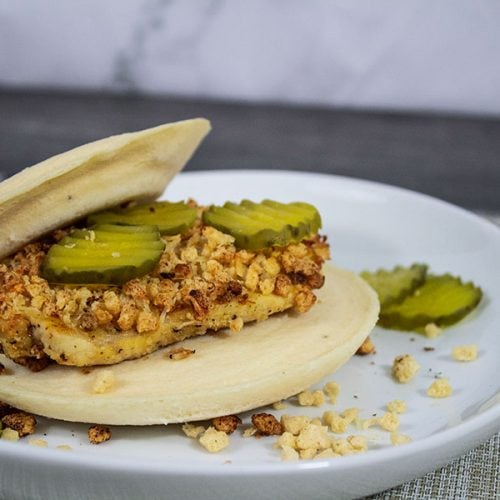 CUISINE
American, Profile
INSTRUCTIONS FOR THE CHICKEN:
Pound chicken to ½-inch thickness.

Cut in half and place in zip lock baggie with pickle juice. Marinate overnight.

Preheat air fryer for 5 mins at 400 degrees.

Remove chicken from the baggie and discard pickle juice.

Place chicken in bowl to coat with breading mixture evenly.

Place a piece of parchment paper in air fryer basket, lightly coat with cooking spray.

Place chicken in preheated air fryer and spray the chicken with nonstick cooking spray or olive oil.

Flip chicken and continue cooking for an additional 7-8 mins. This can vary based on the size of your chicken. Internal temperature should be 165 degrees.
INSTRUCTIONS FOR THE BUN:
Spray a round glass bowl with cooking spray and pour in mix.

Microwave mix for 1 minute.

When cooled, remove from bowl and cut in half.

Assemble the sandwich – bun, chicken, pickle slices, bun. Enjoy!
KEYWORD
air fryer, Air fryer recipes for weight loss, Healthy Copycat Breaded Chicken Sandwich, Healthy Substitute Breaded Chicken Sandwich, Profile Chicken Sandwich
Cauliflower BBQ Wings
This is a great take on a classic bar food. Try it out at your next gameday get together. These "wings" are perfect for air-frying as well.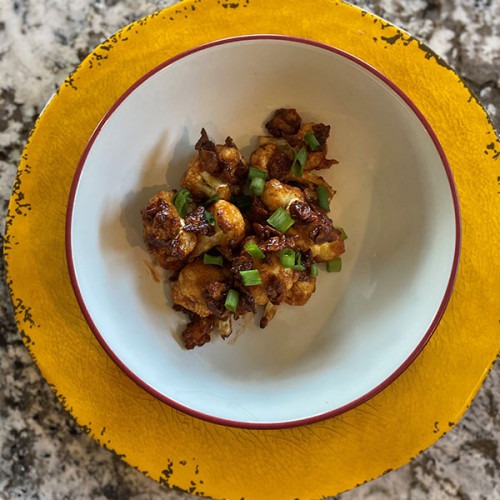 CUISINE
American, Profile
Preheat air fryer to 350 degrees.

Crush the chips in a shallow bowl.

Soak cauliflower florets in egg whites.

Press the cauliflower florets into the chip crumbs until well coated.

Lightly spray air fryer basket with non-stick spray. Place the cauliflower florets in the air fryer and cook for 15 minutes. Toss every 5 minutes to ensure an even crisp.
Profile Exchange: 1 Profile Meal, 1 oz very lean protein, 1 cup vegetables, 1 flex food
KEYWORD
Air fryer recipes for weight loss, Cauliflower wings, Profile Swaps, Profile-approved wings, Wings
Everything Bagel Chips
A healthier version of the classic Everything Bagel Chips. You'll love the crunch without the extra carbs. Delicious!
CUISINE
American, Profile
Cut pizza crust into small triangles using a pizza cutter.

Bake for 10-15 minutes at 350, or until chips reach desired crispiness.

Enjoy chips with guacamole, hummus, or cheese spread!
Profile Exchange per serving: 1 Profile meal replacement
KEYWORD
Air fryer recipes for weight loss, Low-carb swaps, Profile Swaps
Maple Pecan Donuts
You're going to love this low-carb, air-fryer friendly donut recipe. This is a tasty, low-carb swap for what is normally a carb-filled treat!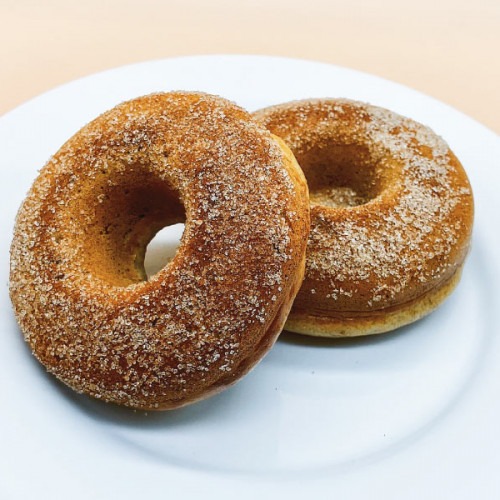 CUISINE
American, Profile
1

Package Profile Pancakes

1

package Profile Maple Pecan Shake

2

Eggs

1/2

tsp

Baking Powder

1

tsp

Cinnamon

1

tsp

Nutmeg

4

oz

Water

1

Tbsp

Sugar-free Maple Syrup

8

Pecans

Chopped

1/2

tsp

Vanilla Extract
Preheat oven to 350 degrees. Or use air-fryer.

If using donut pan, spray with non-stick spray. If using muffin tins, roll small sheets of aluminum foil into cylinders (tall enough to reach the top of the tin) and spray with non-stick spray.

Set aside.

In a medium-sized bowl, whisk egg and add

pancake mix

, shake mix, baking powder, cinnamon, nutmeg, and chopped pecans.

Divide batter into 6 donut molds or muffin tins.

Bake or air-fry for 17-20 minutes.
Profile Exchange: 1 Profile Meal, 1oz lean protein, 1 fat
Did you know you can get the Pancake Mix in our new online store?
KEYWORD
air fryer, air fryer donuts, low-carb donuts, Low-carb swaps
Zucchini Garlic Bites
These tasty Zucchini Bites are a great way to get your veggies in but also feel like you're having a treat! Try them in your air-fryer for that crispy "fried" taste.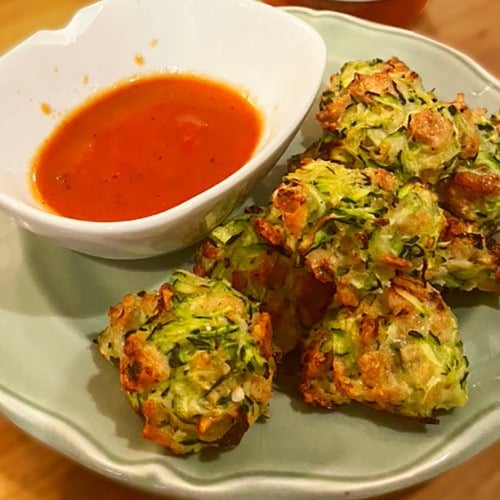 CUISINE
American, Profile
1

bag Profile Salt and Vinegar Chips

crushed

1

cup

zucchini

grated and drained

1

egg

whisked

¼

cup

parmesan cheese

1-2

tsp.

garlic

1

Tbsp.

parsley

1

tsp.

basil

1

tsp.

oregano
Preheat oven to 400 degrees. Lightly coat a baking sheet with non-stick spray. (or consider using your air-fryer!)

Use a cheese grater to grate zucchini. Place in a paper towel and wring out the moisture.

In a medium bowl, combine all ingredients except the marinara sauce and mix well.

Shape mixture into small balls, using about a tablespoon of the mixture, and place on baking sheet.
KEYWORD
air fryer, healthy swaps, profile comfort foods, Profile-Approved Zucchini, Zucchini
Fried Pickles
Enjoy this appetizer favorite with all the zesty flavors with a boost of added protein! Throw them in the air fryer for that crispy golden goodness.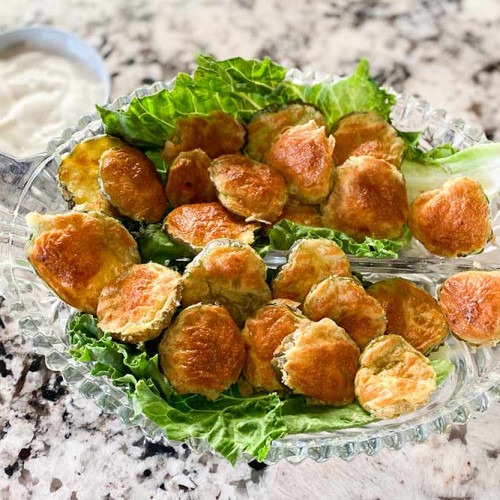 COURSE
Appetizer, Side Dish, Snack
1

package Profile Pancakes

1

egg white

1

tsp.

garlic powder

1

tsp.

baking powder

1 ½

– 2 Tbsp. of water

1

small jar of dill pickle chips
Pat dry the pickle chips with a paper towel

Add egg white and water and mix all ingredients together

Dip dill pickle chips in batter

Add pickle chips into an Airfryer and bake for 8-10 minutes at 400 degrees

Alternatively, place pickles on baking sheet and bake at 450 degrees for 8 minutes on each side

Let cool and enjoy your fried pickles!
Profile Exchange: ½ meal replacement, ½ oz. very lean protein, 1 cup vegetables
KEYWORD
air fryer, Low-carb swaps
Zucchini Fritters
Savory, tender, veggie-forward. They are so versatile - you can put them with anything! Plus, they only take 30 minutes to make and have a make-ahead option.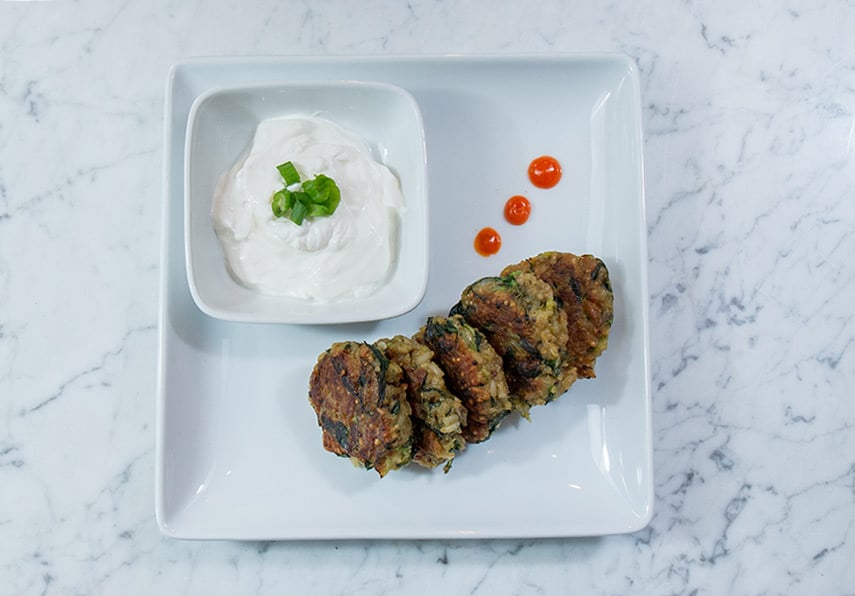 COURSE
Side Dish, Appetizer
CUISINE
American, Profile, Low Carb Bar Food
2 cups cooked and cooled quinoa
2 cups shredded zucchini (~2 small zucchinis as recipe is written) 2 Tbsp olive oil, plus more for cooking
1/2 cup finely diced onion
4 cloves garlic, minced
2 1/2 cups spinach (or combination spinach, kale, and swiss chard)
1 egg 1/4 tsp salt, plus more to taste pinch of black pepper
1/4 cup fresh dill (or 2 Tbs of dried dill)
3/4 cup oat flour (or 1/2 cup + 2Tbs oats, ground) + more if needed
1. If you do not already have cooked quinoa, prepare it at this time — 2/3 cup uncooked quinoa will yield ~2 cups cooked.
2. Shred zucchini using either the coarse side of a box grater or the grater attachment of a food processor. Then transfer to a clean towel and squeeze out excess moisture - try to get it as dry as possible!
3. Heat a large pot or rimmed skillet over medium heat. Once hot, add oil (or water), onion, and garlic. Season with a pinch of salt and pepper. Sauté for 3-4 minutes, stirring frequently, or until the onion is tender and fragrant. Add zucchini and sauté for another 2 minutes. Lastly, add chopped greens and stir to slightly wilt.
4. To a large mixing bowl, add sautéed vegetables, quinoa, salt, pepper, dill, and egg. Then, mix in oat flour and stir until combined. If too wet to handle, add more oat flour until tacky and able to mold into patties.
5. Optional step: let mix rest in fridge for 1 hour to 24 hours.
6. Form into thin (roughly 1/4-inch-thick) patties the size of the palm of your hand.
7. Air Fry until golden brown, ~4 minutes should do the trick
8. Serve hot with garnishes like lemon juice, yogurt, hummus, dill sauce, etc.
Profile Exchange Values: 2 fritters = 2 starches, 1 cup vegetables, 1 fat, 1 flex
KEYWORD
Zucchini, Air-Fryer, Low-Carb Swaps, Low-Carb bar food
Store leftovers covered in the refrigerator up to 3-4 days, or in the freezer up to 1 month. Reheat in your air fryer. If frozen, thaw before reheating.
Chile Relleno Boats
Profile member Jessica Riggs created this recipe for Super Bowl Sunday, and loves food that is colorful and flavorful! This looks like a great way to satisfy your comfort food craving, while still sticking to plan!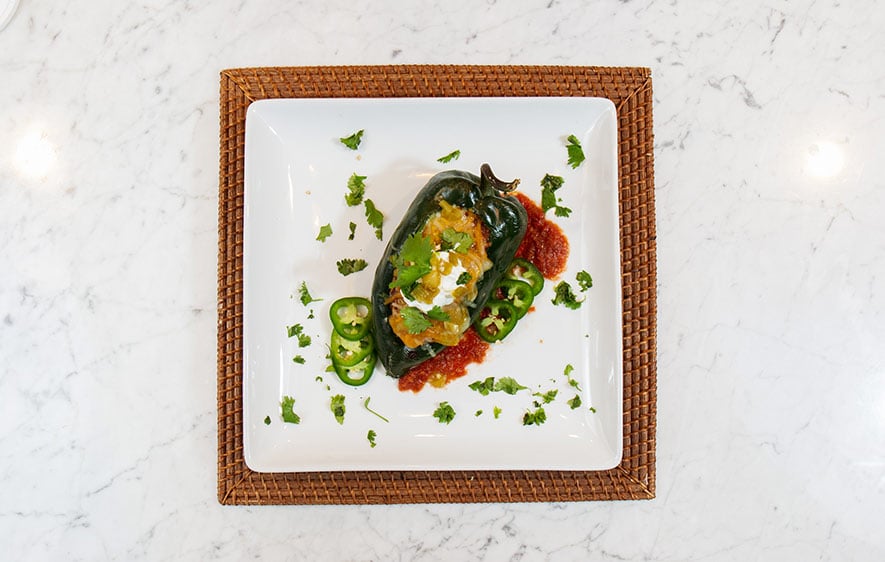 COURSE
Appetizer, Side Dish, Snack
1 large poblano pepper (1/2 cup veg)
1 small onion sliced and sauteed (1 cup veg)
1/2 cup cauliflower rice
1 oz fat free cream cheese (1 flex)
Fiesta blend seasoning
1 packet Sloppy joe mix
1/4 cup reduced fat shredded cheddar or Mexican blend cheese (1 fat)

sliced roasted red peppers
canned green chilis
jalapeno slices
green onions
cilantro
1/4 cup salsa,
1/4 cup fat free sour cream
Slice poblano pepper in half lengthwise, deseed
Mix sauteed onion, cauliflower rice, cream cheese and fiesta blend to taste.
A squeeze of lime juice will enhance fiesta blend seasoning.
Spread over pepper.
Prepare sloppy joe mix, reduce water for thicker consistency if desired.
Spread over cream cheese mixture.
Sprinkle with shredded cheese.
Add remaining toppings as desired.
Bake in a toaster oven or air fryer 10 minutes until the cheese is melted and lightly browned.

Top with salsa and sour cream if desired.
KEYWORD
air fryer recipes, low-carb air fryer meals, healthy Mexican food
Low Carb Tortilla Chips
Did you know that tortilla chips can be low-carb?!?! Check out the recipe below. You'll love it.
4

high fiber and low carb whole wheat tortillas

vegetable oil spray

herbs and spices to your taste

optional: salt and black pepper
Stack tortilla rounds together and cut into 8 wedges.

Place in Air Fryer individually; do not stack or double up giving them room to toast.

Spray tops of tortilla wedges lightly with vegetable oil spray and air fry till browned, about 10 minutes.

Remove from air fryer and enjoy
Tips: Watch closely to prevent over-browning of chips. Serve with Hot Artichoke Dip and crisp fresh veggies! Also, great with our Healthy Greens Veggie Dip!
KEYWORD
Low-carb swap ideas, Low-carb swaps, Low-carb tortilla chips
Air Fryer Sweet Potato Chips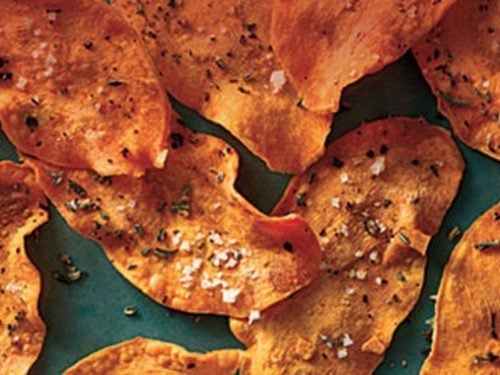 COURSE
Appetizer, Side Dish, Snack
CUISINE
American, Profile
Cooking Spray

1 14

oz

sweet potato

very thinly sliced and divided (a mandolin slicer works great)

1

tsp.

finely chopped fresh rosemary

divided

1/2

tsp

salt

divided

1/4

tsp

ground black pepper

divided





Arrange one-fourth of the potato slices in a single layer on your air-fryer.
Sprinkle evenly with 1/4 tsp. of rosemary, 1/8 tsp. salt, and a dash of pepper.
Air Fry at 390 degrees for 12 minutes.
Check for crispness.
Continue to cook at 30-second intervals until done.
Repeat procedure with remaining potato, rosemary, salt, and pepper.
Profile Exchange: 1 starch
KEYWORD
air fryer, Low-carb swaps, Low-carb chips, Profile Chips
Air Fried Kale Chips
Yes, Kale can be surprisingly delicious. Follow this recipe for easy to make, low-carb Kale chips! They're a great substitute for your favorite snack chip.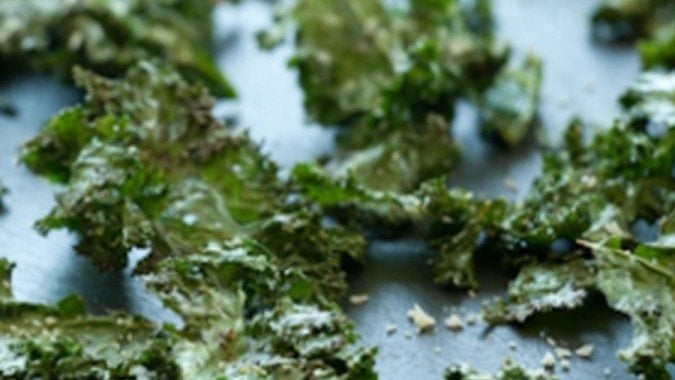 4

oz

fresh Kale

1

T

Extra Virgin Olive Oil

¼

tsp

salt

¼

tsp

garlic powder

optional




Wash and dry Kale, then cut out and discard center stems.

Place ½ of Kale in the center of a paper towel and fold over

Dry the Kale and to help flatten the Kale to make chips.

Repeat with the other half.

Cut the Kale into small pieces (2 inch diameter) to make about 40-45 chips.

Using a pastry brush, dab a small amount of olive oil on each piece, then sprinkle with salt (and garlic powder).

Air Fry at 390 degrees for 15 min until crisp but not brown.
Profile Exchange: 1 fat, 1 cup vegetables
KEYWORD
healthy swaps, Kale, Kale Chips, Low Carb Snacks, Profile Swaps, Weight Loss Swaps