Profile Earns Franchising Recognition
Profile, the comprehensive weight-management program developed by Sanford Health, has earned a spot on the Top New Franchises list published annually by Entrepreneur Magazine.
BY: profile
June 6, 2020
Comments Off

on "Tom & Jerry" Shake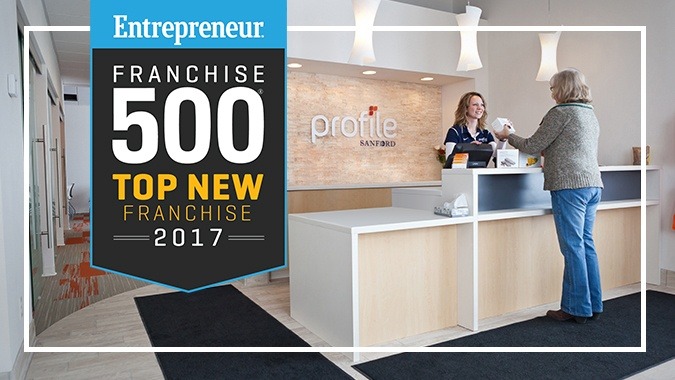 Profile Named Entrepreneur Magazine Top New Franchise, 2017 – Read more below or catch Profile Vice President Nate Malloy's article about Profile's continued growth.
Profile, the comprehensive weight-management program developed by Sanford Health, has earned a spot on the Top New Franchises list published annually by Entrepreneur Magazine.
Profile began as a start-up company within Sanford Health, one of the nation's largest and most innovative integrated health care systems. In less than five years, Profile has opened 30 retail stores in 10 states across the United States. Earlier this year, Profile announced plans to open at least 10 stores in Canada beginning in 2018. In total, Profile has more than 30 stores in development.
Profile by Sanford Vice President Nate Malloy believes earning a spot on the list is a nice boost for the company's growth plans.
"We're putting the pieces in place to scale this model quickly," Malloy said. "There's urgency because we believe Profile is just more effective than anything else out there."
The Top New Franchisees recognition comes as Profile works to open a franchise location in Grand Forks, ND. Malloy says Cedar Rapids, Colorado Springs, Iowa City and Minneapolis will be close behind, and that an existing franchisee has agreed to further develop the Des Moines market.
"Like-minded franchisees are coming to us," said Nate Malloy,"We have momentum because we change lives. It's that simple."
Currently, just six of Profile's 30 locations are owned by franchisees. The rest are run by Profile, a taxable non-profit. According to Malloy, there's a good chance that franchise locations will soon outnumber those owned and operated by Profile by Sanford.
"We're headed toward franchising," Malloy said. "We're motivated to make an impact as fast as possible, and franchising just makes Profile more accessible."
Malloy, who was recruited to Profile in 2013, calls this period in Profile's history "scale-up mode". He now leads a team at Profile that he says will steer the company through a period of rapid growth.
"We couldn't have gotten here without the support of an entire health system," Malloy said. "It feels good to say we've reached that moment where we can decide how fast we want to grow."
About Profile
Profile by Sanford combines nutrition, activity and lifestyle coaching to encourage healthy weight loss and healthy living. Physicians and researchers at Sanford Health, one of the largest and most innovative health systems in the nation, designed Profile by Sanford to be a simple, effective and sustainable weight loss solution. The program's results-oriented approach has allowed Profile by Sanford to open nearly 30 locations in less than five years. Another 30 stores are currently in development. For more information, visit profileplan.com.
About Sanford Health
Sanford Health, one of the largest health systems in the United States, is dedicated to the integrated delivery of health care, genomic medicine, senior care and services, global clinics, research and affordable insurance. Headquartered in Sioux Falls, South Dakota, the organization includes 46 hospitals, 1,400 physicians and more than 200 Good Samaritan Society senior care locations in 26 states and 10 countries. Learn more about Sanford Health's transformative work to improve the human condition at sanfordhealth.org or Sanford Health News.