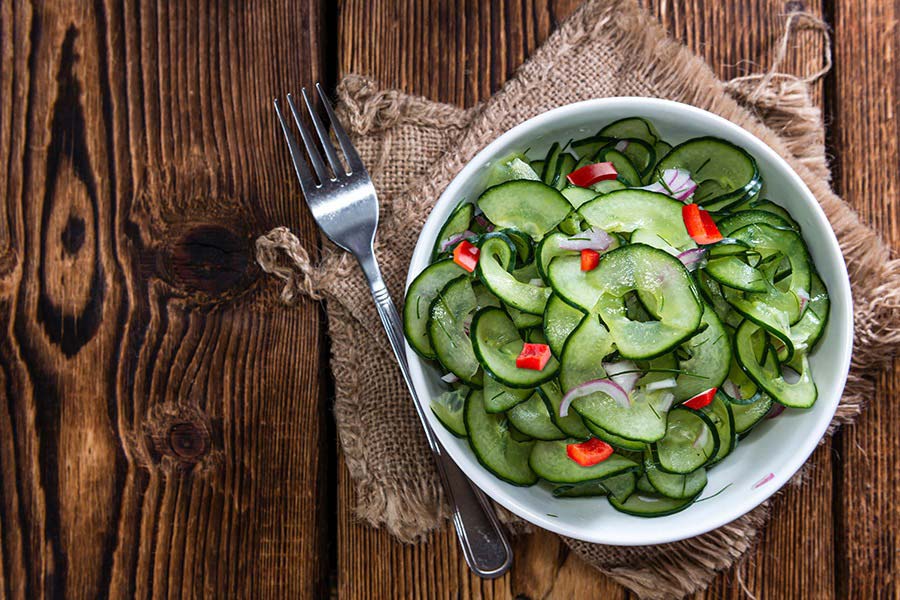 Asian Cucumber Salad
If you love cucumbers, you're going to love this Asian-inspired salad that's a perfect side for your next springtime get-together.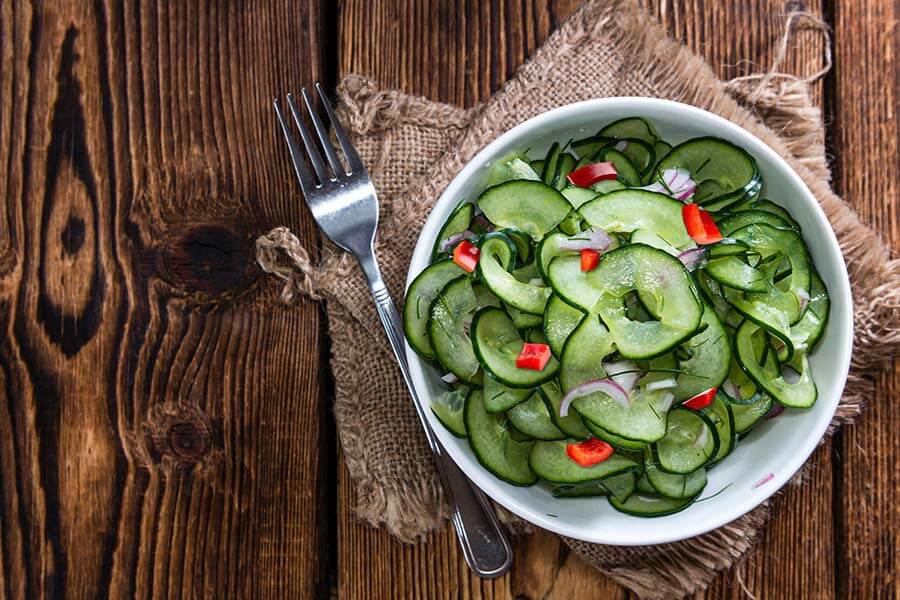 ¼ – ½

cup

Profile Zesty Asian Vinaigrette

4

cups

Very thinly sliced seedless cucumbers (or mini cucumbers)

¼

cup

Finely sliced red onion

¼

cup

Finely diced red pepper

1

tsp

Sesame seeds
1. Add very thinly sliced cucumber, red onion, red pepper, and sesame seeds to a medium sized bowl and set aside.
2. Add dressing and toss to mix everything.
3. Serve immediately or cover and let sit in the refrigerator for an hour to let all the flavors meld.
Profile Exchange: 2 cups vegetables, 1 free food
KEYWORD
Profile Salads, Salads for weight loss, cucumber salads
Farmers Market Vegetable Salad
Enjoy the fresh flavors of summer anytime with this produce-packed dish that is a crowd-favorite. A Profile-friendly salad with our Rosemary Balsamic Vinaigrette Dressing.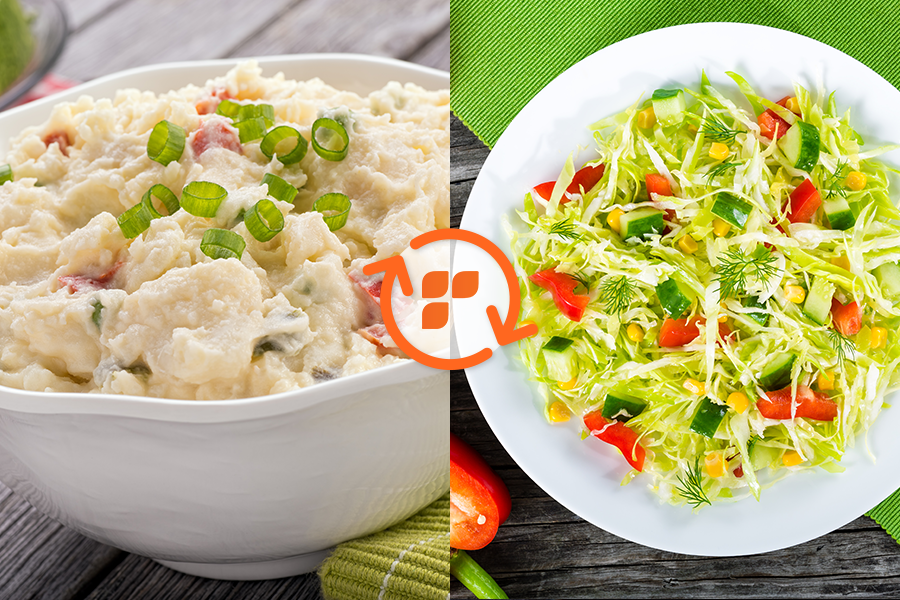 CUISINE
American, Profile
½

cup

canned green beans

drained and rinsed, cut into bite-sized pieces

½

cup

canned corn

drained and rinsed

½

cup

canned diced tomatoes

drained

½

cup

finely diced red onion

½

cup

assorted color bell peppers

diced

1

medium carrot

diced

1

small cucumber

chopped

1/3

cup

olives

halved

½

cup

crumbled or chopped feta cheese
1. Combine all ingredients in a large bowl.
2. Pour the dressing over the salad and toss gently. 3. Refrigerate for at least 2 hours before serving.
4. Enjoy!
Asparagus, Tomato and Feta Salad
Sink your teeth into this light, healthy and delicious Profile-approved Greek salad.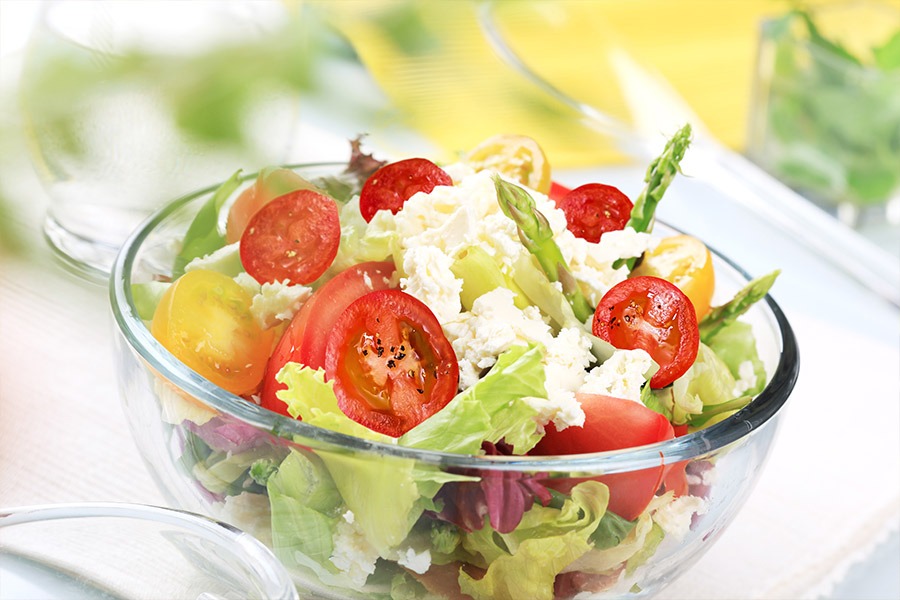 Large Pot

Medium Mixing Bowl
2

lbs.

Fresh asparagus, tough ends trimmed, diced into 2-inch pieces

1

(10.5oz.)

Package grape tomatoes, halved

½

cup

Feta cheese

¼

cup

Chopped walnuts
Asparagus to boiling water. Boil until tender crisp

Medium mixing bowl with ice and water

And transfer asparagus to ice water, let rest about 10 seconds then drain.

Asparagus to a bowl with tomatoes and walnuts

Feta cheese and toss again lightly.
Grillables
We all know that the grill is the heart of any spring or summer backyard get together. So what healthy spring recipe guide would be complete without the grillables?
And by grillables we don't necessarily mean steak and pork chops!
We've compiled a few healthy options for the grill from mushroom burgers to grilled pizza. But don't worry, we included a hamburger recipe for good measure.
Grilled Portabella Mushroom Burgers
Cut the cholesterol and savor the flavor of this vegetarian alternative to the hamburger. Balsamic marinade gives it a meaty taste that even a meat eater will enjoy!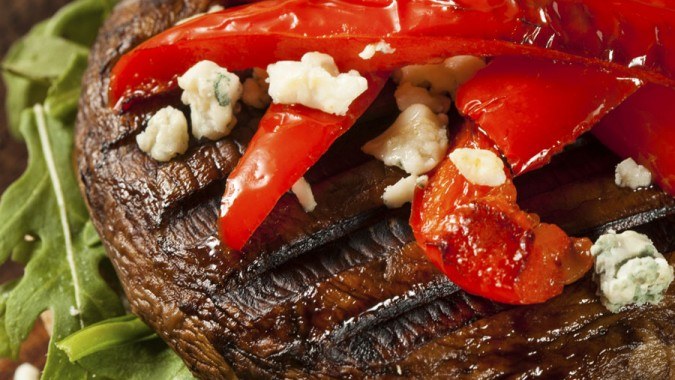 COURSE
Main Dish, Main Course
CUISINE
American, Low-Carb Bar Food, Profile
2

lg. Portabella Mushroom caps

washed, dried and gills removed

1

Clove

Garlic

minced

2

tsp.

Olive Oil
1. Marinate portabella caps in balsamic vinegar, oil, and garlic for 30 minutes.
2. Grill mushrooms until hot and have nice char marks. Set aside to keep warm.
3. To Serve place one mushroom on top of each Profile Burger Bun and serve with assorted toppings; tomato, spinach, grilled onions, salsa, Profile Cesar Dressing and dill pickles.
Profile Exchange: One mushroom: 1 fat serving and 1 cup of vegetables
KEYWORD
low-carb grillables, grill healthy, mushroom burger
Beef & Veggie Summer Sliders
If you ask me, everything tastes better grilled. Steaks, burgers, fish, veggies, fruit (yes, I said fruit) - it's all delicious! As a mom to a picky eater, this recipe is one of my favorite ways to add extra veggies into my family's diet. Although not all of my attempts to disguise veggies are successful, this one was! My family had no idea that their yummy sliders were loaded with nutrient dense veggies. And that, my friends, is what we call #winning.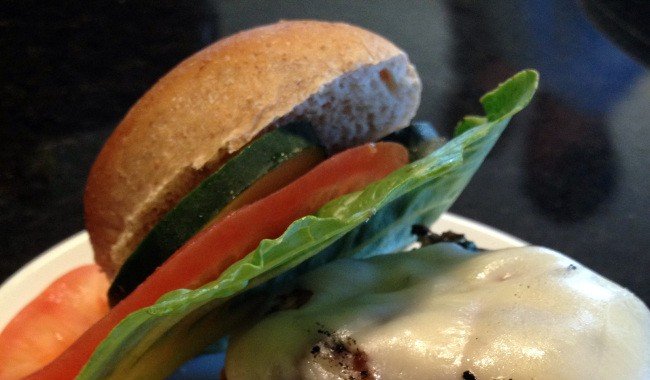 1/4

head cauliflower

1/2

Cup

mushrooms

1/2

medium onion

1/4

Cup

fresh parsley

1

lb.

lean ground beef

1

large egg

1

Tbsp

Mrs. Dash Seasoning
1. Preheat grill. It should reach 300° – 350° before use.
2. In a food processor, combine cauliflower, mushrooms, onion and parsley. Pulse until all veggies are finely chopped.
3. In a medium bowl, mix vegetables with ground beef, egg and seasoning. Combine evenly and form into patties.
4. Place on the grill and cook until internal cooking temperature has reached your desired level of doneness. For medium 160° and for well done 170°.
5. Add toppings and condiments of choice and serve on a whole grain bun.
KEYWORD
Profile Grilling, Low-carb Grilling
Chicken Caesar Grill-Fired Pizza
Delicious, nutritious and ready in 15 minutes. This chicken caesar grill-fired pizza recipe is perfect for spring and summer grilling.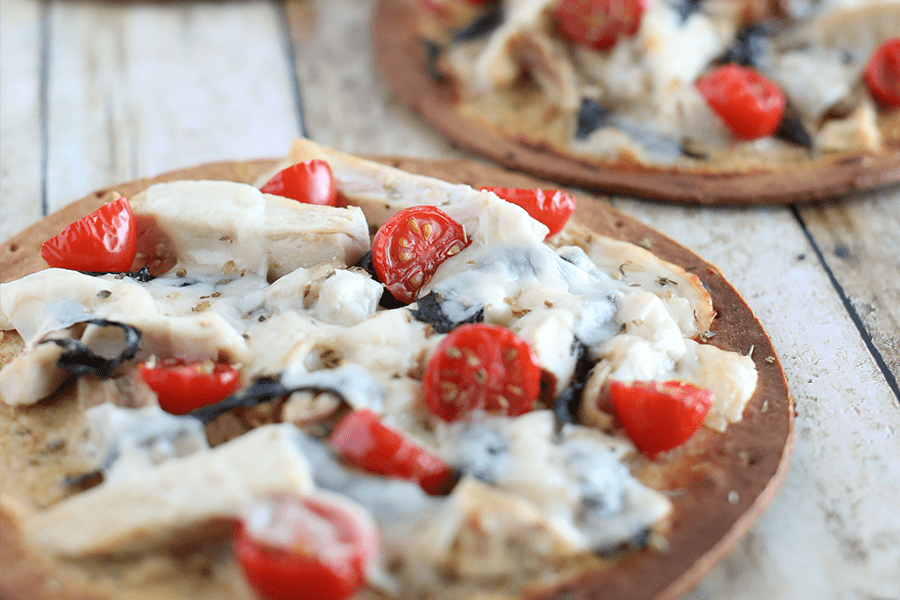 COURSE
Main Course, Snack
CUISINE
American, Profile
1

Profile Pizza Crust

2

Tbsp

Profile Parmesan Caesar Dressing

Handful of cherry or grape tomatoes

1

oz

shaved parmesan cheese

fresh

Handful of fresh basil

torn or chopped

2

oz

shredded rotisserie chicken

cooked

Olive oil

for grate
1. Heat grill to high. Brush grate with oil using an old towel (sprayed or dripped in oil) and tongs to 'mop' down the grate.
2. Assemble ingredients on Pizza Crust
3. Turn grill to lowest setting or off. Place pizza on the grill and close lid.
4. Bake 8-10 minutes, checking occasionally.
1 Profile meal replacement, 2 oz lean protein, 1 cup vegetables, 1 fat, 1 flex food
KEYWORD
Profile Pizza, Profile Pizza Crust, Low-carb pizza.
Side Dishes
The right side dishes can be the most important part of the BBQ.
So don't sleep on these healthy and easy to prepare sides that will go great with any of the other recipes on this page.
Or for when you're called on to bring a side to the BBQ and you don't want to bring a heavy, mayonnaise-laden dish.
Cauliflower BBQ Wings
This is a great take on a classic bar food. Try it out at your next gameday get together. These "wings" are perfect for air-frying as well.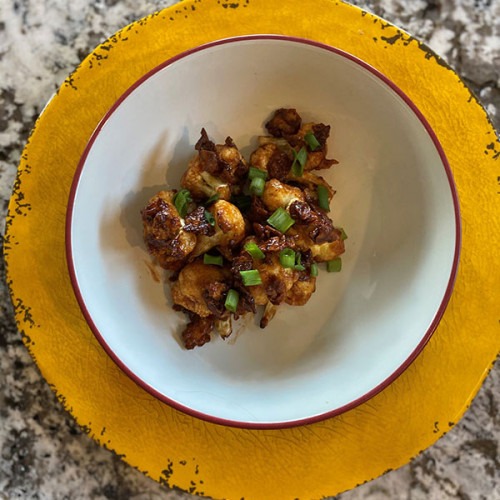 CUISINE
American, Profile
2

Tbsp.

Profile Sweet & Smokey BBQ sauce

1

bag Profile Chips or Crisps

of choice

¼

head cauliflower

chopped

¼

cup

egg whites
1. Preheat air fryer to 350 degrees.
2. Crush the chips in a shallow bowl.
3. Soak cauliflower florets in egg whites.
4. Press the cauliflower florets into the chip crumbs until well coated.
5. Lightly spray air fryer basket with non-stick spray.
6. Place the cauliflower florets in the air fryer and cook for 15 minutes.
7. Toss every 5 minutes to ensure an even crisp.
8. Toss with BBQ sauce or serve on the side.
1 Profile Meal, 1 oz very lean protein, 1 cup vegetables, 1 flex food
KEYWORD
healthy bbq wings, cauliflower wings, cauliflower swaps, low-carb swaps.
Grilled Summer Squash
Try this tasty, quick, 3 ingredient grilled summer squash recipe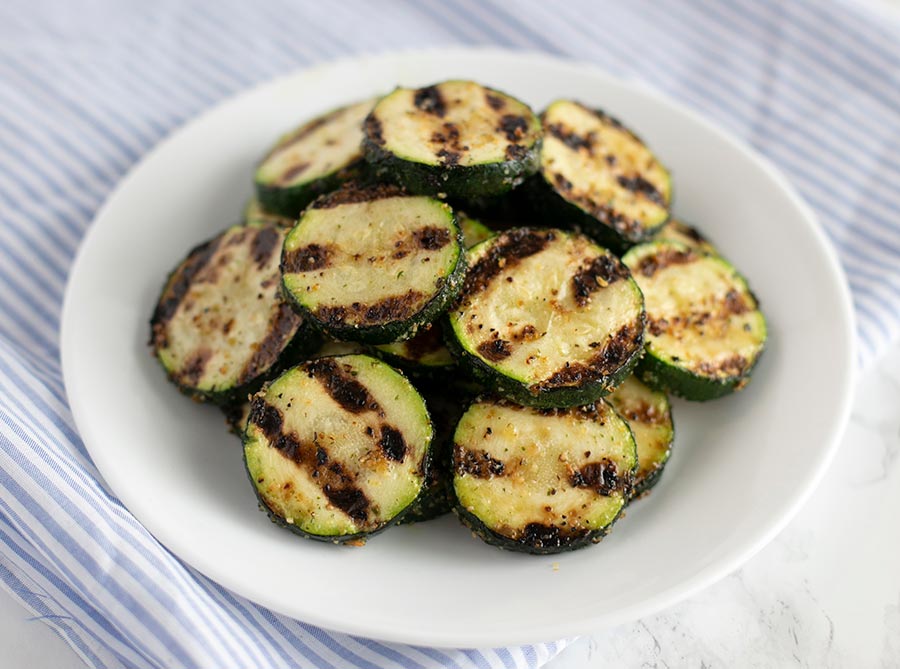 COURSE
Main Course, Side Dish
CUISINE
American, Profile
1

tsp.

Profile Simply the Zest seasoning

2

tsp.

olive oil

2

large zucchini

cut into 1/2 inch-thick slices
Preheat grill pan over medium-high heat.

Combine all ingredients into a bowl, toss to coat well.

Arrange zucchini in a single layer on pan.

Grill for 4 minutes turning half way through.
Profile Exchange per serving: 1 cup vegetables, 1 fat
KEYWORD
healthy summer grillables, grilled summer squash, healthy summer bbq ideas
Toasted Sesame Slaw
A "Profile-Friendly" take on a refreshing summer slaw. Easy to make for a quick, low-carb BBQ companion dish.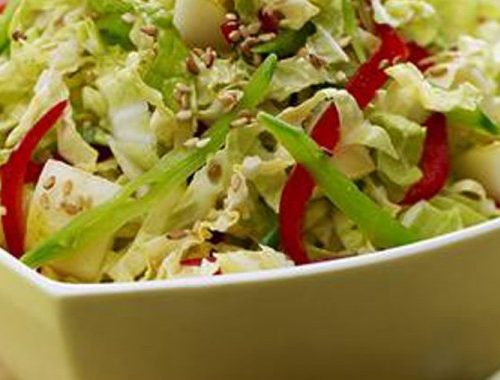 3

cups

Napa Cabbage

cut into fine shreds

1/2

cup

Red Cabbage

cut into fine shreds

1

large

Red Pepper

sliced finely

1

large

Green Onion

cut into 3 inch long slivers

1

tbsp

Extra Virgin Olive Oil

1

tbsp

Rice Wine Vinegar

1/4

cup

Sesame Seeds
In a bowl, combine cabbages, pepper, and onion;

Just before serving, stir in sesame seeds, oil, and vinegar.

Enjoy!
Profile Exchange: Fat 5g; 1- Profile fat serving; 1 cup Profile Vegetable servings
KEYWORD
low-carb coleslaw, healthy summer bbq dishes, healthy bbq side dishes
Drinks
Last but certainly not least, you're going to need plenty of ice-cold drinks to cool you down.
If you're keeping it light and staying healthy you'll enjoy these alcohol-free summer drinks.
Energizing Iced Tea
Nothing is better on a hot day (or any time, really), than a nice cold, refreshing and energizing iced tea. Check out this iced tea recipe.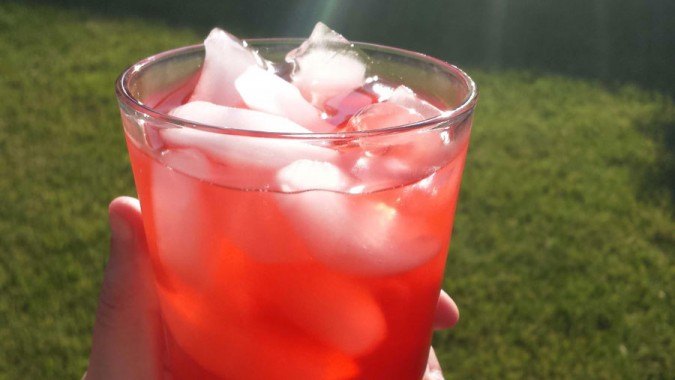 CUISINE
American, Profile
1

pkg. Profile Fruit Drink in your choice of flavor

1

green tea bag

8-10

oz.

of water
Pour 4 oz. of water into a microwave-safe cup.

Microwave on high for 1 minute.

Add a green tea bag and steep until desired degree of color.

Cool and add Profile Fruit Drink mix with an additional 4-6 oz. of cold water.

Stir well and serve over ice cubes.
Meal Replacement, Refreshing Profile Drinks
KEYWORD
Meal Replacement, Refreshing Profile Drinks
Iced Caramel Macchiato
The perfect blend of coffee, almond milk, protein shake, and caramel. Shake up and enjoy this iced coffee drink.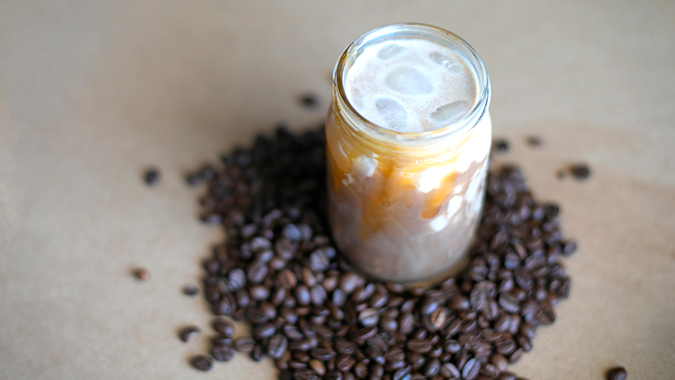 CUISINE
Profile, Iced coffee for weight loss
1

package Profile Mocha Latte Shake

6

oz.

cold brew coffee

1

tbsp.

sugar-free caramel syrup

divided

½

cup

unsweetened almond milk

Handful of ice
Add cold brew coffee, shake packet, and half the caramel syrup into a Profile Blender Bottle and shake well.

In a large glass, add ice and pour shake over ice.

Add the almond milk and drizzle remaining caramel syrup on top.

Enjoy!
Profile Exchange: 1 Meal Replacement, 2 flex foods
KEYWORD
iced coffee for weight loss, meal replacements drinks
Mixed Fruit Punch
This fruit punch recipe has a rich fruit flavor that will leave you feeling bold and classy. You won't even realize you're drinking a satisfying fiber drink!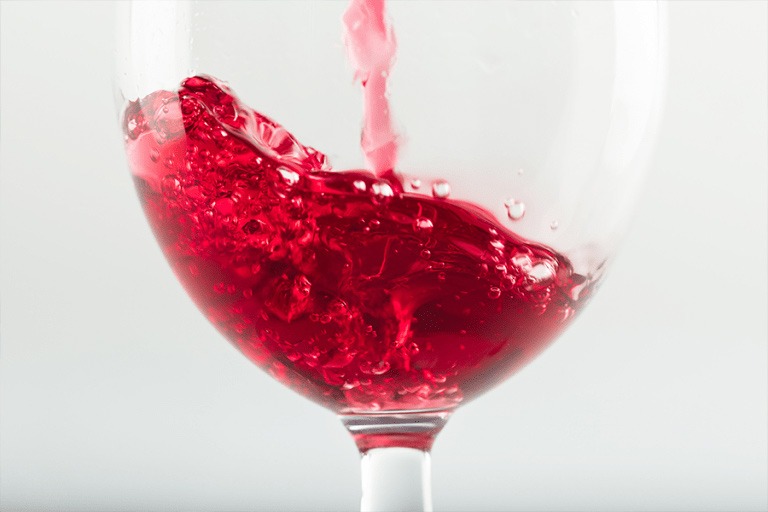 CUISINE
American, Profile
1

package Profile Mixed Fruit Fiber Drink

¼

tsp

orange extract

¼

tsp

rum extract

8-10

oz

diet ginger ale
Pour ginger ale into a shaker bottle

Add orange and rum extract and contents of drink package.

Close shaker bottle and press down tightly on cap.

Shake until contents are blended, venting a few times. BE CAREFUL! Open shaker bottle slowly to relieve the pressure.

Pour into wine glass.
KEYWORD
Mocktail, Mocktails for Weight Loss, Profile Dessert