How this Dad Lost Weight and Gained Energy
With the help of a Profile health coach and custom nutrition plan, this dad was able to lose 25lbs and gain energy to keep up with his two kids.
BY: Profile By Sanford
May 28, 2021
Comments Off

on "Tom & Jerry" Shake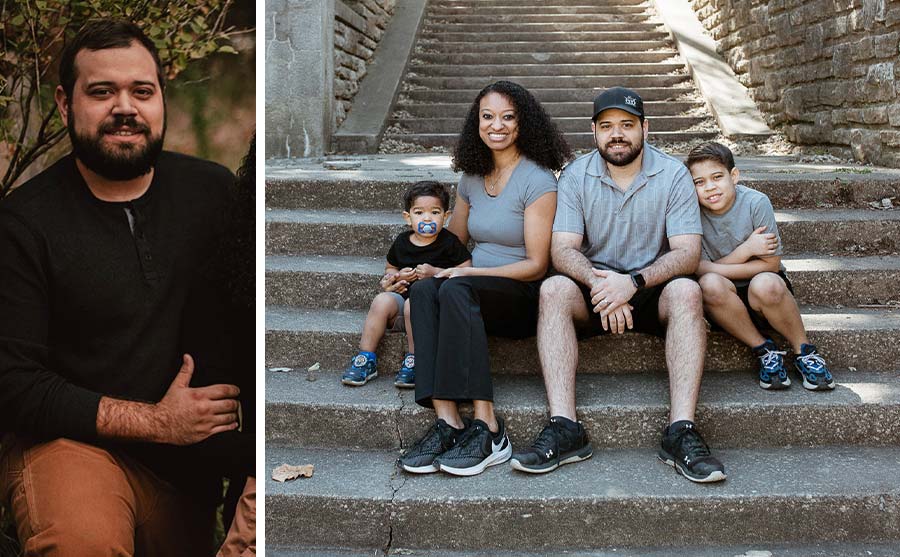 Sometimes a little competition is healthy. In Travis LeMay's case, it was just what he needed to lose weight and gain the energy that he needs for life with his family.
Travis, a husband and father of two, knew he was ready to make some changes when his workplace announced a weight loss challenge sponsored by Profile by Sanford. "I was the heaviest I had ever been in my life," he recalls. "It was lack of physical activity and what I was eating. I was tired all the time. I hardly ever slept."
When he heard that whoever won the challenge earned two extra vacation days, Travis signed up. "I just couldn't pass that up," he laughs. Travis ended up coming in second place, but he gained so much more.
The positive effects of a healthy lifestyle
By working one-on-one with a Profile health coach and following a custom meal plan, Travis has shed almost 25 pounds so far. "It has been so worth it," he says. He has already experienced so many of the positive benefits that come from a healthy lifestyle, including better sleep and the kind of consistent energy needed to keep up with kids. "I wake up not as groggy in the morning, and that's a nice and refreshing side effect."
His oldest son plays baseball and he's looking forward to a different kind of summer. "I really want to be able to keep up with him as he gets older," Travis says. "We race every summer and he's slowly catching up. And our 2-year-old, when he started walking, just a couple weeks later it seemed like he was sprinting."
Travis also knows his healthy lifestyle makes him a better employee. "I work long hours, so the extra energy helps," he says. Additionally, he brings his lunch to work and has saved hundreds of dollars from not eating out.
Finding motivation for weight loss
Better health is a journey worth taking—for both men and women—he says. "If it's something you feel you need to do, don't pass the opportunity up," he says. "It's not a quick thing. You have to give it time. It's a lifestyle change."
His wife has supported him through the journey, and he plans to continue on the program until he hits a new goal of another 20 pounds lost. "My wife has been super supportive. When you go through a phase of burnout, having that second voice to encourage you is a game-changer."
With summer weather here and a renewed vigor for his family and life, Travis says joining the Profile by Sanford weight loss challenge is one he will never regret. "It's definitely worth trying."
Ready to take control of your health? Profile by Sanford can help you lose weight and get your energy back with a simple, step-by-step meal plan and one-on-one health coaching to keep you on track. If you're interested in learning more, the next step is scheduling a free health consultation. You'll get to meet one of our coaches and see what your weight loss plan would look like.