Following a Healthy Vegan Diet as a Profile Member
We create custom weight loss plans for our vegan members that include a variety of delicious meals with creative sources of the common nutrients they need.
If you are vegan and looking for weight loss support, Profile is a great option. Not only do we have plenty of delicious, plant-based recipes curated just for you, but our personalized nutrition plans are freely customizable so any dietary restriction or food preferences can be applied to all Profile plans. Curious to learn more about veganism and what weight loss looks for a Profile member following a vegan diet?
Included in this article:
Does Profile have a vegan diet plan?
What does a Profile vegan meal plan look like?
Healthy plant-based recipes for you!
Expert health tips and nutrition advice.
1. Does Profile have a vegan diet plan?
While there is no specific vegan plan, Profile's program gives members full freedom in electing which foods they would like to consume—and which foods they'd rather not. Whether you have a food allergy, intolerance or follow a vegetarian or vegan diet, we have meal plans that can fit a variety of dietary patterns and coaches will work with each and every member to customize their weight loss plan according to specific lifestyles and goals.
Since a vegan diet is the most restrictive, we recommend our Balance plan which incorporates a variety of healthy grocery store foods complimented by select plant-based Profile products such as bars, shakes, and more. As a member on the Balance plan, you will work one-on-one with a health coach to learn new lifestyle habits that will make your weight loss last. You will also meet with your coach regularly to make sure you are getting the essential nutrients you need as a vegan, as well as ensure your calorie intake is meeting the needs for safe weight loss.
2. A day in the life of a vegan member
Wondering what a day on Profile's Balance Plan is like with a vegan diet? Take a peak!
Balance
For individuals who do not consume any source of animal protein, we recommend our Balance nutrition plan. Although we have plant-based protein shakes and bars, many of the other Profile foods contain dairy and other animal proteins. The Balance plan would offer more variety in foods and allow for more options from our plant-based grocery food list. Here's what a day on Balance would look like for a vegan:
Breakfast: Berry overnight oats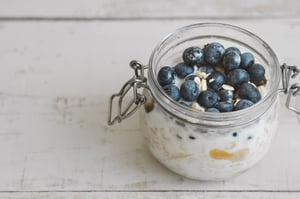 Snack: Profile Strawberry Peanut Butter Plant-Based Bar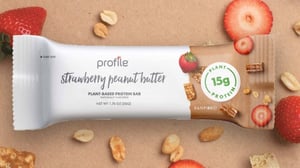 Lunch: Whole grain pasta with lentil "meatballs"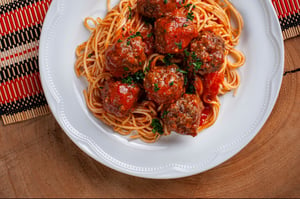 Snack: Banana + peanut butter + nuts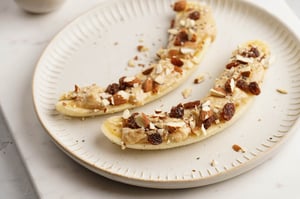 Dinner: Tufu hummus bowl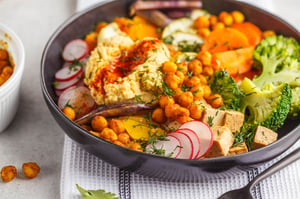 Snack: Profile Chocolate Peanut Butter Plant-Based Bar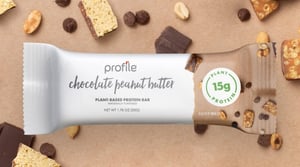 3. Plant-based recipe ideas
Adopting a vegan diet can seem daunting, but there are a variety of simple, tasty, and nutritious ways to pack a vegan diet with key vitamins and minerals. For example, instead of milk from the traditional source of cows, people use plant-based alternatives like soy, almond, and cashew milk. Plant-based milks tend to be lower in calories, contain less saturated fat, and are often enriched with vitamins and minerals.
With the growing number of plant-based meat alternatives available today like Impossible Burgers, Beyond Meat products, and soy-based food, eating vegan is easier and more delicious than ever. Recipes like hummus bowls, overnight oats, vegetable bake and so much more can be enjoyed. Some might not even know they are vegan! Get more recipes ideas here.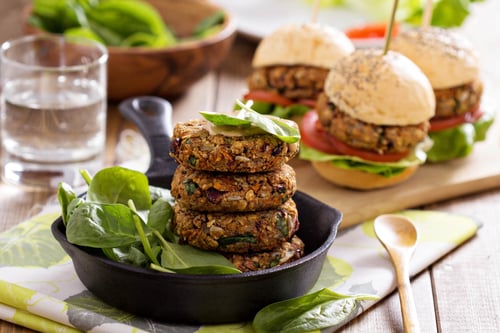 4. Nutrients to consider with a vegan diet
The vegan eating pattern is the most restrictive of all plant-based diets and there is potential risk for nutrient imbalances. But by diligently planning your meals and properly meeting the nutrient needs a vegan diet requires, this lifestyle can be very healthy and reap numerous health benefits! If you are interested in pursuing a vegan diet, you may wish to talk to your physician, a registered dietitian, or one of our certified health coaches before adopting this diet to see if it is a right fit for your lifestyle and weight loss goals.
Individuals who eat only plant-based foods need to be more aware of how to obtain certain nutrients including iron, zinc, and vitamin B-12 that usually come from an omnivorous diet (diet that derives energy and nutrients by eating both animals and plants). To avoid nutrient deficiencies and reap health benefits, here are some suggestions:
To help with iron intake, include iron-rich plant foods like tofu, tempeh, beans, lentils, nuts, seeds, fortified breakfast cereals, and dark green leafy vegetables. To help improve absorption, partner them with a source of vitamin C like fruit, broccoli, or red peppers.

Generally, enough vitamin B12 can be more difficult to get from plant-based foods. Nutritional yeast is a great source, as well as fortified cereals and plant-milks. However, it would be best to talk with your physician or registered dietitian to see if a vitamin B12 supplement would be beneficial.

To boost zinc intake, get a variety of food sources like tofu, dark green leafy vegetables, lentils, avocados, and seeds.

Too much animal fats consumed can greatly increase your levels of LDL (low-density lipoprotein) which is the "not-so-good" cholesterol. Using plant-based fats and oils like olive oil will give you the fatty acids needed to support heart health.

Loading up on vegetables is always beneficial to your health. Not only are veggies a good source of fiber, but they have powerful antioxidants which are known to have anti-inflammatory properties.



These are a few of many health tips to consider when following a restrictive diet. Working with a certified health coach is much like working with a personal trainer and perfect for getting help in understanding what your body needs for optimal health. Profile coaches personally meet with you to help educate you, keep you motivated on your weight loss journey, and make sure you have the resources and food you need to succeed. It is actually proven that working with a certified health and wellness coach leads you to lose 3x more weight than on your own*
5. What is a vegan diet?
The term "vegan" is commonly used to describe a group of consumers who have elected dietary and lifestyle practices which avoid the consumption of products of animal origin. This election is typically motivated by various factors such as religion, ethical concerns, environmental concerns, or nutrition-related health benefits. Although this dietary term is generally understood, individuals within this consumer group may have varying expectations on what the term means when applied to the food they consume and the products they use.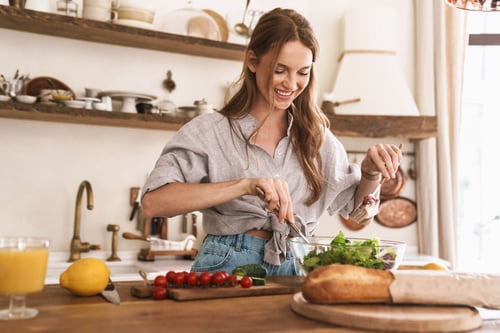 6. What do you eat on a vegan diet?
Individuals who follow a vegan diet and lifestyle omit all animal products. This includes meat, poultry, dairy, eggs, fish, shellfish, or any food containing these ingredients such as protein powders, supplements, gelatin, or lard. There are also some individuals who abstain from bee products, like honey. Ultimately, a vegan diet includes simple plant-based foods such as fruits, vegetables, grains, legumes, seeds and nuts, and a variety of other foods made from plants.
These days, plant-based options are better than ever in grocery stores and restaurants. So not only do vegans have a wide array of delicious options and common substitutes, but they can get all the nutrients that a healthy individual needs, while eliminating some possible risks that research has associated with harmful animal fats and/or stay true to their beliefs.
When you are a Profile member, you are given a step-by-step nutrition plan that is personalized to your specific lifestyle and preferences, no matter your dietary restrictions. Our expert health coaches know the best vegan-friendly substitutes and will help you create a custom grocery list for you to cook up the healthiest recipes that will get you to your goals. In fact, we even have a vast library of vegan-friendly recipes including both whole food options as well as plant-based meal replacements. Interested in some of our favorite vegan-friendly dishes? Check out our favorite vegan recipes.
Profile supports all dietary restrictions
At Profile, foods are not certified vegan but all products advertised as "Vegan" have been produced without any ingredients of animal origin and without the use of, supplementation with or exposure to any other substances of animal origin throughout the manufacturing process.
Losing weight and following a diet is never an easy task to do alone. At Profile, our expert health coaches are your built-in support system that can serve as a guide throughout your health and wellness journey. But even more than that, a Profile coach becomes your biggest cheerleader and accountability partner who can create a custom meal plan tailored exactly to your dietary needs and taste preferences. Because those who follow a vegan diet need more creative sources of common nutrients, we recommend our vegan members to follow our Balance weight loss plan that focuses on incorporating more grocery store foods into their nutrition plan rather than Profile foods and meal replacements.
Looking for delicious and easy-to-make vegan friendly options? Get access to our FREE vegan recipe round up with dietitian approved healthy recipes that fit your lifestyle!