Discover The Weight Loss Plan That Aligns With Your Health Goals
Take Our Plans Quiz.
Take Plans Quiz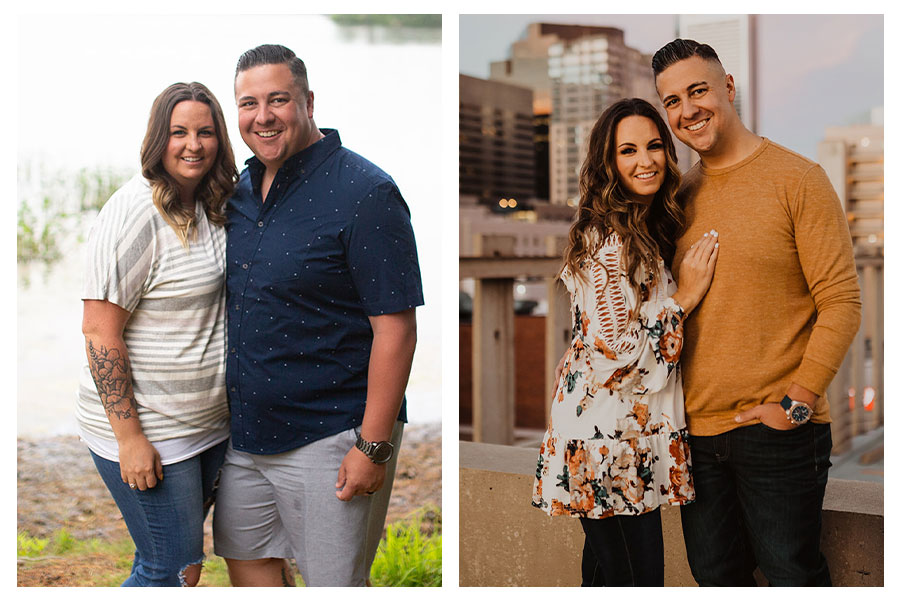 It started out as vanity. And then it was about life and death. That's how Ben and Ashlee Crowden describe their start to a health journey. "I didn't realize how bad it was until I stood on that scale," says Ashlee. "It was a wake-up call and it was scary. It was the heaviest either of us had ever been. We had to save our lives." Since then, the two have regained control of their health and were named Profile Plan's members of the year. Here is their story about finding success with Profile.
Realizing they needed a solution for better health
Standing on the cusp of diabetes and heart disease, they decided to leap – together. Ben recalls a defining moment before they started their journey when he attended a police academy graduation for his best friend. The two snapped a picture after the ceremony and Ben looked at his later – his heart sinking. "I was so taken aback at how I looked. I was so proud of my friend, but I couldn't post that picture because I was so ashamed of how I had let myself go. That was the beginning of everything."
Ben heard about Profile through his work and brought it up to Ashlee. They started immediately and dug in – even through holiday celebrations – sticking to scheduled eating habits, listening to their coach, trying new ways to cook, and staying focused even when it seemed like a week didn't go well. "One of the first things was our coach helping us change our verbiage," says Ben. "It wasn't about being skinnier, but healthier. It wasn't about looking good, but feeling better."
Finding success with Profile and becoming members of the year
The couple has since lost nearly 120 pounds combined – Ashlee, 50 pounds, and Ben, 70 – and they both continue to walk toward new goals. When Profile held a Member of the Year contest, the duo was nominated in the Power Couple category. The success they have seen as a couple and their advocacy for Profile led them to be named Profile's members of the year.
The changes in their daily lives have been incredible, Ben says. "I sleep better, my back doesn't hurt, my ankles don't hurt, I don't have the joint pain. I was taking an over-the-counter heartburn medication every day. It's wild, I haven't even taken a Tums in a year."
Ashlee suffers from scoliosis and has had back pain her entire life. As a wedding photographer, the condition worsened as she carried heavy equipment and worked on her feet for long photo sessions. She's now a more engaged, efficient photographer because of her newfound health and the way she views herself. "I used to wear this big black, flowy dress for every wedding and I was hiding behind that. I'd show up to the best day of someone's life. The bride and the bridesmaids were beautiful. And, I felt like I didn't have the confidence to even talk to people."
Things are different now. She enjoys shopping – something she used to hate – and she shows up to her work with a different posture and attitude. "I think it's in the way I carry myself. When you get healthy, you are reminded that you are a person who matters and you don't have to hide."

Doing the journey side-by-side
Ashlee and Ben agree that every journey looks different, and they are grateful to have been on their journey together. "I could not have done this without him," Ashlee says. Operating on the same page when it comes to shopping, cooking, and eating out has made all the difference, they agreed. "There is nothing in the house we can't have," she says. "We keep each other accountable. There are times we have decided together to have a treat, and then we just jump right back on it."
Ashlee understands the hesitation of someone in poor health who is considering starting their health journey. "What is the alternative? Will you just continue and worry about it later? We're living proof that it does work. We're learning sustainability and we're learning the skill sets we need to transition off the plan. I don't think it could be any easier."