Learning How to Live a Healthy Life: Lynn's Story
Lynn finally feels like she has put together the puzzle pieces for living a healthy life. Learn how Profile can help you do the same. Read Lynn's story.
BY: profile
September 29, 2020
Comments Off

on "Tom & Jerry" Shake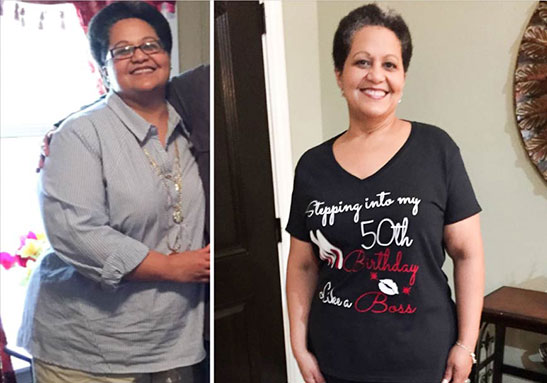 Lynn Dauzat loves working for a large health insurance company – especially when she helps customers navigate insurance to continue to health. But in her own life, the puzzle pieces for living a healthy life did not seem to fit together.
Lynn was at the highest weight she had ever been. She had lost her father a year earlier and was stressed, tired, and frustrated. "I wanted to be healthy and strong. I just kept thinking, 'I'm intelligent, financially stable, and successful at my job, so why can't I get this other part of my life under control?' In my job, I want to demonstrate to our employees and customers that I'm committed to health and wellness."
Finding her healthy life with Profile
During a work conversation with a Profile staff member about how their companies could partner, Lynn wondered if Profile might actually work for her. "I really liked the validity through Sanford Health because there was some true science behind it. That conversation led me to start looking at my own life."
Yet, she was hesitant. "My thought was, 'It always works for somebody else, but not me.' I got to express that fear, confront it, and start to understand how the science behind health and weight loss really works." Lynn signed up and kicked off a journey that would change her life. She has since lost 70 pounds. Lynn credits her success to the science of the plan and her commitment to making a change.
She also completed Profile's 'My Journey Book' to reflect on how she got to an unhealthy plan in her life. "I did the journaling so I could look back each week to see what worked and what didn't. I had to ask myself some tough questions, and I really wanted to make sure my efforts were really adding value."
Lynn found the program motivating because she learned new healthy habits while seeing quick, efficient weight loss. "The first week, I saw success, and it kept working week after week after week. I like how it's customizable to each person. And that you have a coach walking alongside you."
Seeing improved health and lowered medications
It has been a relief to be off the weight loss rollercoaster, Lynn says. Having a family health history that had her pre-destined for diabetes and cancer, Lynn feels good about living a healthy life. Her thyroid medication dosage has been lowered, she is exercising moderately, and the newfound strength in her body has been the biggest victory. "I can keep up with people. Before, I couldn't fully be with people. Now I care for my mother, and I can really step into that leadership role."
Lynn said there's no going back. It's something she can maintain because it fits her life like a glove. "That's why working with a coach is important. They helped me find options and modifications for how I live my life while still being able to be successful with the program. They didn't expect that I make major life changes, which would be hard to maintain, but found ways to fit it into my daily activities and interests."
Recently, Lynn experienced a sweet moment that made her realize just how far she has come. Before her health journey, she had bought a pair of pants she loved. "I got them home, and they were way too tight. It was demoralizing, and it was a moment that made me realize I needed to make a change. After I lost the weight, I put those pants on, and they fit. And now, they are actually too big. It made me realize, yes, I can take control of this part of my life."