Jennie's Journey: A Different Direction, A New Life
After years of struggling with her weight, Jennie Hoefer's life has changed considerably since losing weight with Profile by Sanford.
BY: profile
June 6, 2020
Comments Off

on "Tom & Jerry" Shake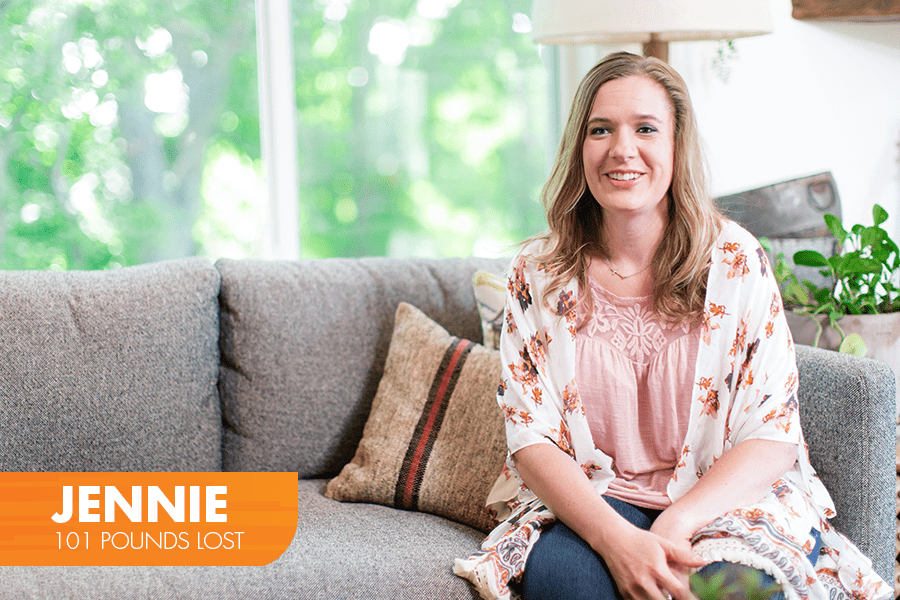 After years of struggling with her weight, Jennie Hoefer's life has changed considerably. "I actually love every minute of it," she said. "I love that I can be active and have fun with doing activity. I couldn't have been happier with this weight gone! I'm enjoying life to the fullest that God intended for me to do and things couldn't be better!"
All In The Family
Jennie Hoefer felt like a ticking time bomb. With a mother, grandmother, aunt and uncle all living with diabetes, she worried that it was only time before the disease caught up with her too. The seriousness of her health became more real when she thought about her 8-year-old son Kasen and her husband Benjamin. "I wanted to be there for my son," she said. "He is the joy of my life. And I have the most wonderful husband in the world."
Hoefer made a commitment to her long-term health and joined Profile, a decision that has changed her mentality and outlook for the future. "I am no longer obese," she said. "I have great blood pressure and I'm being more active and enjoying my life. It's amazing how I feel."
Prior to starting the program, Hoefer witnessed the medical implications of obesity firsthand. As an administrative assistant in the Sleep Lab for Sanford Health, Hoefer saw overweight patients begin to use C-Pap machines to assist their breathing at night. She knew it wasn't something she wanted for herself. "It scared me as my weight was going up and I could see myself in the future going on one of those machines," she said. "One of the causes of sleep apnea is obesity. Both of my parents are on the machine. I felt I had a huge target on my back for both sleep apnea and diabetes, and I didn't want to be one of those people."
Done With Diets
She tried a handful of weight management plans, but nothing seemed to stick. "I had tried to do it on my own, and I was very unsuccessful," she said. "I tried doing my 'gestational diabetic' diet, and I would fail miserably, or over eat. I had no accountability in it." She tried running and being more active, but found it frustrating. "It wasn't fun, and it bothered me that I couldn't do it like everyone else," she said.
That's when she found Profile and made a conscious decision to be diligent and stay the course. The results were staggering, including losing over one-hundred pounds and getting a new lease on life. "I made decisions on healthy eating, and staying active," she said. "I am a whole new person. I love my new life."
The victories have been many, from better shopping to sweet moments at the doctor's office. "It was such a joy to go into a store and actually try clothes on and have fun shopping," she said. "Before, I would go in and just get a shirt and pair of pants because I had to get some. Now, I can actually be picky on picking out clothes and enjoy shopping." Hoefer visited the doctor and was told the word "obese" was taken off her record. "It was such a great feeling," she said.
Supportive Coaching and a Simple Plan
The support from her Profile coach staff has been an integral part in Jennie's success. "Having someone who is cheering you on and helping you be accountable is so valuable," she said. The simplicity of the plan is one of its greatest strengths. "The plan is so easy to follow once you get the hang of it," she said. "It's not counting points, and subtracting and adding. You get a plan and you follow it, and if you have any questions, you ask your coach. They know their stuff, and are willing to help you."
Throughout her journey, Jennie relied on her faith, and focuses on the scripture verse of Philippians 4:13 – "I can do all things through Christ who strengthens me." "It really helped me through my journey," she said. "I hope that I can inspire others to do this program. Profile has changed my life and I can't wait for the future!"
If you're ready to be done with diets and choose lasting lifestyle change, contact your local Profile store to get started today!