Discover The Weight Loss Plan That Aligns With Your Health Goals
Take Our Plans Quiz.
Take Plans Quiz
Relapses are not only related to alcohol & drug addictions
Jason is a recovering alcoholic; he began his journey to sobriety on December 18, 2020. He attends an Alcoholics Anonymous meeting everyday because according to Jason,
"Alcoholics are built-in-forgetters so that's why I attend a Zoom AA meeting everyday, so I don't forget."
Jason also regularly meets with a psychologist. After only a few months into his sobriety, he specifically remembered a conversation about his health. His weight had always been up and down and he was able to lose weight pretty easily. His psychologist asked him, "What happened?". Jason thought about it and realized that one day, he started eating bad foods, stopped exercising altogether and before he knew it, gained all of the weight back and more. His psychologist made something clear: "Jason, that's a relapse. You're relapsing with food instead of alcohol." This conversation really hit home for Jason.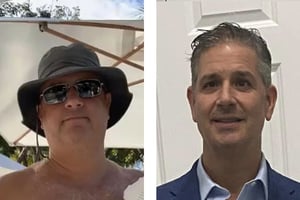 The connection between Jason's alcohol addiction & unhealthy eating patterns
That conversation with his psychologist helped Jason see the similarities between alcohol and food relapses. This was the first time in Jason's life when all of his issues came together. Jason's void of alcohol was replaced with food while still carrying the same habits of addiction.
Jason realized he was eating for the same reasons he drank: eating emotions, binge eating, cravings, the need for carbs and sugar. Similar to drinking, the cycle starts to repeat as food becomes the temporary fix for emotions, then comes the guilt and shame, and the cycle repeats itself. The habit loop got progressively worse each time. Exactly as he had experienced with alcohol.

What happened next for Jason?
A few people in his recovery group told Jason of Overeaters Anonymous (OA). Since this was a branch of AA, he decided to look into it. He soon found this program was not what he needed. OA was a more spiritual therapy toward food, taking the word "alcohol" out of the equation and substituting "food". Jason needed more than this, and he already had AA for his spiritual journey. That was when his psychologist recommended Profile.
The selling point for Jason was the 1-on-1 coaching of Profile being similar to a sponsor with AA. Jason called Profile the next day and spoke to his future coach, Arturo. Through Arturo's excited and energetic personality, he convinced Jason to come for a consultation. Jason said,
"Nothing dialed it in for me until Profile. I went in for a free consultation with Arturo and embraced it. Full on–the coaching, the food package, all of it, and here I am today!"
Arturo helps him through emotional triggers and encourages him to try new exercises in small doses. He also helps Jason work through an increase in weight by talking him through his food choices for dinner or helping him see his thinking when he makes a particular food choice:
"Arturo is very honest with me and holds me accountable. I love it! It's very important."

First few weeks on Profile
Jason said that the first few weeks of Profile were beautiful, yet slightly overwhelming. Once he got the hang of it, he appreciated how thought out the plan was for him:
"I didn't want to think about it. Profile told me what a portion was, how much protein and carbs I could have, and how much fat to incorporate. Day 1, 2, 3, 4 were laid out for me. I don't want to think about it because that's when I make mistakes. They're the professionals, so I listened to them. It could not have been easier to follow."
He never felt like he was starving:
"Seems like every time I turned around, I was eating!"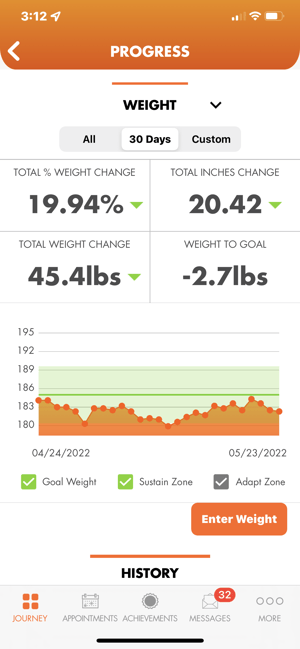 Non-scale victories: changes both on and off the scale
Jason started his Profile journey on August 16, 2021 when he began needing more medication. At 228 lbs, he was taking medication for high blood pressure, high cholesterol, anxiety, and depression. When he weighed on May 23, 2022, he had dropped 45.7 lbs placing him at 182.3 lbs! He is completely off the blood pressure medicine:
"The gist of it is i'm not on blood pressure medication any more. My blood pressure is totally normal. My cardiologist is ecstatic!"
Because Jason suffers from coronary heart disease, he still needs his cholesterol medication, but that dosage dropped from 30-40 mg to 20 mg. Anxiety? No need for medication any longer:
"I understand it; I now know how to deal with it."
Jason's self-esteem is also much higher:
"I feel better about myself."
And he now fits into all his old clothes:
"I had to buy a hole punch for my belts and cut some of them down."
He went from a 38-40 waist to a 32-34. He treated himself to new dress shirts, ties, sport coats, and pants. He is happy with how his family sees him now, the example he has set for them:
"My story to them is not my addiction or my obesity–my story to them is my recovery and my weight control."
My nephew, who I hadn't seen in awhile, asked his dad who I was. People have to look at my name tag twice because the picture and the real me look so different. Jason gets on the scale everyday, just like he attends AA everyday. Before, he mentioned that alcoholics are "built-in forgetters." He does not want to forget that he is on two journeys: alcoholism and obesity.
Profile can change your life
Your health outweighs the cost. Consider it preventive medicine. Jason asks you,
"What is your health worth? What dollar amount do you put on your life?"
Interested in changing your life too? Take our quick 2-minute quiz to get matched with a custom weight loss plan tailored to your individual needs and health goals.