Renee and Michelle's Journey: The Key to Each Other's Success
Weight loss for many is easier with a friend by your side. Read about how Profile members Michelle and Renee lost over 40 pounds each together!
BY: profile
June 23, 2020
Comments Off

on "Tom & Jerry" Shake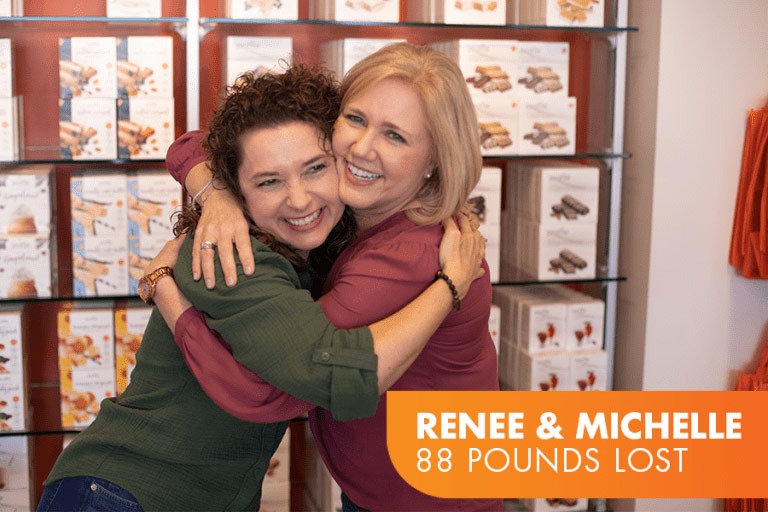 It's easier with a friend by your side. That's the sentiment shared by Renee Maiz and Michelle Zappa, who both kicked off their health journeys with Profile by Sanford after developing a close friendship at the Minnesota school where they work. Through Profile, Michelle has lost 42 pounds and Renee has lost 46.
Staying Focused Together
Michelle joined Profile and encouraged Renee to also become a member. "It's really helped a lot to be doing it together," Michelle said. "The support has been amazing and has helped us be successful with it. It really is one of the key things that has helped me stick with this for so long." Renee agreed. "Just being in the office with her is motivation. We can talk every day about what we're eating and what's keeping us going. It is very helpful to have somebody to do that with."
The design of Profile's program and their friendship has made all the difference. "I've tried every diet out there," Michelle said. "I found it hard to keep myself on track, especially when I reached plateaus. I struggled when I was doing my best, but my weight would go up." It's different when you have a friend to encourage you. "It's fun to see both of us doing this together," Renee said. "I think that's why it's been easier for me to stick with Profile in the long run. It helps when you have somebody to experience the ups and downs with you. They remind you, 'Nope, stay focused. Just know it'll work out in the long run. Look at the long picture.'"
The Profile Difference
The two friends have enjoyed the food on the program and Profile's focus on developing healthy habits instead of just cutting calories to lose weight. "You feel full when you eat," Renee said. "Some diets make you feel like you're starving, but not with Profile. The Profile foods are tasty and keep you feeling full. Without that hunger, you don't have temptation."
The women said one of their greatest challenges is facing the steady stream of treats brought in to the school. Feeling like they are not alone when turning down treats has helped them both stay focused. "It's good to have someone else say no to those treats, so you're not the only one," Renee said. "We pull out our Profile bars instead and enjoy something tasty and healthy."
They have also enjoyed the support of their Profile coaches. "I love going to my coaching appointments every week because I feel they're as enthusiastic as I am about the program and they're so happy to see my success," Michelle said. "It's another friendship and more support for us."
Michelle and Renee love the helpful information they receive each coaching appointment so much so that they always compare notes after their meetings. "I'm excited to go see my coach each week, whether I'm up or down, just to get her feedback and understand what I should do next," Renee commented. "She greets me with a hug every time I walk in the door. I feel like I'm going to visit a friend, but she's helping me on my journey."
Loving Their Healthy Lifestyles
The life changes have been incredible, and the weight came off quickly for Michelle, who is now focused on maintaining. "That's what I love about Profile. They teach you how to maintain your weight."
Michelle is enjoying being at her lowest weight since being married. "I no longer hate how I look in pictures and it's fun to go shopping. Renee and I get up in the morning at 5:30 to do workout videos. Then after work we'll do some exercise classes together. I feel healthier and have more energy and it's so awesome. I just want to stay here forever." Renee feels the same. "I feel more energized," she said. "I love what I can do right now. I love having more energy and wanting to exercise. I'm actually driven to."
Michelle and Renee used to do more social things geared around eating. "We still try to do that, but we're more aware of what we can pick off the menu or what we should order and self-limit, in a good way," she said. "It doesn't feel like we're sacrificing in any way and we found new ways to do fun things together."
Renee had an epiphany when her husband picked up a 40-pound water softener salt bag and reminded her that it was equal to the weight she had lost. "When I hit my 40-pound mark and he mentioned that it made things feel more real," she said. "Wow, I was carrying that around every time I went up and down the stairs. Think how good that is for your legs and knees."
After all their success, these two have their eyes on the future. "It's an easy lifestyle to keep going," Michelle said. "We can figure out how to eat and the good nutrition involved with it. We've learned helpful tips along the way to keep the weight off. This is our new life."