Chuck and Suzy's Journey: Better Together
Together is better. It's a motto that has helped propel Chuck and Suzy Utech to join Profile and live a life of health and adventure. Read their story.
BY: profile
June 6, 2020
Comments Off

on "Tom & Jerry" Shake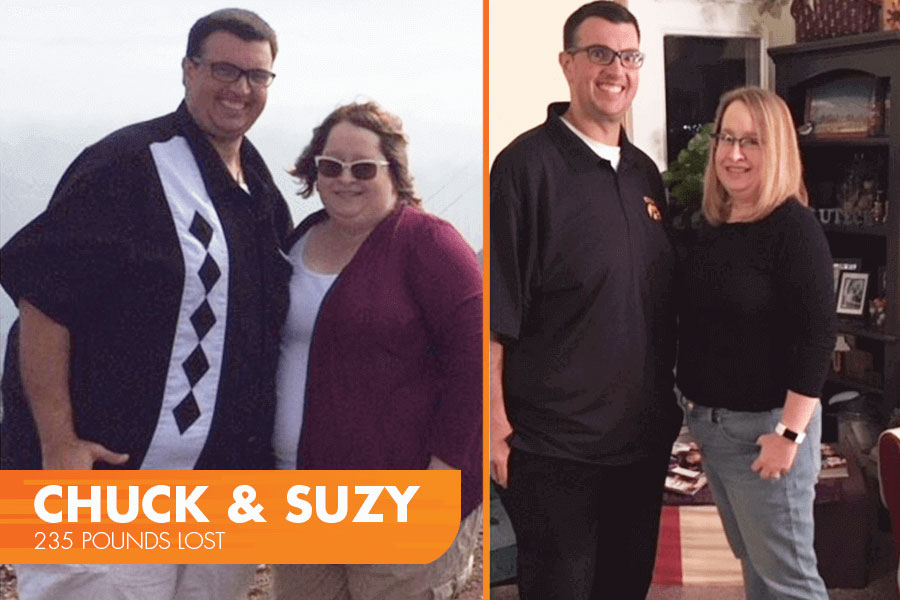 Together is better. It's a motto that has helped propel Chuck and Suzy Utech from an unhealthy lifestyle to a life of purpose, health and adventure.
After struggling with their weight for more than a decade, the couple knew it was time for a change. They witnessed the success of co-workers who had joined Profile through a corporate health initiative at work and decided to embark on their own health journey with Profile.
In This Together
Two weeks before they started, Suzy sat on an airplane and realized she was going to have to ask for a seatbelt extender. Weighing almost 300 pounds, it was a lightbulb moment. "I went home and told Chuck he's doing Profile with me because we had tried before to lose weight alone and couldn't do it," she said. Chuck, who weighed almost 425 pounds at the time, agreed. "One of us was always doing something," he said, but they were never in it together.
This time was different. Since signing up and committing to the healthy habits of the program, the couple has lost a combined 225 pounds*, a change that has altered the trajectory of their lives. "We're happier now," Suzy said. "We're completely different, more comfortable in our own skin." Suzy, a self-described introvert, said she has come out of her shell through her journey. "I'm not as shy about going out and being worried about being stared at," she said. "Our relationship is better. We're spending more time together, at the grocery store shopping and going to appointments together."
Seeing Food Differently
One of the biggest changes was transforming the way they viewed food. Before, food was at the center of all activities and a major part of their entertainment. If they were going out to a movie or a sporting event, they always had a plan to eat at a restaurant before and after. "Everything revolved around food and drinking," Chuck recalled. "I realized I can still have fun and it doesn't have to be all about food and drinks."
One of the reasons they struggled with healthy eating before was a challenging work schedule. Suzy left early for work and Chuck came home late – a pitfall that had them relying on take out almost every night. "We picked up food pretty much every night," she said. "As a matter of focusing, we had to say 'Ok, we're stopping that.'" They knew that they would have to see food solely as a way to fuel their bodies if they wanted to experience long-term success.
The Future Is Bright
Through their health journey, Chuck and Suzy have lost over 30 percent of their body weight and the couple now envisions continued exercise and travel in their future. "Next year is our ten-year anniversary and we know we can physically do a big trip to Europe," she said. Chuck said that focusing on the future has helped him greatly in his transformation. "You get out of it what you put in to it," he said. "There will be a bad day, a bad week, but you don't focus on that. You focus on the bigger goal."
Chuck and Suzy had a solid relationship before joining Profile, but it's even stronger now. "We were happy, but it's amplified," he said. "Everything's a whole new world. Now we're planning our d
ay together, doing shopping together, walking the dog, activities we might not have done before. The sky's the limit." Suzy has since participated in several 5Ks, an activity she plans to do more of in the future. Perseverance has been an important ingredient to succ
ess. "You have to stick with it," she said. "We got in to this position for a reason and we need to change. Don't give up. Refocus. It hasn't been easy by any means."
At the end of the day, they have each other back. "Doing this together has made all the difference," she said. "If one of us is doing well and the other is not, it helps us to refocus." Even so, Chuck and Suzy know that they're not in this alone. People in their life have been very supportive of their health, which has helped them tremendously. "Everyone pats you on the back and you get used to it," she said. "The support is important to us, but we're not done. There's a bigger picture to get to and that's where we're planning to be!"
Ready to get started on your own health journey? Get started with a consultation.