Alison's Story: A Second Chance At Life
Having dealt with many challenges, Alison Foster was able to gain her confidence back and sustain weight loss after joining Profile!
A year after having a kidney transplant, Alison Foster couldn't shake the feeling that she was letting down the family of her donor. Losing a job, dealing with alcoholism in her home, and recovering from the transplant surgery led to weight gain – eventually peaking at 280. "I was in a dark place and just kept thinking that I was wasting my time here," Foster recalled. She wanted to thank her donor's family for the second chance at life but didn't want them to be disappointed in her health and the way she was living. "How do you say thank you? I didn't want to meet them where I was at."
Just before Christmas of 2015, Foster heard about Profile on the radio and decided to make a change. The transformation she made was immediate and profound. After more than a year on the program, Foster has lost almost 115 pounds*, transformed her mindset about food, added consistent exercise to her weekly schedule, and gained her confidence back. "I do more than I ever did before and I am taking on that second chance at life 100 percent," she said.
Foster also decreased two blood pressure medications, quit a third, and is no longer diabetic. "I can walk without getting out of breath and I'm wearing clothes that fit my body, not cover it up," she said.

Reaching Her Breaking Point
Foster said life before her weight loss journey was lonely and frustrating. "Everything was a struggle," Foster said, from shopping to work, walking, and sleeping. "I didn't really want to go anywhere. I didn't want to go outside." She recalled one particular moment when she stood in a dressing room while shopping for clothes for a new job. She cried when she realized that 3XL wasn't going to fit. "It was one of my breaking points," she said.
It was a time in her life when her childhood eating habits played a significant role in how she dealt with food. "A lot of my family is very oriented around food," she said. "I'm a child of the 80s. I was a fast-food child." It wasn't uncommon to swing through the drive-through for breakfast on her way to work, then eat out for lunch and end the day with a search for a restaurant or fast food for dinner. Foster said she has always had a larger build, from her childhood to adulthood. She tried dieting, and was able to lose some weight but never learned how to sustain the weight loss or eat correctly.
Overcoming Obstacles
One of Foster's biggest obstacles came at work. "The majority of the food I eat is during work time," she said. "Work is my biggest struggle. I'm eating a shake and a salad and my co-workers are eating donuts." It wasn't long after Foster began to lose weight, however, that her co-workers took notice and started asking questions. "After I hit my first 50, people started coming to me," she said, adding that some of her co-workers decided to take the journey themselves.
She enjoys hearing from family and friends who have noticed the change in her body and her life. "Compliments are nice," she said. "But what means more to me is when people say, 'you look happy and healthy' than when they say I look skinny. I just wanted to be happy for myself. And, I am happy."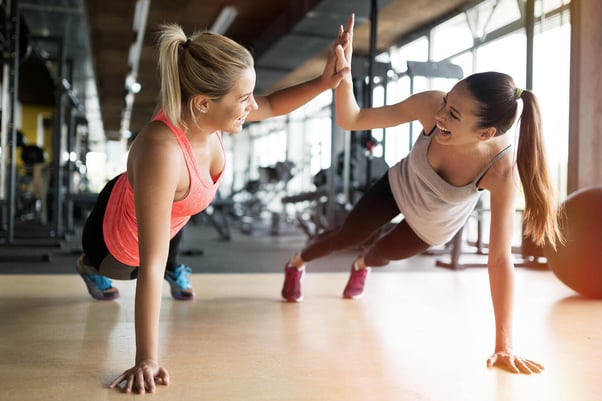 The journey has not been without its struggles. As she moves in to the adapt phase, her biggest challenge has more to do with her mind than her body. "I still feel the struggle when I look in the mirror," she said. "I still have a fat mind set. I still go to the bigger clothes section in the store." Changing her mindset about herself has been as important as changing her mindset about food. "As I move in to adapt, I have to remember that I won't go back to where I was," she said. "I now see food as fuel for my body. This one starch isn't going to put me back because I've completely changed my mindset."
The Power of Coaching
Her coach has been a source of strength and expertise, helping her move through each phase with confidence. Continuing to learn has been one of the foundations of her success and she has listened carefully as her coach has helped her slowly reintroduce protein, yogurt, and other foods in to her diet. "My coach still reminds me about portion sizes and the right fats," she said. "I still meet with her every two weeks."
The accountability and friendship she has found in Profile staff has been one of the best parts of her journey. "The coaches, they're like family," she said, and they have celebrated alongside her as she embarks on new adventures, thanks to healthy living. One of those first adventures was a 10-mile hike after a 50-pound weight loss. "I never would have been able to do that," she said. "That was a big accomplishment." And soon, she will embark on another adventure. Before her journey, Foster's nephew wanted her to go ziplining, but she was over the weight limit and they weren't able to go. "So now we're looking at doing that for his birthday," she said.
The biggest step toward affirming her new life came just a few weeks ago when she reached out to her kidney donor's family with a letter. "I want them to see that their decision has made me a better person," she said. "I wrote about what I had been through and that I'm not taking this for granted. I'm thankful every day."