Staying Healthy During Pregnancy
Gaining weight during pregnancy is expected but losing weight? Many moms wonder if they should be losing weight during pregnancy & if it's safe to do so.
BY: Profile By Sanford
June 29, 2021
Comments Off

on "Tom & Jerry" Shake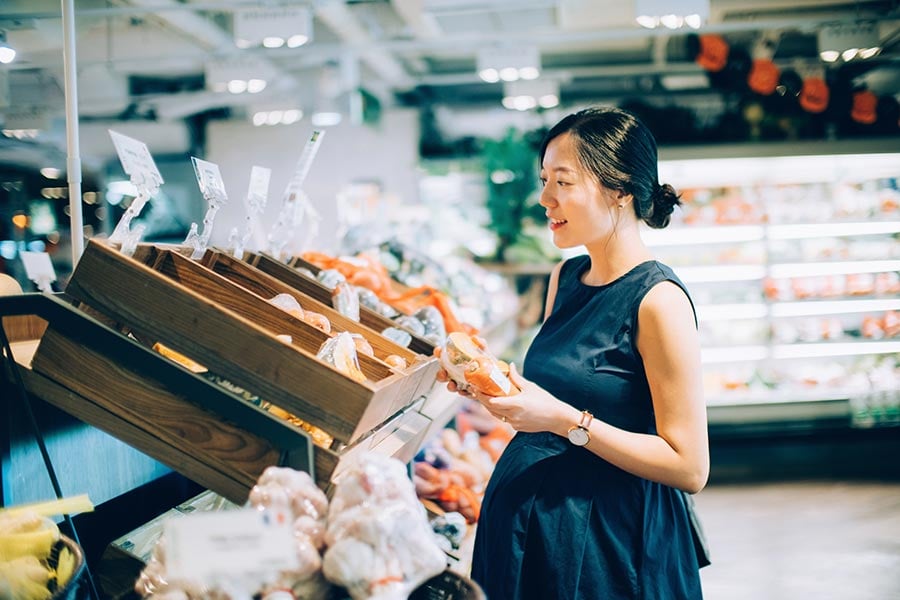 For many women, pregnancy creates a renewed focus on staying healthy to protect their baby, and that can bring up a lot of questions for expecting mothers.
Is this food safe to eat? Can I continue taking this over-the-counter medicine? Can I still exercise? How much weight should I be gaining? Is it safe to lose weight?
Each stage of pregnancy brings new challenges and goals. Here are some common questions we get from moms and moms-to-be:
QUESTION: "Losing weight helped improve my fertility and become pregnant. Should I continue to lose weight now?"
While gaining weight during pregnancy is expected, losing weight can be a different story. We hear many expectant mothers who wonder if they should be losing weight during pregnancy, and if it's safe to do so.
Every woman and pregnancy are unique; however, it's typically recommended that the first trimester is a period of weight maintenance. The second and third trimesters are where most women gain the majority of their pregnancy weight. The Institutes of Medicine (IOM) and the CDC have set healthy weight gain guidelines during pregnancy that are based on your pre-pregnancy body mass index (BMI). Using these recommendations can help you avoid the risks of gaining too little or too much, your baby being born too soon or too small, and developing gestational diabetes or preeclampsia.
Bottom line: Make sure you talk with your doctor about your unique goals. Based on the health of you and your baby, your provider may have different weight gain recommendations for you. If you're looking for further support, Profile MOM is an evidence-based, doctor-developed program to help guide you through a healthy pregnancy.
---
QUESTION: "What are some common complications during pregnancy?"
Pregnancy is unique and different for every woman. This season is filled with moments of joy, uncertainty, love, anxiety, laughter, tears and so much more. That fear can sometimes come from the handful of potential complications associated with pregnancy.
So, what can you do to reduce your risks?
Eat a nutritious diet full of fruits, vegetables, lean protein, and fiber.

Take a prenatal supplement. Profile MOM has great tasting, prenatal protein shakes!

Manage your weight before and during pregnancy following the IOM guidelines. Talk with your provider about your unique goals.

Stay active and move your body.

Reduce and manage your stress levels.

Quit and/or avoid smoking, alcohol, and illegal drugs.
The Profile MOM program is here to provide resources that help optimize nutrition, guide safe physical activity, and encourage healthy habits before, during, and after pregnancy that can help to prevent some of these potentially serious complications and promote a healthier journey for mom and baby. So check out our program if you'd like a health coach for support or grab our MOM Journey Guide to help along the way.
---
QUESTION: What are some nutrition, activity, and lifestyle considerations during pregnancy?"
Whether you're currently pregnant, or trying to conceive, taking care of baby starts with taking care of you! Here's how Profile MOM can join you on your path toward a healthy, happy, and safe pregnancy.
---
NUTRITION
A nutrient-packed diet is incredibly important during any stage of pregnancy – you're providing nourishment to your baby, too!
As part of your individualized Profile MOM plan, our Nurture shakes are a great option because they include a unique blend of quality prenatal vitamins, minerals, DHA, probiotics, and protein designed to fully support you and your baby's health and development.
Try this favorite MOM recipe:
ACTIVITY
Moving your body and enjoying physical activity is good for you and baby!
Your Profile MOM coach can also offer guidance on healthy exercise options during pregnancy. Implementing 30 minutes of daily low-impact exercise like walking, swimming or yoga is a great and healthy way to either lose or maintain weight while pregnant and prepare your body for childbirth.
LIFESTYLE
Pregnancy is a nine-month journey, and your health and lifestyle changes should be consistent and gradual. A Profile MOM coach can provide one-on-one support to empower and support you along the way.
For additional accountability and support, all Profile MOM members gain access to the Mom Squad, an online social community of moms and moms-to-be where you can share encouragement and advice along your journey.
Managing your health during pregnancy can feel overwhelming, but you don't have to go it alone. Profile MOM helps you gain the confidence to make smart, informed decisions about your pregnancy.
The journey to motherhood is an exciting one. We'd love to join you in making it a healthy one.
Sign Up for a Free Consultation with a Certified Profile Health Coach