Sweet Potato Casserole
Celebrate fall with our Sweet Potato Casserole recipe. Ready to change your life for the better? Join Profile today!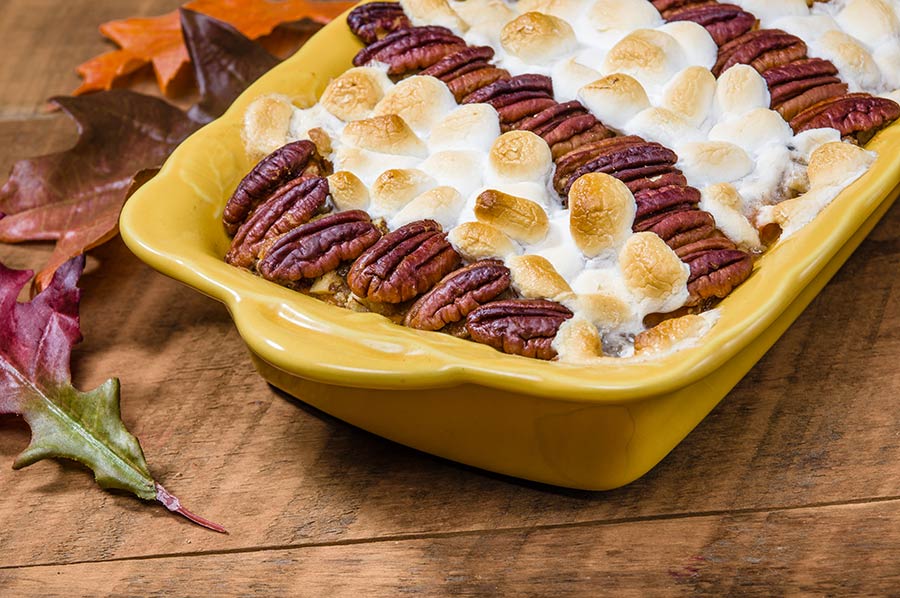 COURSE
Main Course, Side dish
4 large sweet potatoes, peeled and cut into ¾- inch cubes
1 cup low-fat vanilla yogurt
1 tsp. cinnamon
Pinch nutmeg
Pinch salt
1 tbsp. brown sugar (optional)
4 large egg whites, lightly beaten
¾ cup chopped pecans
½ cup mini marshmallows
Preheat oven to 350 degrees.
Spray a 2.5-quart casserole dish with nonstick spray.
Put the sweet potatoes in a medium saucepan with enough water to cover them.
Bring to a boil over high heat. Reduce to a simmer and cook until fork-tender, about 5-7 minutes. Drain.
In a large bowl, use a blender to mash the sweet potatoes.
Add the yogurt, cinnamon, nutmeg, and salt.
Mash the potato mixture some more. Add brown sugar if desired.
Add the eggs and blend them in as well.
Transfer the mixture to the casserole dish.
Bake for 30 minutes.
Top evenly with the pecans and marshmallows and continue to bake until marshmallows are puffed and lightly browned, about 10-15 more minutes.
Profile Exchange per serving: 1 starch + ½ oz. very lean protein + 2 flex foods
KEYWORD
potato, casserole, marshmallows