Slow Cooker Chicken Fajitas
Delicious Mexican food doesn't have to be off-limits on a healthy meal plan. This slow-cooker chicken fajitas recipe will fit right in with your weight loss goals but also satisfy even the most hardcore mexican food junkie. Perhaps the best thing about this recipe is that you can set it and forget before you leave the house in the morning.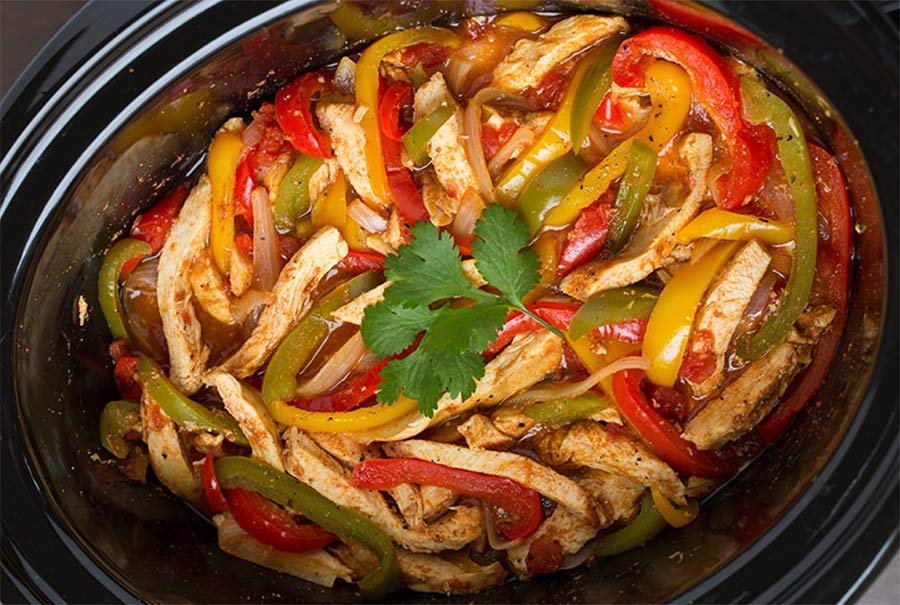 12

ounces

of chicken breast

sliced

1

red

orange and green bell pepper, julienned

1

large red onion

halved and sliced

4

cloves

of garlic

minced*

2

teaspoons

of fresh cilantro leaves

chopped

2

tablespoons

of lime juice

1

teaspoon

of chili powder

1

teaspoon

of ground cumin

1

teaspoon

of ground coriander

2

teaspoon

of black pepper

1/2

teaspoon

of kosher salt

Optional garnishes: chopped fresh cilantro with chopped avocado or Greek yogurt.
Turn slow cooker to high. Spray lightly with canola oil.

Turn slow cooker to low, and add all other ingredients in order listed above. Stir well. **

Cook for 4-8 hours, until veggies reach desired texture and internal temperature of chicken reaches 165 degrees.

*If using pre-minced garlic, use 2-3 teaspoons.
Profile Exchange: 4 ounces of Very Lean Protein, 1 Flex Food and approximately 1/2 cup of veggies
KEYWORD
Low Carb Slow Cooker, Profile Slow Cooker, Slow-Cooker