Shrimp & Broccoli Fettuccine Al Limone
Shrimp & Broccoli Fettuccine Al Limone
BY: profile
June 6, 2020
Comments Off

on "Tom & Jerry" Shake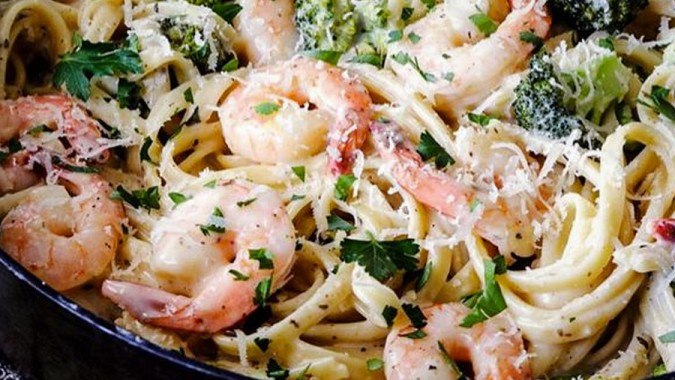 Serving: 4
Ingredients:
1 package Profile Fettuccine
½ lb. large shrimp, shelled and deveined, tails removed
Lemon juice from 2 lemons, freshly squeezed
Zest of 1 lemon, finely chopped
1 clove garlic, minced
4 tsp. olive oil
¼ cup grated parmesan cheese
½ tsp. black pepper
Handful of fresh basil leaves and parsley, chopped
2 bags frozen broccoli
Directions
Heat a large skillet over medium-high heat and coat with nonstick spray. Add the shrimp to the skillet and cook until the underside is pink, 1 to 2 minutes. Flip the shrimp, and cook until fully pink and cooked through, about 2 minutes. Transfer shrimp to a bowl and set aside.
In large bowl, mix together lemon juice, lemon zest and garlic. Slowly stir in olive oil, parmesan cheese and pepper until the mixture becomes a rough paste.
Cook Profile Fettuccine according to package directions, keeping a small cup of pasta water off to the side.
Add the fettuccine to the lemon mixture and toss, adding a few spoonfuls of pasta water, if needed, in order to coat each pasta strand. While tossing, add in basil and parsley.
Steam frozen broccoli according to package directions and toss into pasta. Top with shrimp and extra parmesan cheese.
Profile Exchange per serving: 4oz. very lean protein, 2 cups vegetables, 1 fat