Profile Rhubarb Crisp
Profile Rhubarb Crisp
BY: profile
June 6, 2020
Comments Off

on "Tom & Jerry" Shake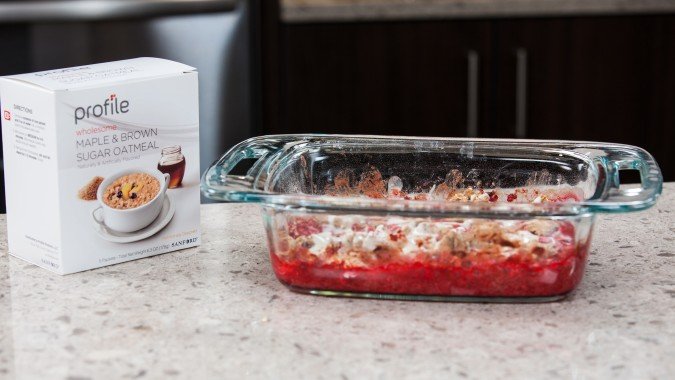 Servings: 3
Ingredients:
2 packages Profile Maple Brown Sugar Oatmeal
1 package Profile Vanilla Shake
3 cups rhubarb, chopped
1 egg
1 package strawberry sugar-free gelatin OR 1 cup splenda
4 oz. water
Directions:
Preheat oven to 350 degrees.
Wash, dry and cut rhubarb into small uniform pieces.
Mix rhubarb, Jell-O or splenda and egg and pour in small baking dish.
Sprinkle 1 package of oatmeal over mixture and bake at 350 degrees for 30 minutes.
Make oatmeal topping by mixing 1 package of oatmeal with 2 Tbsp. water.
Remove rhubarb from oven and sprinkle on oatmeal topping and broil for 10 minutes or until golden brown.
Mix 4 oz. of cold water with packet of vanilla shake mix and pour over rhubarb.
Exchange: 1 Meal Replacements and ½ oz. lean protein, 1 cup vegetables