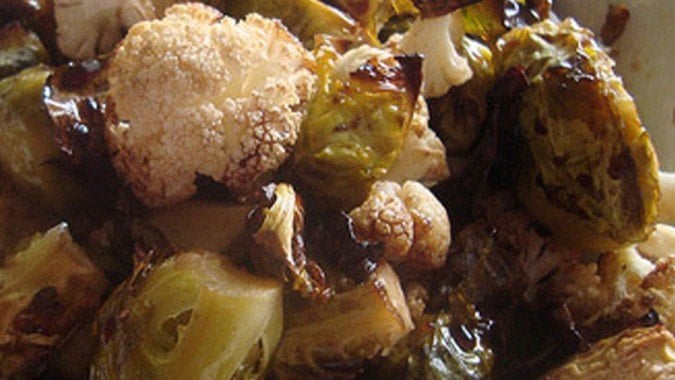 Holiday Vegetable Dressing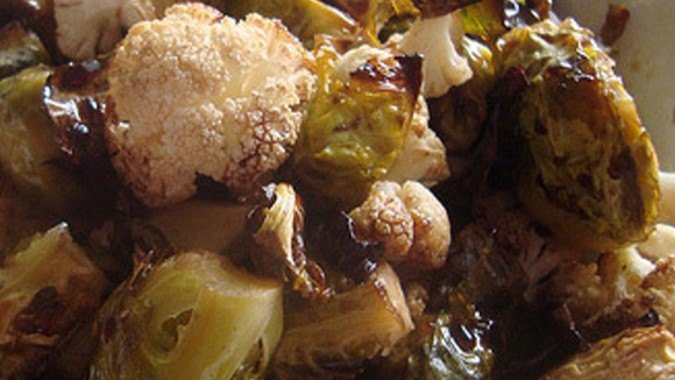 1 head Cauliflower 6-7″ diameter, washed and cut into 2″ pieces

8-10 Fresh Brussels Sprouts, washed and cut in half

1 Fennel bulb, washed, outer layer removed, cut into 2″ slices

2 T. Extra Virgin Olive Oil

Salt and Pepper to your taste

4 Celery stalks, cut into 1/2″ slices

1 small yellow Onion cut into 1/2″ dice

1T. dried Rosemary

1T. dried Sage

2 t. ground Thyme

1 low-sodium Chicken Bullion Cube

1/4 cup water
Tips & Tricks:
If you have a favorite herb and spice blend that your family looks forward to in your "traditional" dressing go ahead and substitute!
Alternately, if you prefer a "stuffing" – add this dressing to the roasting pan of your turkey for the last 20 minutes of roasting your bird. This method
will increase the amount of saturated fat in this recipe, but also adds amazing deep, rich flavor to the dressing.
Preheat over to 425 degrees. Line a large baking sheet with parchment paper or spray with vegetable oil spray, set aside.

Add vegetables to a large bowl , drizzle with olive oil, and sprinkle with salt and pepper.

Roast vegetables until nicely browned about 20-25 minutes. You can toss halfway through roasting if you like. Watch vegetables closely being careful not to

burn.

Meanwhile, as vegetables roast, spray a saute pan with vegetable oil and place over medium-high heat. Add chopped celery and onion, saute (stirring

constantly) until onions are translucent but not browned. If mixture becomes too dry, add a bit more vegetable oil spray and reduce heat. Sprinkle

celery-onion mixture with salt and pepper, rosemary, sage, and thyme. You can add or reduce the amount of these herbs according to your taste. When onions

are translucent remove pan from heat and set aside.

Lightly spray a casserole dish with vegetable oil. Add roasted vegetables to the celery-onion mixture and stir to combine. Mix chicken bullion with 1/4 cup

of water in a coffee mug and microwave until bullion has dissolved. Pour over vegetables and bake for 20-25 minutes to heat through.
Profile Exchange: 1 cup vegetable, 1/2 fat
Photo courtesy of: Urban Organic Farmer