Now You're Cooking – Summer Grilling
Alyssa Koens, Profile's Nutritionist in Chief, kicks off the summer (and her 'Now You're Cooking' series) with some handy tips on grilling out and a couple lean and delicious recipes to boot!
BY: profile
June 6, 2020
Comments Off

on "Tom & Jerry" Shake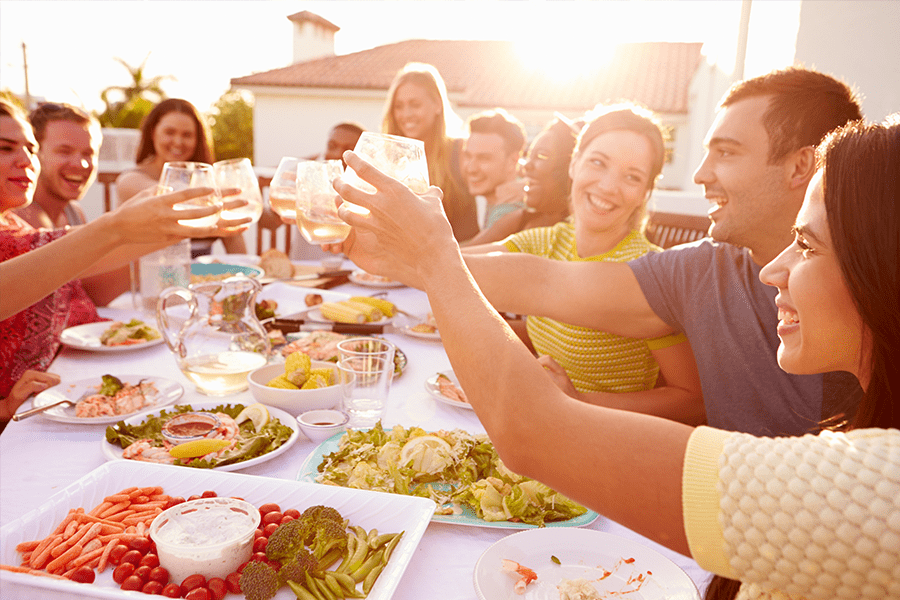 Alyssa Koens, Profile's Nutritionist in Chief, kicks off the summer (and her 'Now You're Cooking' series) with some handy tips on grilling out and a couple lean and delicious recipes to boot!
Summer is here and we can finally enjoy all the great things that come with it. Days at the beach, nights on the patio, yard games, water sports, baseball and my favorite summer pastime: grilling. I get a waft of the smoky, tantalizing smell of food on the grill and nostalgia kicks in: reminding me of good times spent with the people I love the most. Grilling out is simple, convenient and an essential part of summer.
Use these 5 healthy summer grilling tips and you'll be well on your way to enjoying nutritious, delicious food all summer long:
---
1. Keep It Clean
If it's been awhile since you used your grill, a good, thorough cleaning is necessary. Before you get started, scrape and scrub off left over charred food on the grates and residue on the underside of the hood with a grill brush. Keeping your grill clean of buildup makes your food taste so much better – don't let last year's food mess up this year's taste.
2. Perfect Proteins
Fat drippings from fatty meats create flare ups and smoke. Lean meats like poultry, sirloin, pork chops and fish are the way to go because less fat means less smoke. Also, try smaller portions. Smaller meats cook faster, so they cook more evenly with less charring. Grab your meat thermometer and take your meat off when it hits these goal temperatures: 165 degrees for poultry; 160 degrees for ground red meats and pork; 145 degrees for red meat.
3. Marinate Your Meat
Who doesn't love a juicy, mouth-watering, flavorful piece of steak?! Marinating helps to tenderize and add flavor to your meats, but it's important to plan ahead. To add flavor to a tender steak, such as ribeye, you only need to marinate for 15 minutes to 2 hours. For a tenderizing marinade that's perfect for leaner cuts of steak like top round, marinate for 6 to 24 hours with a marinate that contains an acidic ingredient, such as vinegar or lemon juice. Keep in mind: marinating should be done in the refrigerator, never at room temperature.
4. Mix It Up
Sure, steak and chicken are grilling staples, but have you ever grilled peaches, pineapple, asparagus, or cauliflower?! Throw fruits and veggies on the grill for a tasty, nutrient-rich side or dessert.
5. Stay On Plan
Summertime grilling shouldn't be a burden. In fact, grilling is one of the healthiest ways to cook food! Be sure to check out these additional tips to help you stay on Plan when you fire up the grill!
---
Are you hungry yet?! I wouldn't spend all this time talking about grilling without providing a recipe or two! Here's a couple tasty Profile-approved recipes that have me fired up to get my grill on:
Steak Florentine Roll-Ups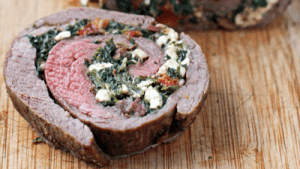 Servings: 4
Ingredients:
1 lb. top round steak, pre-sliced
¾ cup Profile Rosemary Balsamic Vinaigrette
2 cups fresh spinach
4 fresh tomatoes, sliced
1 cup feta cheese crumbles
Toothpicks, for assembly
Directions:
Place steaks into a food safe plastic bag and add balsamic vinaigrette. Toss and coat evenly. Place on the bottom shelf of the refrigerator for 6-24 hours.
Once steaks are marinated, remove from plastic bag and gently pat dry with a paper towel, removing any excess liquid that may cause smoking while grilling.
Preheat grill to 400 degrees.
Layer spinach leaves across steaks and top with sliced tomatoes and feta cheese.
Roll steak and secure with two toothpicks.
Reduce grill heat to medium-low and cook steak roll-ups for 8-10 minutes. Check internal cooking temperature (medium-rare = 145 degrees, medium = 160 degrees).
Use Profile Rosemary Balsamic Vinaigrette for dipping, if desired. Serve with Roasted Asparagus.
Profile Exchange: 4oz. lean protein, ½ cup vegetables, 1 fat, 1 free food
---
Zesty Grilled Chicken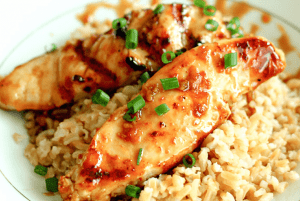 Servings: 4
Ingredients:
1 lb. skinless, boneless chicken breast
½ cup Profile Zesty Asian Vinaigrette
1-3 tsp. Sriracha (adjust to desired taste)
2 tsp. Sesame seeds
Green onion, finely sliced
Red chilies, finely sliced
Directions:
For marinade, mix the Zesty Asian Vinaigrette with sriracha sauce. Set aside half of the marinade and reserve for later.
Place chicken into a food safe plastic bag and add half of the marinade. Toss and coat evenly. Place in bottom shelf of the refrigerator for at least 30 minutes, but no longer than 6 hours.
Make sure your grill grates are clean and greased. To grease, dredge a paper towel in oil and holding it with tongs rub it all over the grate.
Preheat the grill to medium heat about 375-450 degrees.
Grill the chicken until completely cooked through (about 4-6 minutes per side depending on heat of the grill). Chicken should be at 165 degrees at its thickest part.
Generously brush chicken with the reserved marinade as it grills.
Garnish with green onions, chilies, and sesame seeds. Serve with Cauliflower Fried Rice.
Profile Exchange: 4oz. very lean protein, 1 free food