10 Ways to Bring Your Lunch Veggies to the Next Level
Eating 2 cups of veggies at lunch can get monotonous. Read this article for 10 ways to bring your lunch veggies to the next level!
BY: profile
March 23, 2021
Comments Off

on "Tom & Jerry" Shake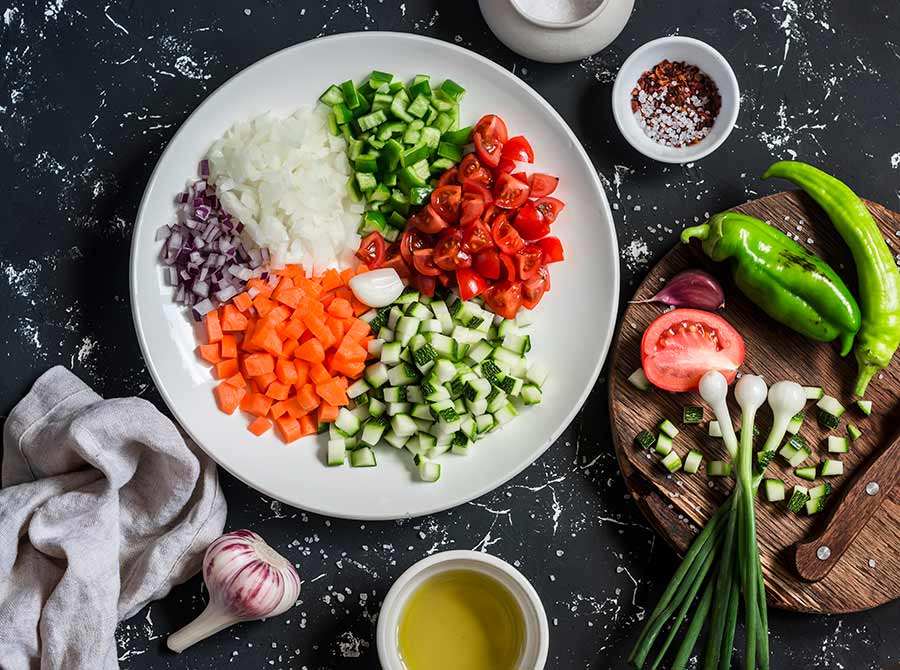 Eating two cups of vegetables at lunchtime can get monotonous, but variety truly is the key when it comes to working in your daily veggies. We've provided 10 ways to bring your lunch veggies to the next level so you can keep it interesting. Some vegetables have no limit, but some have a recommended daily quantity, so remember to follow those recommended vegetable quantities on the grocery list guide.
The Egg Trick:
Microwave your choice of chopped veggies and add an egg. Heat for 2-3 minutes, or until cooked. The egg will replace 1 oz. of your dinner lean meat.
The Spaghetti Squash:
Cut spaghetti squash in half and put face down in a dish with water. Cook until tender. Scoop out ½ cup and top with tomato sauce for some pseudo spaghetti. Bon appetít!
Caraway Creation:
Steam cabbage with caraway seed, salt, and pepper. Caraway seeds have a warm, sweet, and slightly peppery aroma and are rich in vitamins and minerals.
The Clove:
Steam green beans with chopped onion and add a clove of garlic. When in doubt, add garlic.
Butternut Beauty:
Butternut squash is always a good decision. Try boiling butternut squash until soft, and then season with salt, pepper, and 1 TSP of olive oil. Measure out ½ cup, and save some for tomorrow!
Asparagus Delight:
Place asparagus spears in a covered, microwave-safe dish for 4 minutes. Then, season with salt, pepper, or some of your favorite herbs and spices. (Like…. Maybe some garlic.)
Keep it Upbeet:
Warm sliced beets in the microwave. Top with fat-free parmesan, salt, and pepper. Can't beet that!
Broccoli Zing:
Add some Asian flair to your broccoli! Steam broccoli and add 2 Tbsp. of Profile Asian Vinaigrette dressing. You can also try roasting broccoli in the oven for a smoky flavor with a little crunch. Delicious!
Better Than French Fries:
Try making Jicama fries! Take Jicama and fry using an air fryer. Season with salt and pepper or one of your other favorite seasonings.
Pickled Perfection:
You can always try pickling your veggies to keep things fresh. Pickling your own veggies or buying pickled veggies at the store is a great way to add some variety to your vegetable palate. If you're doing it yourself, check out this quick pickling guide!
Did you like these 10 ways to bring your lunch veggies to the next level? We have even more creative ways to get your vegetables in with our Favorites Cookbook. Grab your free copy!